Output list
---
Mandrake's (mandrake on UKA) UKArchive
75 Archived submissions found.
Title
A Prayer To Oblivion (posted on: 22-09-08)

Another non-rhyming, non-metrical sonnet to offend the purists, especially if you're religious. Instead of reading this, why not enter the flash prose/poetry challenge: http://ukauthors.com/phorum5/list.php?49 This week's theme is 'UNEXPECTED'.

A PRAYER TO OBLIVION I would rather listen to the hiss of shingle rolling in the surf than any holy sermon. Each step along the shoreline cuts new stigmata in my soles and the sea breeze brushes me aside like a prayer on the way to oblivion. I am baptised in effluent from rusted pipes of Victorian vintage. The crumbling infra- structure of the pier is still stronger than my faith. At the turning of the tide, I feel nothing from heaven but the moon's persistent pull; dumb as a fish hooked on gravity's line, swimming in helpless circles. I see bikini clad angels with goose flesh, without wings, who would tempt me closer to the devil, but for their melanoma scars.
Archived comments for A Prayer To Oblivion
---
e-griff on 22-09-2008
A Prayer To Oblivion
well, as sonnet, in various forms, usually has something to distinguish it as such, ie the stages of progression of argument and the summation in the final punch-line couplet that a shakespearian sonnet (and others) exhibit.

This is a 14-line poem, with a break. As you say, it does not rhyme or scan as a sonnet, neither do is show those other characteristics of a sonnet.

I remain curious as to why (apart from simply being contrary) people choose to call a poem a 'sonnet' or any other form, when they clearly are not. BTW I don't think it's 'purist' to say that. Purist to me would be complaining that form diverges less than 10 percent (say) from the defined and known form. Here, your poem fails to match 90pc (say) of the chracteristics of a sonnet, so it's clearly not.

This is a serious query by the way. I really can't see why anyone should do it and I'd like to understand.

anyway, I thought this was a competent poem with some good images, but nothing that really grabbed me.

best JohnG 🙂

Author's Reply:
I don't dispute your viewpoint. Poetry is a broad church and there is a niche for everyone. Traditional sonnets occupy a significant niche due to the weight of history behind them.

Certainly, there is an element of mischief in my blurb. Normally, I would describe this as a pseudo-sonnet (if I described it at all).

I can't speak for anyone else. My approach to poetry grows out of the all-too-familiar background of being put off the whole genre by boring and unimaginative tuition at secondary school.

At this time (late 60s/early 70s) there was a 'New Wave' in writing. In many ways, it was just a rehash of post First World War Modernism. It was characterised by the underground press and politicised as left wing or anarchist in nature. In the spirit of the times, there was a movement against authoritarian values.

Its garish and 'naughty' connotations were very appealing to me as a teenager. I became influenced by the 'New York' school of poets. Amongst other things, they were re-defining the sonnet. It didn't have to rhyme or scan, nor even consist of 14 lines, man.

As the political landscape changed, so the underlying ethos became more nihilistic. With post-modernism, a created object defines its own conceptual space.

If I say something is a sonnet, then it is a sonnet even if it isn't. It doesn't even have to be a poem or any recognisable kind of writing.

But it doesn't mean I'm seeking to re-define all sonnets. I'm merely applying a tag to this particular object. It's a useful, recognisable vessel to contain and shape my 'free' verse.

I'm not trying to insult your intelligence with this simplistic history. It's purely an indication of my influences and the limits of my self education.

I must confess, I have what amounts to a prejudice against iambics and simple rhyme, unless they are done extremely well. Personally, I tend to write for the page rather than the ear.

But this is all a bit hi-falutin' for a poem that simply states that I find a day at the seaside more uplifting for my soul than any organised religion!
---
delph_ambi on 22-09-2008
A Prayer To Oblivion
This is a sonnet.

It has fourteen lines. The volta is clearly marked – literally – with the words 'the turning of the tide' where there is a clear change of mood. It is rich with sonics.

I'm a purist, and I wasn't offended, so you've failed. Ha!

Seriously though, this is a great poem, whether it be a sonnet or not.


Author's Reply:

Well, I guess this is more poetic than 'Sanctity Of Now' because it develops a single, sustained metaphor and the chains of sounds are more clearly defined and purposeful.

Glad you spotted the contrived 'turn'. I couldn't resist including it as a little in-joke.

It was never my intention to offend, but it has provoked a small debate, which is all to the good.


---
e-griff on 22-09-2008
A Prayer To Oblivion
I understand what you are saying. No-one however is asking you to write iambs or forms - you can write what you like (and do). I enjoy all kinds of poetry - as free as you like.

Here's where we differ:
'If I say something is a sonnet, then it is a sonnet even if it isn't.'

This is patently untrue. Sure it's fun to play with words in a literary sense, I wrote a story with all the words wrongly applied - that was fun.

But this is not within a written work. You are telling us person to person 'this is a sonnet' - sorry, but until you become god, that doesn't wash. But words are used to convey meaning between people, for understanding, a 'common language'. Test it - swap 'sonnet' for 'dog' - so if you present us with a pic of a feline and say 'here is a dog' it is a dog, right? No wrong.

I'll tell you my concern, as I told MacJoyce. You are an accomplished poet - that is clear. There are people on this site who are learning, who trust people like yourself and will take as gospel what a sonnet is (wrongly) and perpetuate the error. After all, that's what happened to the haiku.

However,here, I'm expounding a general point - in practice in your intro you have indicated clearly (and deliberately to provoke I guess, in a lighthearted way) that this is not a sonnet. So I'm not pointing any fingers at you at all. No objections. Except to that one statement. of course, which I find curious.

nuff said from me .... :-#

Author's Reply:

Well, god I am most certainly not. But if Magritte can say 'this is not a pipe'...

I think it would be as much a disservice to novice writers to ignore the artistic movements and debates of the 20th century and pretend the goalposts haven't been moved. There are too many learners who still write in stilted 17th/18th/19th century language because that's what they've been taught to believe is poetry. I know that's not quite the point you're making, but it's one of the effects of not feeling free to challenge and develop forms.

I also think people should be credited with enough sense to realise this is an amateur writers site and if they want to learn, they need to do their own research. The internet is awash with opinion pretending to be expertise and I don't trust any of it.

I say this without rancour as I respect and welcome your views. Debates like this - although they are constrained to be quite shallow - serve to help me (and hopefully others) to challenge my own preconceptions.
---
Bradene on 22-09-2008
A Prayer To Oblivion
Personally I can't understand the attraction of deliderately setting out to offend, even if it is deemed to be fun. I know I'm thought of on this site as a pratt of an old woman with out moded ideas but I still have an opinion. I like your work a lot as I've often said, but find it curious that a mature man of your obvious intelligence would want to set out to upset or make fun of people especially about something as personal as their privately held beliefs. I'm not complaining about your lack of faith or whatever, that's your business and yours alone, it's just this statement (Another non-rhyming, non-metrical sonnet to offend the purists, especially if you're religious.) So provocatively made in your intro' that I find rather childish. The poem is fine. Val

Author's Reply:
If you (or anyone else) were offended, then I apologise unreservedly as that was certainly not my intent.

My blurb was certainly meant to be provocative, but in a lighthearted way.

This is not an anti-religious poem. It is a description of my secular view of the world.

And I am hurt that you should imply that I consider you to be a 'pratt of an old woman with out moded ideas'. I don't recall ever disrespecting your opinions.

And if I am being childish then yah! boo!


---
Wolfe71 on 22-09-2008
A Prayer To Oblivion
Whether this is a sonnet or a poem, I thought this was excellent. One of the better pieces that I've read on this site.

Author's Reply:

That's an interesting distinction you make, but I think I know what you mean.

Thank you for the vote of confidence. Although I talk like I know what I'm doing, I am still only an amateur learning my craft.


---
artisus on 22-09-2008
A Prayer To Oblivion
a very good poem

Author's Reply:

Thanks for making this a 'favourite'. You do interesting, experimental work and I value your input.


---
teifii on 22-09-2008
A Prayer To Oblivion
I certainly like the poem very much and fully concur with the sentiments too. Not so much with the blurb. Anyone with religious faith will either rise above what probably seems to them either your misfortune [and mine] or mild blasphemy [a matter between you and your god], but the intro does make it provocative. Personally on the matter of belief, I spent most of my childhood worrying about whether one should believe in God and then, aged about 15, decided that if he existed and if he made me, then he must have a sense of humour and therefore would see the funny side when I found myself face to face with him. Now I'm pretty sure I'm not going to come face to face with anyone after death and if I did I'd have some very unfunny matters to discuss.
Fact remains I really like your poem.

Author's Reply:

---
littleditty on 22-09-2008
A Prayer To Oblivion
liked this poem very much - something about bucking the established traditions and rules is apt for this subject - that is what i understood you to be doing here -my relationship with sonnets is similar -i tussle with the form, or the form with me, and results are often called 'Sonnet, sort of..' or 'Allusion to a Purple sonnet' etc (abc) and i like to to see this writing process as a discussion/debate much like what is going on here on your page...anyway, rebel yells this is a good read - cheers, LD xx

Author's Reply:

---
royrodel on 23-09-2008
A Prayer To Oblivion
I like Portobella beach aswell.

RODEL


Author's Reply:

---
e-griff on 24-09-2008
A Prayer To Oblivion
Hah hah! I am VERY slow ... caught up in the debate about sonnets, I didn't actually look at the metre at the time. However thinking about the poem later I though 'It read quite well - how could that be so with no metre?' and came back to look at it.

So I looked again - lo and behold matey, like it or not, with a few minor variations, this is iambic - and what's more has a preponderance of pentameters, even. It has to be (iambic), as iambic is the rhythm of english speech, so if you compose a nice sounding sequence of words without consciously fitting another rhythm to it - it'll be iambic.

See, all this angst about metre is put in perspective .... *sighs*

best JOhnG

Author's Reply:


Well, yeah. There is SYLLABIC metre going on here, granted. I use it a lot in my poetry. So much so, that my daughter mocks me for obsessively 'counting the tum-ti-tums' as she puts it.


Each line is exactly twelve syllables long, so there are bound to be accidental bits of pentameter. And, as you say, the normal cadences of English speech tend to fall naturally into iambs.



No angst on my part, except the existential kind.




---
Rupe on 24-09-2008
A Prayer To Oblivion
I'm not a purist. I liked the imagery, the sounds, the correspondence of the idea with the imagery, and the fact that you've taken the trouble to orientate the reader effectively towards your subject-matter.

Rupe

Author's Reply:

---
e-griff on 24-09-2008
A Prayer To Oblivion
I've changed my mind about the pentameter. Like all metric scans, you can take various views. Reading this aloud, I now see it (althought essentially iambic in accentual-syllabic terms) as simply an accentual metre, using four beats per line, with the occasional short (three beat) line .

hah! what fun! anyway - enough from me, I think, on this one.... *exits* 🙂

Author's Reply:

---
Scapegoat on 24-09-2008
A Prayer To Oblivion
It's rather weird that Griff declares himself not to be a purist because he allows some deviation from form, when he thinks that a ghazal that isn't about lost love isn't a ghazal; and that a Pleiadic Verse poem that doesn't use exactly the correct number of syllables, isn't in Pleiadic Verse.

I wouldn't listen to him if I were you. He only reads Wikipedia. He probably hadn't even heard of the ghazal before one showed up on this site, and then suddenly he fancied himself as an expert on and lover of the form, who had been reading, composing and singing them for decades, with a sitar on his knee.

Anyway, this poem did grab me, especially "I feel nothing from heaven". Why don't you end the line on 'heaven'? Ending it on 'from' feels clumsy, and starting the next line on 'heaven' detracts from the force of the statement.

I take it you mean 'effluence'. To be baptised in effluence is a good image, but it hardly makes for a positive or 'uplifting' idea of the seaside! Because of this, along with the crumbling pier, I didn't get the sense that you were saying the beach is uplifting at all. Quite the reverse in fact.

Also, I don't get the melanoma reference. The scars on the bikini-clad girls prevent you from wanting to shag them?


Author's Reply:

Currently, the lines end where they do purely according to the syllable count. I will address their effectiveness when I come to do a re-write. But I feel that de-emphasising 'heaven' is in keeping with the poem's theme. Though I agree that 'from' is probably a weak word on which to end a line.

Growing up in Essex, I used to holiday in places like Canvey Island and Walton On The Naze. I therefore have an inordinate fondness for seedy English seaside towns. For all their faults, I still find greater spiritual comfort at the seaside than in the arms of the church. Maybe I could communicate that better.

Melanoma scars? Honestly? I might still give them one. Metaphors are tricky blighters.


---
---
We Never Talk (posted on: 15-09-08)
A cross between a love poem and self justification. Or maybe just a feeble excuse.

WE NEVER TALK She says we never talk and yes, she's right. But I spend each day dealing with such fools on the telephone that I cannot bear to speak for fear I might explode or run amuck. I have these scripts - targets to meet and quotas to fill - with ripostes designed for cold call sales resistance, but no hints about romance, except for seduction of the gullible. Which she's not, of course. My need for conversation wanes at night. I seek solace in a beer, but it cools nothing except my ardour. In this chair, I slump and abandon all hope of fun, waking only once for dinner. The meat is pablum on my tongue. I am resigned to a life of tedium, hemmed in chintz. And these words are merely a reduction of truth to triteness: Love needs no discourse.
Archived comments for We Never Talk
---
Sunken on 17-09-2008
We Never Talk
Ahhh, dear Mandrake. Seeking solace in beer is often the way. I've grown tired of the headaches tho. I've no idea why this hasn't had a comment yet. I especially like the 'hemmed in chintz' line. Top stuff, in my sunken opinion.

s
u
n
k
e
n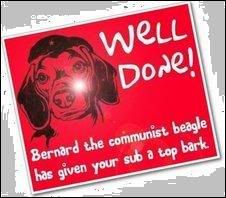 Author's Reply:

---
teifii on 22-09-2008
We Never Talk
Oh dear, for your sake I do hope the state of mind and situation this so excellently evokes is not continual.
Daff

Author's Reply:

---
Scapegoat on 24-09-2008
We Never Talk
Hang on a minute! This RHYMES!!!! What do you think you're DOING????

Very clever form, though. Reminds me of another poem you did.


Author's Reply:

---
discopants on 28-09-2008
We Never Talk
Liked the structuree, the rhythm and the content...er, it would have been easier just to say I liked it all, wouldn't it??

disco

Author's Reply:

---
---
The Sanctity Of Now (posted on: 08-09-08)
This wasn't written to fit the 'environment' theme. It's more about the pollution of mental landscapes and comes from my frustration with writers who refuse to edit their work because it would be unfaithful to the spirit of the creative moment.

THE SANCTITY OF NOW To celebrate the sanctity of Now is an easy philosophy when time fills your wallet with promisory notes that weigh down your trouser pocket. Yet such currency is soon debased, leaving you with coins of little value to spend in a pound store about to close its doors. Poems written for the moment only talk to the author's hand. Already, they are fit for landfill and contribute to global warming of the intellect, which is a greater threat than climate change, if you believe the psychobabble. So much hot air; so few ideas balloon in flight.
Archived comments for The Sanctity Of Now
---
Bradene on 08-09-2008
The Sanctity Of Now
oops! I misread the intro I thought at first it said it was for the environmental theme, never mind I know what you meant and I suppose I'm as guilty as anyone at this, I mean look at the rot I wrote last week which after all was a knee jerk reaction not a poem meant to keep.. I think we all do it from time to time, even maybe you eh? Well I liked this and thought it well put . Val

Author's Reply:

First of all; apologies for not entering your challenge. Sometimes, inspiration just fails to strike.

Secondly, you are far too hard on yourself as a writer. You achieve an honesty of expression that I can only emulate with artifice and cynical technique.

There's nothing wrong with spontaneous or 'knee jerk' writing in itself. That's where most poetry begins; with that mysterious phrase from nowhere.

My issue is with the idea that these words are somehow inviolate. That any attempt to 'improve' a piece is negated because it destroys its synchronicity. A viewpoint I have encountered many times recently, since I became an editor.

Still, glad you liked it.


---
teifii on 08-09-2008
The Sanctity Of Now
And I liked it too. Especially 'Poems written for the moment only
talk to the author's hand.'
Daff

Author's Reply:

Ooh, you liked the veiled masturbation reference! Naughty Daff!


---
orangedream on 08-09-2008
The Sanctity Of Now
A pleasing poem, Mandrake on an interesting subject.

Tina

Author's Reply:

I was taught that writing a poem about writing poetry is Not the Done Thing. Maybe it works in the cloistered environment of a writers' site, but perhaps I should tweak the words to make it more universal. Ultimately, people want to read about themselves.

Still, glad you found it pleasing.


---
delph_ambi on 08-09-2008
The Sanctity Of Now
It's good, it's thoughtful, it's well put - but I'm not absolutely convinced it's poetry. I'd call it a good micro-essay. I searched in vain for rhythm or sonics, so although it looks poetic, I'm not sure it is.

Author's Reply:

In my (poem's) defence:

It is a pseudo sonnet, consisting of 14 lines of 10 syllables each. There are internal partial rhymes (e.g wallet / pocket). There are touches of alliteration (e.g. celebrate the sanctity). It contains a number of metaphorical images.

How many more poetic elements do you need?


---
AlexClay on 08-09-2008
The Sanctity Of Now
Yeah, it doesn't feel like a poem, more like a mini-treatise or something. I like the idea of landfill...you can write stuff, feel a rush of pleasure or satisfaction, then it's dead and gone. Maybe some writers don't edit, precisely because they recognise the transitory nature of their work, and of life, especially with poetry, which is a fairly spontaneous activity.

Author's Reply:

Part of my point - though it isn't addressed within the poem - is that writing is a craft as much as an art.

If I were a carpenter (cue music) I wouldn't be content with botching together wonky bookshelves all the time.

As my understanding and technique (hopefully) develop, I still return to pieces I wrote 40 years ago.

I hope to be alive in 2048, so that I can re-read this and cringe with embarrassment.


---
delph_ambi on 11-09-2008
The Sanctity Of Now
I had another look. I found store/doors. That's it. If I tried really hard I might find some more partial rhymes or alliterations, but then I would if I looked at any piece of prose, purely because there are only so many different sounds available.

If this were re-written as a couple of paragraphs without the line breaks, I doubt if someone reading it would say, "That would work well as a poem, with judicious use of line breaks".

Ten syllables per line do not a metre make.

I like it as a piece of writing, no question, but I don't think you'll be able to convince me to see it as a poem. However, if you choose to call it a poem, then it is a poem, regardless of whether I can see it or not. I've had this problem with some of my own poetry, where people have failed to see what I've done, so I will defend to the hilt the poet's absolute right to tell people what is and is not a poem as regards their own writing.

Author's Reply:

Thanks very much for coming back with a considered reply. I appreciate you taking the time to explain your viewpoint further.

'Re-writing without line breaks' is something that could be applied to many poems with the same result. Doubtless, you have encountered poems that are a solid block of prose without any line breaks.

Equally, rhyme and metre do not necessarily a poem make. My personal taste is for natural cadences rather than iambics and I like to 'conceal' rhymes in various ways.

In these post-postmodern times, it is often no more than the writer's intent that determines the nature of what s/he creates. If I had intended this to be an essay, I would have written it in a completely different way.

However, it would be all too ironic of me not to take account of your (and Alex's) views. When I come to review this piece, I will certainly seek to incorporate the thoughts you have inspired.

Thanks again.


---
---
diddley dum (posted on: 01-09-08)
For younger readers, it's the noise that trains used to make.

diddley dum He quotes a cake by Rudyard Kipling and Stallone's blank verse from Rimbaud IV. His blood is glossy Virgin train red; staining fingers like a tabloid masthead. A myopic moment: Words are rippling under the strain of tortured metaphor. Brokeback camel, clutching at a final straw while neurons misfire in his head. The cost of commuting is now crippling. He skips a track: A dusty needle - smell of warm vinyl - diddley dum, his i-pod plays 'Stationtostation' (white noise funk ex glam generation) and his dying thoughts of Jeremy Beadle reveal the joke his life has become, where so much can be blamed on the opposable thumb. He wants to live in a Terry Nation, so he can exterminate rather than wheedle.
Archived comments for diddley dum
---
Jolen on 02-09-2008
diddley dum
I'm not sure if I understand your poem correctly, and am sure of some of the references, however, I loved the rhythm, the rhyme and your line breaks work very well. The first verse is especially appealing to me for the multi-facets and I related to these lines most especially:
A myopic moment: Words are rippling
under the strain of tortured metaphor.
Brokeback camel, clutching at a final straw
while neurons misfire in his head.

Anyway, for what it's worth, I enjoyed this very much.

blessings,
Jolen

Author's Reply:

At heart, this is a fairly simple piece about the perils of being a commuter and the psychic toll it exacts upon the soul. A mix of pop culture references and strained puns makes it seem more complicated.

Sometimes, that's the job of poetry; to reveal the hidden complexities of life. (If you'll excuse the pretention.)

Glad you enjoyed it. That's always valuable to know.


---
Sunken on 02-09-2008
diddley dum
Wow. I love this, Mr. Mandrake. The Kipling line in the opening is a corker. It's good to see you back on uka. You is Quality with a big Q. I shall be along later to attach an alternative nib. Nice one, Mr. Mandrake, very nice.

s
u
n
k
e
n

his toaster doesn't have intel inside, it just has crumbs

Author's Reply:

I've been a big fan of Kipling, ever since Telly Savalas had a number one hit with 'If'.

Thanks for the continued support. It's like I've never bin gorn.



---
Sunken on 04-09-2008
diddley dum
As promised, Mr. Mandrake, a smelly Bernard. A smashing write, in my sunky opinion.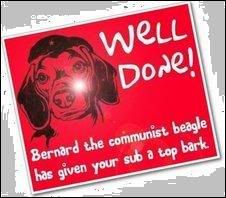 Author's Reply:

---
barenib on 04-09-2008
diddley dum
Mandrake - I was expecting a kids poem, but this is much more! I enjoyed the word play, the rhyme scheme and most of all the ideas sprinkled very nicely through tis poem. Great read for me - John.

Author's Reply:

With hindsight, I can see that my explanatory blurb was written a little too ambiguously.

Glad you enjoyed all the elements I was juggling. I wasn't sure if its tone was too frivolous for the subject matter.


---
discopants on 04-09-2008
diddley dum
Particularly liked the Rimbaud IV reference. I think Shakespeare started this craze for sequels by numbering his sonnets!



Author's Reply:

It took me over 20 years to find a use for this dumb pun on the name Rambo. Still haven't thought of one for Rocky yet.

Does the world need 'Hamlet Undead', 'The Son of Romeo', 'Three Gentlemen of Verona', 'Henry IV Part III' or 'Shylock the Musical' ? None of them got past the draft stage.


---
---
The Assassin Sonnets: A to Z (posted on: 29-08-08)
These are 'sonnets' in the loose sense of being 14 lines of 10 syllables each. Everything else is up for grabs.

THE ASSASSIN SONNETS: A to Z A: ASSASSIN It is the simplicity that always leads him astray. The clean lines of a gun; the narrow focus upon the heart, or the tricky head shot. He catches himself dozing as he oils and cleans the barrel. For Jon Kopek, these are halcyon days: One man's tragedy is another's fun, as he sights along Glastonbury Tor and whispers 'any prize from the top shelf' for hitmen with the hippest apparel. His own trademark is a vintage guitar case, stolen from the wreck of Bolan's car. Into his crosshairs – laughing, blonde and tanned - steps the latest martyr to quit a band. B: BULLETS No death is natural. We could all live forever, if not for the cool agents of entropy in their mirrored glasses and mannered clothes. But Kopek does not give a fuck for fashion, if mere style prevents him from hitting home: To kick fat arses with a pointy toed Italian shoe is a fitting use for hand tooled leather. Bullets are not bee stings. There is magic in murder, commensurate with the pain it brings. He is not too troubled whether the outcomes are just, deplored or tragic, so long as there is change. 'What is the gain without loss?' he asks. 'When will it be you?' C: COUNTING He counts the shots, for each spent cartridge must be found and taken from the scene. As dust still settles, he is already long gone. For one moment, reflected sunlight shone from his telescopic sights and he feared discovery, but no police appeared. Two hits to the abdomen; upper right chest; neck; left eye and a clean miss. His fight or flight reflexes kick in and he runs. Six, he thinks. Six, as he unscrews the gun's silencer, scorching his fingers on hot metal. Descending the Tor at a trot. He conceals the weapon up his coat sleeve. A crowd gathers, but no-one sees him leave. D: DESTINY A hippie girl offers to read his palm; cordite stains and all. She fails to divine any hint of death in his destiny. Instead, she fixes on what she believes he is carrying. No, not some karmic weight. Rather, she is fooled by the decoy of a cheap guitar and talk of music. Kopek is hyper from his kill, yet calm on the surface. Marc's spirit gives no sign how close the girl is to eternity. Oblivious, she holds his hand and weaves a web of wishful thinking round the lie that is his life. He is loath to destroy her world. Besides, he needs an alibi. E: EJECTED Her name sounds like a joke: Diane De'Ath. What were her parents on? he wonders, as the light of candles on her hennaed hair gives it a sheen like blood. Like blood, her hair pools round her head, resembling a mortal wound too much for his comfort. Discomfort with this image makes him more aware than ever of the brass shells in his pocket, digging into his skin. His skin feels cold with fear, yet hers is cooler. Her copper bangles ting with the same dead note struck by ejected cartridges hitting the ground. 'Ground yourself,' she urges. 'Breathe deep and slow, while concentrating on a candle's glow.' F: FORENSICS Outside, in the Glastonbury mud, there is a tent raised over the remains. White garbed forensic officers seek in vain for clues. Other than the angle of fire, there is little to report. No motive is obvious for this professional hit. Police start to interview the crowd. No-one is permitted to leave, but there is no way to stop them breaking the white and blue tape barriers. It is a vain hope that a few stoned hippies round a campfire will provide much assistance. Yet motive must be found, or else professional pride is dented and law lost in the crowd. G: GNOMON 'Peace, man.' He splits his fingers in a Spock salute. 'How are things in Olde Dock Green?' The copper stays expressive as a rock and asks, 'Where were you at 3 o'clock, son?' 'You shock me, bobby. Am I a suspect? I'm just here to rock. So chill out, my friend.' 'There's no need to mock. A man is dead, so answer my question or I'll lock you up.' 'Look, I ain't got no clock. Concepts of Time are fascist thoughts in which I place no stock.' 'Between Hillage and Hawkwind's Sonic Shock, then. Or is the linear too baroque?' 'Touché, bluebottle. Let's not measure cock. Ask me again and I won't knock you back.' H: HIDING This interrogation comes far too late, for the evidence is now well concealed. He has flushed the shells down a chemical toilet and exchanged his coat for a pot of lentil soup. The gun is broken up into components that form integral parts of his guitar and case. His clothes are grimed enough so they don't look designer. He smells of incense, patchouli oil and sweaty sex. If there are powder burns on his hand, they are contaminated by honest dirt. Diane doesn't know what day it is, let alone the time they first met: Fucked into endorphin based amnesia. I: INSPIRED His spare gear is stashed in a locker at Taunton station. He has a wash and shave in the public toilets. He is not sure whether to keep his hair long, so ties it back with an elastic band. He changes clothes in a cubicle and emerges wired: Ready to move on to his next hit. He could leave Diane behind. She is sat beneath the destination board and would not notice him, unless he gave a sign. She smells of violets. Her voice is pure, as she sings a song from the hit parade that he can't stand. Something changes: His heart surges and he feels inspired to trust it. J: JOURNEY 'I thought you were a local girl,' he says. It is a question. 'The whole world is my home,' she answers with evasion. 'I go where the Goddess wills.' Her eyes are wide with kohl and pagan zeal. 'I am not the road; I am the wheel.' Oh yes, he thinks. And my life is a roller coaster ride of kills. The chrome finish of his car is argent, clean as maidens' tears. There is music in this man; raw and urgent, that no-one hears but her. She breathes the antique leather trim and swallows travel sickness. The grey clouds of his eyes cast a shadow that obscures his slickness. The Goddess says, 'Go with him.' K: KUDOS Tributes are pouring in for Steve Leggrin, former lead guitar with 'Wages Of Sin'. He could throttle a fret like the Boston Strangler. He was up there beside Clapton. Omigod, omigod. It's past belief. I'm shocked. I'm devastated. Numb with grief. His was a talent cut short on the brink of solo stardom. It's tragic, I think. He joins the pantheon of stars who burn too bright, too soon. As we mourn, we must learn. He put the git in guitar, so I ain't gonna paint him white, like some fucking saint. To be shot down like that. Man, it's so hard. He was god, geezer and rock'n'roll bard. L: LUNCH London or Liverpool, Manchester or Leeds. Any place will do. But, for now, Jon feeds his face in a motorway café. Diane watches in dismay as he shoves bacon butties down his neck. Don't you know about cholesterol? Your heart's a wreck. He cleans his plate with a fried slice and downs a mug of tea. Everything must fail, that's the law of entropy. My heart is sound and it's 'As Much As You Can Eat' for ten pound. Got to get my money's worth. That was instilled in me from the time of my birth. We are only three meals from anarchy; isn't that what they say? Sounds true to me. M: MEMORABILIA 'So, how do you earn your money?' The lines converge on his hand: Fate, Fortune, Love, Life. X marks the spot. A nexus point is nigh. 'I target talent. Take my ten percent.' There is always the Next Big Thing to find as time and tastes mutate. Boredom is rife. He must cull the herd. It is change or die. He dons his specs to scan the N.M.E. They were Lennon's and the glass was broken, but he likes their geek chic NHS frames. 'I'm flush now, though it's all impermanent.' He is a natural force, like gravity. That's how he sees it. By the same token, his rules are as lax as those for children's games. N: NEXT Out in the car park, Martyn Redhead smokes a fag on the tour bus steps while he waits for their roadie to fetch breakfast. He plays drums with 'The Lemmings'. They are second rate, but have their place. Kopek makes his move, in the guise of a fan seeking an auto- graph. Martyn hawks and does not disguise his disdain for a middle class metal freak. As he turns his head, he reveals a skull tattoo on his neck. Kopek stabs his pen in one inky socket. Twists. Tears open the jugular. Steps away from pollocks of arterial spray. Martyn plays one final paradiddle with his boot heels. O: ONWARD With just one glance in the rear view mirror, he resumes the road. There is smoke rising from the burning tour bus. The bandana he stripped from Martyn's head to clean his pen also made a handy two minute fuse to turn the petrol tank into a bomb. If this is a war, then its killing field is ill defined. His tactic is terror, with all the collateral it may bring. For Kopek views the whole panorama of human existence as a mere Zen paradox: How can we prepare to lose and expect to win? Yet he borrows from Saddam: Diane will be his living shield. P: PLUCKED 'Do you play?' To pass the time, she strums his customised acoustic. It has an odd timbre, due to its extra metal parts. 'Not much these days.' He feels an urge to kiss the pink Jelly Tots of her nipples. God built a design flaw into people's hearts. She is aware of his arousal, which is hard to keep a secret in such tight trousers. She contemplates a quick blow job. 'Oh fuck!' He almost drives into a ditch. They find a cheap hotel and spend the night coaxing feedback screech from rusty bed springs, until they cannot speak but only sob for air as their nerves vibrate like plucked strings. Q: QUANTUM He takes the car to be valeted, though really he is dumping it, in case it was caught on CCTV. The trail ends here: It is still registered to Farrokh Bulsara and no-one has noticed that it was stolen from his country estate. There is another world in which Leggrin is still alive and due to have a hit record. His music will create new trends and bring about a renaissance in rock. But this is not that world. There will be no breakthrough album. Somewhere in Kopek's flat, the master tapes are hidden and the fate of pop culture is burst as with a pin. R: ROCK In 'The Hard Place' Bar, they serve beer, burgers and twelve bar blues, all equally lukewarm. Kopek is dressed down in plain black T-shirt and jeans that would cost a week's wages for most punters. Diane clings onto his arm. This place is loud and dark. A haunt of Goths and bikers in uneasy truce. With hair pinned up beneath a cowboy hat and slim body draped in baggy denim, she feels conspicuous. Eyes tear her limb from limb. 'Welcome to my office.' Jon says and steers her to an empty space. With 'The Lemmings' indisposed, there is a spare set onstage tonight and he might kill who takes their place. S: STRANGE There are strange forces at work in the world. Diane believes in UFOs and ghosts, amongst other things, while Jon's faith is placed in what is palpable. Yet tachyons and quarks are just as difficult to prove. 'The flags of love remain forever furled.' He hears these words and turns to watch the band. Their singer is a woman, whose command of the stage is effortless, as she coasts through each number and the music is graced by her performance. The grim environs of the bar are transformed by her cool groove. 'Sheila Tarn and the Tarnations! Let's hear it for the girls!' Even Jon joins the cheer. T: TEMPTED He slips backstage with the quiet cunning of his art. He looks as if he belongs - and so he does. It does not take him long to find her dressing room. Sounds of running water mask his entry. Sheila showers and he admires her curves through frosted glass. His intent is deadly, but this is farce. He is tempted to abuse his powers and become a Peeping Tom. Or enact that famous scene from 'Psycho', if only a knife were at hand. It is so lonely to be without a weapon; to exact his purpose in such naked terms. She turns the taps off and his bravado returns. U: UNCOMFORTABLE 'Well, this is certainly a cut above.' He quaffs a glass of her after gig wine and salutes her towelled and turbaned form as she emerges from the perfumed steam. 'Do come in and make yourself comfy, love.' She sits and waits to hear what corny line he has to sell. Though blue, her eyes are warm as summer skies, despite their icy gleam. There are scissors on the dressing table he could thrust into the base of her skull and sever her spinal cord. It's a thought. Or he could strangle her with the cable of her hair dryer. But that would be dull. He hesitates and the moment is fraught. V: VOICE Diane waits impatiently in the bar. There is something contrived about the vibe of this manufactured scene; post modern pockets of plastic packaged neo-punk. In pursuit of Kopek, she has strayed far from her life's path. Surrounded by a tribe of lifestyle anarchists in her coven of one; she drinks still water, yet feels drunk. She spots Sheila, with her cerise coiffure that looks almost natural with her choice of clothes and make-up; her charms obvious in a Barbie doll way. Jon looks unsure as he walks beside her and in his voice a tone that makes Diane feel envious. W: WHATEVER Back in his minimal black and white flat, Kopek is distracted. Despite Diane's best efforts, he stays flaccid. Though he has 'stabbed' her repeatedly and witnessed her convulsed in the throes of le petit mort, he has not made the overt connection between penetrative wounds and the act of sex. Whatever self awareness he possesses is subsumed by metaphors of a different nature. In modern tarot decks, Death is often replaced by Transformation. 'Are you thinking of her?' Some questions are so wide of the mark, they are meaningless. Some answers are silent. X: XENOLITHIC 'We are all stars, to - Each constellation some extent. What I - is testament to do is make room in - synchronicity: the firmament for - The random nature the newest to shine.' - of the universe. This is the kind of - Diane has a sense bullshit that Sheila - of shape in chaos, has heard so often, - of a Goddess cloaked she does not take heed. - in silvered onyx. Until the offer - She walks a dark path, of a support gig - as Kopek's shadow at Wembley becomes - is thrown into sharp reality and - relief by a blaze Jon is to be thanked. - of approaching light. Y: YOD He was born shortly after sunrise with his ruling planet, the Moon, on the plane of his Descendant. It formed a quincunx with both the Sun and Mars, which in turn were in sextile: A pointer on his birth chart. She draws lines, for he does not mention kith nor kin and she would dearly love to gain a deeper insight. And though he debunks such methods, his instinct is to defer to her wisdom. She is mapping his heart. He stands behind her in the crowd – arms crossed around her neck, face pressed into her hair - with ten thousand souls about to be lost. As the show begins, he ceases to care. Z: ZERO With Wembley Stadium in flames behind him, Kopek walks away into the night. The detonator he used to ignite a battery of incendiary bombs is still clutched in one bloodstained hand. The Proms never had a Last Night that could compete with such an apocalypse. Just one sweet slice from a serrated blade and Diane fell as if hit by shrapnel. The dying and the dead fell round her as Sheila burned on stage. His solution to lovers spurned was radical and final. He forgets what started this spree. A change of targets would be good. He has footballers in mind.
Archived comments for The Assassin Sonnets: A to Z
---
e-griff on 29-08-2008
The Assassin Sonnets: A to Z
this looks like a mammoth offering - worth reading properly. so I'm going to rpint it out and lie in the sun with a bottle of cold beer and read it with concentration, in peace ....

Author's Reply:

---
e-griff on 31-08-2008
The Assassin Sonnets: A to Z
I found this absorbing and well constructed. Overall very good, novel, imaginative, excellent images. If I had niggles, they would be:

as an old rhyme-hound, I greatly appreciated some of the internal rhymes and reflections, but missed consistency. maybe a regular scheme would have made it less interesting, but I couldn't devine a purpose behind the pattern of rhyme/non-rhyme verses.

the X and Y verses seemed to lose the thread (or rather I did)
I would have preferred a clearer resolution of his attitude to the two women at that point, having come so far, prior to the very clear end verse.

overall, though, something I think you should be proud of creating. JohnG

Author's Reply:

John,

Thank you for taking the time to read and appreciate this long narrative poem. I tried to make it as easy to digest as a short story of the same length. On the surface, it's a kind of slick action blockbuster.

The changes of rhyme scheme, as well as reflecting my own limitations as a writer with a short attention span, are evocative of changes of mood.

Also, I was pretty much making it up as I went along. When I started writing this piece, I had only a vague notion that I was going to create something on the lines of one of J G Ballard's 'condensed novels': 26 short segments with alphabetically ordered titles. Beyond that, I didn't have much of a clue.

After writing the first 2 lines, I realised it was poetry rather than prose. When I rhymed 'Tor' with 'or', I got the inklings of the theme I was going to explore. It was only when I reached E that I found I was utilising a loose 'sonnet' form.

At no time, in terms of plot, was I thinking more than one stanza ahead. In many ways, its development was shaped by the word strictures imposed by the demands of finding credible rhymes.

The nihilistic tone made it clear that Kopek would not be redeemed by love or remorse. Nor did I wish to make an obvious reversal in which he became the assassinated.

The crucial section is W, where the reader is invited to make a psychological connection that Kopek himself does not consciously realise. From there, I employed the Terry Nation technique of plot resolution: Kill 'em all.

Writing it was something of an adrenaline rush. I'm not sure what to do with it now that it exists. It will probably be several months before I have sufficient distance to contemplate a re-write. Perhaps a straight prose version would help me to understand it better - though it has enough content for a full novel, which would maybe negate the whole point.

Thanks again,

John W


---
---
Former Soviet Union Sonnet (posted on: 25-01-08)
You asked for it. You got it.

Where were you in the Cold War, father? Dancing with Comrade H from Steppes? Working yourself into a lather Soft soaping czars with Maffia reps? Wearing sweat shop designer labels? Drinking tourists under the tables? Selling second hand atom bombs? Covering up Party pogroms? Running rifles past the embargo? Training sleeper cells in Pinner? Burning dissident books in a Holiday home Archipelago? Son, I was at the L.S.E. Reading Law and the N.M.E.
Archived comments for Former Soviet Union Sonnet
---
Bradene on 25-01-2008
Former Soviet Union Sonnet
Oh very clever, a perfect partner for last weeks sonnet. Well done. Val

Author's Reply:

Thanks Val. I didn't think I was going to write it, but I had this leftover idea for the 'Steppes' line and it grew from there, while daydreaming on the bus to work. 'Clever' doesn't come into it, I was just having fun.


---
e-griff on 25-01-2008
Former Soviet Union Sonnet
Technical merit? ... you'll be pleased to know I've thrown my crib sheet away, so can't comment :- )

Nice final lines.

Author's Reply:

Oh, I know this doesn't fit the technical spec. As well as the incorrect m/f endings, the syllable count is wrong in line 4 (though I like the way it sounds).

Glad you liked the final couplet. Probably the hardest part of a satisfactory sonnet.


---
Macjoyce on 25-01-2008
Former Soviet Union Sonnet
Hmmm. Not as good as the other one. Too many questions, I reckon. Who's Comrade H?

I don't think 'pogroms' works as a masculine rhyme, or 'archipelago' as a rhyme with 'embargo'. It's pronounced ark-ee-PEL-a-go, isn't it? Also, 'Pinner/in a' are feminine and need to be masculine.

Pavlovitch MacOnegin


Author's Reply:

One can never ask too many questions in a free society, tovarisch.

Comrade H is part of a defunct Russian tribute band. 'Reach for the Red Star?'

The lines you mention are for comic effect. 'Pinner/in a' is excruciatingly bad, whether m or f. The 'embargo/Archipelago' is deliberate misdirection. (Like the false 'gazelle/gnu' alliteration in a previous poem.)

Sure, it's not great. But it's not bad for a quick one off the wrist during Thursday lunch hour, before I forgot the damned thing.


---
red-dragon on 25-01-2008
Former Soviet Union Sonnet
Well, I'm a duffer when it comes to Russian sonnets and male/femail endings, but the whole sonnet worked for me - slick ending, too. Ann

Author's Reply:

---
delph_ambi on 25-01-2008
Former Soviet Union Sonnet
Nice ideas in this one. Needs a few tweaks to work properly regarding the form, but an entertaining poem with a pleasing twist.

Author's Reply:

---
Sooz on 26-01-2008
Former Soviet Union Sonnet
Loved the last two lines .. haven't a clue about the metre, but it worked for me.

Author's Reply:

---
Sunken on 27-01-2008
Former Soviet Union Sonnet
Hello Mr. Mandrake. Anything that mentions H from steps has got to be worth a read... I think (-; Surely a first for planet uka. Good to see you posting again. Well done on the nib.

s
u
n
k
e
n

loosely based on a coat hanger

Author's Reply:

---
reckless on 27-01-2008
Former Soviet Union Sonnet
I enjoyed the fun of it, and the serious undertones, along with the great ending. Shows how adaptable and versatile the sonnet form is.

Author's Reply:

---
e-griff on 22-05-2008
Former Soviet Union Sonnet
you won the weekly challenge yesterday - you need to set the new one PDQ 🙂 G

Author's Reply:

---
---
Russian Sonnet (posted on: 21-01-08)
For the challenge. My first tentative piece of writing this year. Perpetuating a common error by requiring the word 'nuclear' to be pronounced as if it has only two syllables, until I can figure out a more elegant phrasing. I would also have liked to work the word 'agitprop' into it somewhere.

Once, we cried The Russians are coming! And slept with Reds inside our beds. To the tune of Billy Bragg's strumming, We marched with berets on our heads; Iconic Che Guevera posters On kitchen walls, above our toasters And Chairman Mao's pithy book On coffee tables, for the look. Lists of names, come the Revolution; Like Thatcher, Reagan and the rest Of those class traitors to the West Who would face the final solution... Atom bombs never fell on Slough; No nuclear winter snow to plough.
Archived comments for Russian Sonnet
---
bluepootle on 21-01-2008
Russian Sonnet
I really like the use of the names in this one to give it a time frame and strong images. I felt that, although the last lines are great, that it didn't reveal how the narrator of the poem really felt about the fact that the nuclear winter never came. It could almost do with another russian sonnet about life after that time, if you felt up to it!

Author's Reply:

Well, that's new. I haven't been asked for an encore before!

I thought there were enough hints to show this is another of my unreliable narrators. A cosy middle class communist playing with revolution as fashion. The Betjeman reference makes the prospect of nuclear war seem almost cosy and reassuring.

However, I found 14 lines quite constraining, so I could have more to say.


---
e-griff on 21-01-2008
Russian Sonnet
'nuclear' was fine for me. Technically you got the metre and rhymes right, but not the masc and feminine endings in the first half (it is a very restrictive form).

A telling and interesting poem, though. I liked the slough/nuclear winter snow lines very much.

Author's Reply:

I'm disappointed that I didn't quite nail the form, but I enjoyed the discipline of staying within the general parameters.

Glad it works as a poem in its own right, though. This would never have been written without the challenge brief, so thanks for the inspiration.


---
Bradene on 21-01-2008
Russian Sonnet
Liked the content, very clever I thought. Tend to agree with Bluepootle about needing another sonnet revealing life after that period. Val

Author's Reply:

Always leave 'em wanting more - isn't that what they say?

You want a sonnet about the breakup of the former Soviet Union as a metaphor for a whole generation of disaffected nouveau capitalists? You may have to write that one yourself!


---
red-dragon on 21-01-2008
Russian Sonnet
I have really enjoyed reading all these Russian sonnets and this one's no exception. The only line I couldn't scan was the one ending in solution...but I don't want to be picky, as it was a great read! Ann

Author's Reply:

I see what you mean, Ann. It's a run-on line, but it has to be phrased slightly unnaturally to meet the iambic beat. Requires a pause for thought, which can trip up an unwary reader.

Glad you enjoyed the read, though.


---
delph_ambi on 21-01-2008
Russian Sonnet
Works for me. Has good, strong subject matter. Even though I've done one of these myself, I've already forgotten the form, but I'll take griff's word for it that this is correct except for the m and f endings.

Author's Reply:

I'm from the old school that believes a writer needs to serve an apprenticeship by writing in these formal styles and learning how to use the tools of the trade. If you've never written a sonnet, then you ain't a proper poet innit.

Glad that I was able to make this work for you.


---
teifii on 21-01-2008
Russian Sonnet
I think this is my favourite in the challenge - not sure why except perhaps that I remember those times so well.
Daff

Author's Reply:

I think I may have had the docu-drama 'Threads' in the back of my mind when I wrote this. If ever I get beyond the research and plotting stage of my WANIAY2, then it will be set in a version of the 1980s. Unlike the 60s - if you can remember the 80s, then count yourself lucky to have survived.


---
Macjoyce on 25-01-2008
Russian Sonnet
A sweet little post-historic sonnet. I liked the posters/toasters couplet.

Any atomic bombs that fall on Slough will of course not come from Russia. Methinks the Soviet Union was something of a red herring...


Author's Reply:

---
Sooz on 02-02-2008
Russian Sonnet
For soem reason this put me in mind of 1984 (The book) I felt as though the narrator was constantly being watched to see that his political devotion was all in order and as it should be.

I enjoyed this one. Again not up on the structure of it but I liked the words and the pictures they created.

Author's Reply:

---
---
The Concrete Garden (posted on: 05-11-07)
A story in which nothing happens.

THE CONCRETE GARDEN TWO He enters his office and sits down at his desk. The room is small and bare; its walls a glossy flesh colour. Like sitting inside a vagina. He is amused by the Freudian connotations. He smiles wanly. His teeth are crooked. They appear sharp. He scrutinises a single small scrap of paper that lies on his desk. He scrutinises it with a cold eye. (His hot one would burn the room. And then where would he be? In a burning room, of course.) He cannot decipher the words on its surface. Even though he had written them himself, only the day before. He yawns. Then sucks thoughtfully on the gold plated cap of his pen. Phallus or nipple? FOUR He enters the living room with a white rose clutched in his hand. A banal gesture. One of its thorns has scratched his ring finger. A fact of which he is unaware. The room smells faintly of stale sweat. Three dead rose petals fall to the floor: A snowflake… A settling butterfly… A stray piece of confetti… He watches their spiralling descent impassively. He sighs. Then allows the remaining scraps of moribund flora to slip through his fingers. He notices a few specks of dry blood, in stark contrast to his unnaturally pale skin. He sits down in an armchair. He gazes up at the ceiling. At the shadows. The primal dark. The ceiling resembles a blank tombstone. FIVE His bedroom window is divided into twenty-four rectangles. Each of them possesses the same dimensions: Twenty-one centimetres by twenty-seven centimetres. Eight of them contain gardens. Eight of them contain houses. Eight of them contain the sky. He concentrates on one specific pane. The lines and angles it encloses form a complex hieroglyph. He tries, almost desperately, to divine its meaning. But there is none forthcoming. EIGHT He sits in his favourite chair: A rocking chair. Cold saliva runs down his chin. He clutches at himself with claws that are fingers. He stares down at the floorboards. Down into the cracks between them. The infinitely wide… infinitely deep cracks… Each one of them a microcosm of the Void. A womb from which a new universe might, at any moment, be born. He is enraptured by the prospect. Darkness. Darkness. He sees only darkness The rocking chair creaks like a metronome in 2/4 time… Time… TIME… /Sadness/His other eyes/Twinkling/Stillborn tears/The eclipsing floor/Stars/Cold flame/He hunches his shoulders/His tortured shoulders/A resurrection/Memories of a past tragedy/He hunches his shoulders in anticipation/An enormous disaster/Future disaster/ He laughs. He rocks his chair even faster until it topples over backwards. He laughs louder and kicks his heels at the suddenly inverted air. He cannot understand why he is laughing. Laughing with tears in his eyes. It is all so ridiculous. The back of his head throbs where he has banged it against the floor. But still he laughs and kicks and dribbles and clutches at himself. What the hell. What the hell. When all are dead, who will toll the bell? NINE He is alone in his bedroom. He gazes at his reflection in the dressing table mirror. His face appears to be a total blank. Without expression. Without character. Without features. The long strands of his black hair hang down lifelessly onto rounded shoulders. They frame a pallid circle of cold flesh: His face. He stares at it. He peers intently into its milky depths and is barely able to discern a pair of eyes. A nose. Lips. The eyes are lost in deep shadow. Ebony set in black onyx. He closes them to the awful darkness. There is no reason for him to keep them open any longer. It makes no difference. Darkness still prevails. He leans forward. The mirror presses cool against his forehead. THIRTEEN He lays sprawled across the living room floor, flicking through a dog-eared volume of his own poems. The gentle glow of a coal fire warms his sallow flesh and provides a soft illumination. But his eyes remain blind. They are too grey. Too deep set. He snatches up a glass of Bacardi & Orange and takes a large, debauched swig. It tastes like candy floss. The glass is hot and sticky to his touch. He has left it standing too close to the fire. The orange juice seems to have somehow curdled. Resolutely, he finishes off the remainder. Although he can no longer see to actually read his own poems, he still remembers them only too well. He experiences a sharp pang of emotion as he turns the pages of the slim book. Something akin to sadness. Bitter. Fierce. Formless. He… sobs...? The sob undergoes a strange metamorphosis and becomes a yawn. An overlarge, affected yawn. The wells of his eyes have dried up (The drought seems perpetual.) He can no longer hope to understand his poems. The heavy symbolism is far too confusing. Ambiguity. Obscurity. The old literary devices do not seem so clever any more. Impenetrable. He tosses his empty glass onto the fire. He hears it shatter. He hears the hiss and pop as it starts to melt. The flames turn a ghastly blue/green. Like corpse lights. His mind is empty. He feels sick. SEVENTEEN The chair is extremely uncomfortable. It is an amorphous lump of mass produced plastic. Its seat is hard and has the unfortunate effect of making his thighs perspire. Before him spreads the off-white expanse of a much abused desk. Paint peeling away from those surfaces from which it has not already been scratched. It is stained by: Rings of congealed coffee. Sundry particles of food. Scribbled messages on various levels of obscurity and/or obscenity. A creeping, sticky trail of unidentifiable brown liquid. The blemishes combine to form an intricate pattern. A mystical device. A scattered, incomplete pack of grubby playing cards serves to reinforce the cipher. Like a tarot. But he makes no attempt to analyse it. He is barely thinking at all. Inside: Two people play a game of chess. Three people watch them, making occasional murmured comments on the relative intelligence of certain moves. They also hold a vapid discussion about the previous night's football match. (A pastiche of a million other conversations… a million other games…) Someone plays acoustic guitar in an uninspired and desultory fashion. Two people listen; faces masked with what appears to be admiration. Four people huddle together round another desk. They giggle as they share their brave new world of emergent sexuality and sublimate their embarrassment with unlike innuendoes. Outside: A grey sky enshrouds a grey world. Even the grass in the park seems grey. Like the houses surrounding it. Like the windowless factory in the distance. He shifts his gaze in order to trace the length of a grey road. It is filled with grey traffic. Beside it, there walk grey figures. NINETEEN He is afraid. He can feel the soft dirt under his fingernails. The bristles on his cheeks. The yellow film on his teeth. The sticky sweat in his armpits. The pimples on his back. An oppressive taint of humanity drags at the room's atmosphere. It warns him of impending migraine. His hair collapses into lank strands that all seem to desire his life. They penetrate between his dry lips and attempt to force their way down his powerless throat. He chokes. He falls back onto an armchair. It engulfs his neck. His back. His buttocks. His thighs. (The digestive process has begun.) Sweat forms like condensation on the white marble curve of his forehead. It then trickles down maliciously into his eyes. He is blind. He looks into darkness where there had always been at least a gentle twilight. TWENTY-TWO He selects a couple of reasonably clean tumblers from the draining board in the kitchen and carries them up two flights of stairs to his bedroom. He sets them down on the dressing table, next to a small bottle of whisky. She smiles up at him from the rumpled double bed. Her smile is mocking. Her eyes are two ruthless snipers. He feels nervous as her pours out a generous measure of the dark golden rotgut for each of them. He gives an unconvincing smirk as he hands her a glass. His hand trembles. He is well out of his depth. He much prefers to be the seduced rather than the seducer. He raises his own glass to his dry lips with a half hearted flourish. He takes a small nip of the fiery brew. He holds it in his mouth for a few sickening moments, allowing the heat to bleed off onto his tongue. He then catapults the vile liquor down his unsuspecting throat. His stomach is caught by surprise and lurches in violent response. He suppresses the urge to shudder and sits down on the very edge of the bed. He crosses his legs primly. An acid tear forms in his eye. He gazes gloomily through its rainbow haze and tries to calculate how many more sips it will take before his glass is drained. The girl knocks back a good few mouthfuls of moonshine. She sets her glass down on the floor. She then reclines gracefully on pink nylon sheets that coincidentally match the colour of her long, fuzzy hair. She licks her soft blue lips. He turns around slowly. He gazes at her – into her – with dark, disturbing eyes. The pupils are small and withdrawn. Hard. Like pebbles. His face twists strangely as he attempts to smile. He blushes faintly. She caresses her nipples, which are clearly visible through the flimsy fabric of her T-shirt. She is obviously not wearing a bra. Her breasts are small, but firm and well shaped. He sighs drearily. His mind feels leaden. Dark. Dense. Heavy. He lays back on the lumpy, uncomfortable bed. Weak with self pity. His thoughts explode into jagged fragments of shrapnel. They ricochet against the inside of his delicate skull and threaten to burst it wide open. She props herself up on one elbow. Gently strokes the hairy expanse of his stomach. Croons to him softly, as if he was a baby. Hurriedly unzips her tight white jeans to reveal that her pubic hair is also pink and fuzzy. TWENTY-FIVE He is alone in the aching emptiness of his small, seedy bedroom. His naked body shines with perspiration. It is a terrible night. So hot. His head aches. His body aches. All over. He aches… He aches… He moans and groans pathetically. He cradles his head in the complex network of his entwined fingers. A single tear falls and splashes on his thigh. It tickles. It seems so wrong. Nothing should be this frivolous. Not now. He tilts his head back and gives a hoarse, whispered scream. The muscles in his neck and throat become tense. Horribly emphatic. The artery drums harshly. A pulsing, echoing skull… He wonders whether the night will ever end. TWENTY-EIGHT The cold morgue. Black and grey. Full of darkness. Full of death. Still. Silent. A feral hush. Nothing moves. Nothing can move. The shadows are solid. Static. Frozen. As tangible as the rows of marble slabs that form a precise pattern of rigid straight lines. Like cuts from a surgeon's knife. But the symmetry is not absolute. An intrusive object lies in the room. It is cold and still, but imprecise. It does not belong. It is a cancerous growth. It has to be removed. Ruthlessly. One of the shadows stirs. It is a man. A man dressed entirely in black. He glides across the room. Across to one of the slabs. Across to the shrouded form it supports. He waves his hand like a magician. He draws the shroud aside with a single deft movement. A skeleton is revealed. A yellowish grey skeleton that stinks of disinfectant. The man smiles. The smell evokes a vague but pleasant memory. He reaches down and shakes one of the thin shoulders. Its bones are brittle. A few pieces flake off and stick to his fingers. The skeleton moves. It creaks. It sits up slowly. It is obviously very weak. Its arms hang loose. Its skull rocks about precariously. He steadies the emaciated figure with both hands and helps it to stand up. A difficult task. It takes quite a while for it to gain its balance. It stumbles and clatters across the hard concrete floor. But eventually it stands upright. All by itself. The man points to the door. The zombie inclines its skull. It pivots round stiffly and stalks out of the morgue. The man is alone. He lays down on the vacated slab and composes his limbs in the traditional attitude. His breathing slows. His heartbeat fades. His body cools. The shadows absorb him. There is symmetry. THIRTY-EIGHT She strips off her clothes with a rather cold and efficient haste. She stands naked before the wardrobe mirror. She is blushing faintly all over. Or is she merely another aspect of the regal sunset? Adrift in a reflection of the purple sky… The purple satin bedclothes… She gazes dispassionately at the image of her smooth, roseate body. So smooth. Inhumanly smooth. She has no breasts. Her torso is sleek and featureless. She lowers her eyes. No navel. No pubic hair. No labia. She is sexless. She is a living doll. She turns to face him. The movement causes the long tendrils of her eyelashes to wave and to flutter gently. A coy smile flashes across her lips, like light across the facets of a ruby. The soft whisper of her breath resembles the rustle of ten pound notes. She kneels down and cups his amazed penis in both hands. He does not respond. He is nonplussed. She quirks her lips in derision, then takes a firm hold on the flaccid organ and massages it roughly. He groans. He flushes a brilliant crimson. She glances sardonically at the pitiful, half erect stump of flesh. It appears to have a tear in its eye. She wrinkles her nose up in contempt. She then tightly clutches his trembling buttocks and pulls him towards her open, voracious mouth… THIRTY-NINE Why is he writing this? How can she – her words – have made him wish to compose a poem of his own? And the room is like a prison cell. Its walls are preternaturally hard. He can barely hear the distant, tinkling sounds of birds and children. Miles and miles below. But all he can see is a colourless patch of sky; too dismal and drear to even be considered as being grey. He is caught in a cube. The edges as sharp as razor blades. The shadows crush him. Like slabs of lead. And the sky suddenly attacks him, too. It pierces the window with stabs of sunlight. He flays at the piece of paper on the desk before him. He tries desperately to impose his own views upon it. Intelligent views, or so he thinks. But why – when put into words – do they make a travesty of life? Why so distorted? Why incoherent? He can remember being told that, as a child, his face was extremely pretty. Like a little girl's. Oh! But how many gallons of pus have conspired to create yet another liar. He can remember being told, only recently, that his face was like blancmange. Milky and cratered. He screams inwardly. He wields his pen like a stiletto. A misericorde. Each word is a wound. A mercy killing. But the poem is still pathetic. Miserably inadequate. So he tears it up. FORTY-FOUR He stands on the steps outside a large terraced house, which had probably once been quite picturesque. He presses the front door bell. Nothing happens. The heavy iron knocker is apparently missing. He does not relish the idea of knocking at the oak panels with his bare knuckles. And he is certainly not prepared to stoop to shout through the letter box. He stands unmoving. He wonders what to do. Nothing comes to mind. Just then, the door swings open. She smiles out at him and motions for him to come in. He smiles back at her. A genuine smile. He enters the dark hallway with a definite spring in his step. Junk clutters the stairs and is littered all over the floor: A white marble head on a wooden pedestal. A small, baroque table stacked with fading magazines. A number of battered old cardboard boxes. She points towards an even darker part of the house. The paintwork is chocolate and cream. Or, at least, it had been at one time. Several more dilapidated boxes are piled carelessly throughout the room. More boxes still are balanced perilously atop a tall, imposing cupboard. He negotiates this curious, fragile maze with due caution. It is somehow reminiscent of the art forms of the late nineteen sixties. He discovers that he is in what apparently serves as a kitchen cum dining room. He looks up towards the unusually high ceiling. The vibrations are all wrong. Not good. Not bad. Wrong. Weird. His initial sense of elation is dispersing rapidly. She wriggles past him. Her slim body… The waves of her long auburn hair are tangled and in a mess… And her green eyes… She offers him a cup of coffee. He laughs – a sharp, nervous bark – and refuses. She quirks her lips. Her expression is unreadable. She sits down rather abruptly. A strangely violent action, which he finds disconcerting. He clears a space for himself on the edge of the kitchen table and also sits down. Simultaneously, he notices something scribbled on the side of one of the cardboard boxes. He recognises the handwriting as being hers: Neurotic / New erotic. FORTY-EIGHT The sun, in its obesity, dominates the sky. The sky. The sky is such a pallid grey that it renders the clouds invisible. Clouds and sky merge and become one. He feels ill at ease. She places her convivial glass of Southern Comfort and Lemonade on the table and looks at him quizzically. He sighs. He gazes out of the window. She reminds him that he has not even touched his drink. Silence. He does not respond. Birds fly by on creaking wings. The sun disappears. Grey. Grey. Grey on grey. Goodbye sun. Goodbye. She stands up and says goodbye to him. As she does so, she accidentally jars the table and knocks her glass over. A thin stream of alcohol spills over the table's edge. It soaks his knee. The resultant stain spreads in eight directions: A spider's legs. A Union Jack. An exploding star. She apologises. He looks up at her. His eyes are full of midnight. He gives a chilling semblance of a smile. She makes an embarrassed exit. Closes the door with excruciating care. The pain in his knee makes him cry. The star! How it burns! FIFTY He is alone with his pain. Alone in the bleak white emptiness of his cold bedroom. Kamikaze sunlight streams screaming through the dirty window and crashes against six intersecting planes: The walls. The floor. The ceiling. Anguish. He does not know how to express his extreme anguish. FIFTY-ONE A small room full of darkness… shrouded forms… and the stink of long abandoned paint… This is where all the images come from… one way or another… Thick black curtains of coarse cloth… of memory… hang before grimy windows… One of them is torn… It admits a thin spear of insipid light… a feebly glowing yellow trail… a segment of nothing sunshine and baleful… Grey the canvas… cobweb bedecked and mildew edges… Glisten all forlorn… streaky paint with dirt in water… gravitic splash and moribund flies… The beauty is final… beautiful dark… Cusp bedevilled sheen suspended in a depicted air… centred among temporal drifts… Future mirrors… or past… Identity confuses anything real… It lays and green moulders with a sadness that irony can giggle over… Yes, it is sad… No-one perceives… Perhaps the artist is dead. FIFTY-TWO He presses his face hard against the window. His neck is bent at a grotesque angle. The cold pane of glass numbs his cheek. He can see nothing. Nothing alive. The penthouse in which he now lives is too far from the ground. All he can see is the blank grey roof of the towerblock proper. It is so expansive that it blocks all view of the ground. The sky is merely a reflection of this. It is equally blank and grey. Like a dome of iron. He tears himself away from the miserably empty sight. His mind feels like a clenched fist. He sighs dismally. Never before has he felt such total despair. Such utter loneliness. The future promises nothing but a continuation of his unbearable ennui. FIFTY-SEVEN He bends back his wrist and gazes in morbid fascination at the blue/grey latticework of veins. He then regards the bright new razor blade held firmly between the thumb and first two fingers of his right hand. He believes – just for a moment – that he can see her face frozen in the cold steel. He makes a small, experimental cut in his exposed flesh. It hurts even more than he expected. He holds his hand beneath the tap and turns on the water. His blood becomes pink and diluted. He feels sick. A couple of tiny, bright jewels of blood twinkle on the mirror above the basin. He regards his face. It is no more than a pale, abstract blur. A shadow conceals his eyes. He observes his blood swirling round and round and round in the sink, before disappearing forever down the gurgling plughole. He grits his teeth. He makes a few brisk strokes with the blade. His face contorts in agony. His hand jerks. (He remembers how she jumped from the bedroom window. How her hands had also jerked in the same futile rhythm: Clutching at the air.) His hand continues to jerk convulsively. Blood fountains from the severed artery. He kneels down in an unintentionally reverent attitude on the bathroom floor. SIXTY-NINE He wrenches a couple of rotting planks away from what remains of the front door of the terraced house and cautiously squeezes into the dank, dingy hallway beyond. He hesitates there for a moment. He smells the muskiness of the stale air. The strange sweetness of what he knows to be dried blood. The very dolefulness of the bleak atmosphere. He then looks up the stairs – up at the waiting darkness – and immediately realises he will never be able to climb them. Instead, he enters the doorway on his left. Broken glass and shards of crockery crunch ominously beneath his feet. The sound shatters the oppressive, funereal silence. The kitchen is a wreck. A chaotic ruin. Everything has been thoroughly and maliciously smashed. Probably with an axe. The same axe which… He slips a couple of fingers inside his shirt and feels the soft ridges of scar tissue across his stomach. He remembers… He kneels down abruptly and starts to pick through the domestic rubble. Anything to keep his mind safely dispassionate. His madly scrabbling hands discover two hard, cold objects. He clenches hold of them fitfully and lifts them to his empty gaze. His left hand contains a chess piece: A black queen. His right hand contains an empty pack of Gauloise Disque Bleu. One face of the pack is stained a dull crimson. Blood. He remembers… He opens his hands. The objects fall. Clatter. Become once more obscure. He trembles. He straightens up and pulls his jacket tighter across his stooped shoulders. An autumn breeze flickers through the house. A disconcerting whisper. He can hear music being played next door. A tinny jazz/blues number with which he is not familiar. He starts to shiver quite violently. He strides into the adjoining living room. It appears relatively untouched by violence. Except for the eviscerated armchair. Its black leather flesh has been cruelly hacked and slashed to tatters. Its fluffy entrails lay scattered over the carpet. He remembers… He moves deeper into the vacuous room. The white paintwork – once so bright and cheerful – is now stark and menacing. The silence – once merely calm and peaceful – is now the calm before a storm. The peace preceding an ambush. He turns on the television set, in the hope that it will serve to drown the feral stillness in a tawdry flood of light and noise. The screen whines miserably. It emits a chill blue radiance. Shadows. Shapes appear. Words: WARNING H.M. Government WATCHING TELEVISION CAN DAMAGE YOUR MENTAL HEALTH He screeches incoherently. He topples the TV from its stand. A dull implosion. He flees the room. He flees the house. He flees down the grey, deserted street. But he cannot escape. He remembers… SEVENTY-THREE (Faceless, we are dying. In death, we are faceless.) He opens his eyes and sits up. The room is as devoid of character as he is himself. He stares at the featureless green wall. He smiles. He smiles. He stares and smiles for the whole of the morning. Eventually, he comes to believe that he is blind. But that is not true. He can see as clearly as anyone. Nevertheless, he believes that he is blind. He is blind because there is nothing to see. He cups his hands and covers his face. SEVENTY-SIX SEVENTY-SEVEN Sitting here in the cold – in this alien room, in this unhaunted house – he can find no sources of inspiration beyond his own body. A dismal predicament. He is trapped within the clichéd, obsessive landscapes of his own psyche. He can resort only to ambiguity and obscurity and sheer propaganda. (Sincerity is the lowest form of wit.) He looks from his window. The sky – the sky that intrudes between silver edged mountains of ebon cloud – is the colour of weathered bone. He turns away from the sight. It saddens him and yet it is also unimportant. He does not understand. He does not pretend to understand. EIGHTY The wind laughs outside his lonely room. It threatens to suddenly smash through the walls and to fling him out into the unloving street. Into the eyes of the blind. Into another screaming paradox. Oh, yes. And everyone he knows will be there. They will see him naked. A blotch of lesser grey on the grey pavement. They will see him. They will watch and wait. Unmoved. Patient. Objective. A sheet of virginal white paper lays composed on the altar of his thighs. It awaits the sacrificial cut from a phallus of plastic and tin: A bloody ball point pen. He stares. He thinks. Images collapse into a black hole of impotence. The words are tired and overworked. Pain lurks behind his right eye. Behind the tears that he is too depressed to shed. Migraine bores him. He sighs. Frustrating patterns begin to form. The paper falls to the floor. It is kicked and trampled by his restless feet. The pen breaks. It scratches his hand. Blood trickles thin across his palm. Crimson and shiny and warm and real. He screams. He screams. Blood oozes thick across his palm. Red and dull and cool and illusory. EIGHTY-FIVE The living room is empty of all objects, apart from himself. His long, artistic fingers are blue with cold. The paint on the walls – a neutral shade of green – is still wet. The French windows are wide open. Spring sunlight coats the bare floorboards like a pool of golden syrup. A sylvan gust of wind tiptoes into the room and presses its icy, ethereal lips to his cheek. Like the kiss of death. He reaches into his jacket pocket and produces his slim volume of poems. Every word on every page has been emphatically crossed out and rendered illegible. He throws the book away with all the strength he can muster. Its pages flutter like the wings of a startled bird. It flies out of the room. Out into the garden. The concrete garden.
Archived comments for The Concrete Garden
---
bluepootle on 05-11-2007
The Concrete Garden
I'm not sure I understand it, but it does have me captivated, and the battle between the artist and reality (if that's what this is about!) involves some great fresh description. I liked your start and end points very much, and the fact that you weren't prescriptive in the writing, and I felt free to take from it what I wanted.

I think possibly there are a few too many adverbs, and 'almost desperately' is a bit lazy, but nothing a quick polish wouldn't take care of. I particularly liked the thread of Freudian interpretations - gave it an interesting through-line that really worked for me.

Author's Reply:

Thanks for the appreciation. I'm glad you found it open to interpretation as part of my intent was to create a sort of verbal Rorschach test. The erratic numbering also suggests a jigsaw with pieces missing. There is a strong suggestion that something terrible is happening, but off-screen somewhere. You are meant to question what is happening. There is no division between 'reality' and 'fantasy' and the non-events are non-linear.

You are probably right about the adverbs - but it would be horribly stark without them. And they also have the effect of increasing the sense of 'fictionalisation'. In a sense, 'he' is a character in his own story. As there is more than one 'she', then so there could be more than one 'he'.

Is there a more accurate word that means 'almost desperate'? I couldn't think of one.


---
---
The Function of Rhyme (posted on: 05-11-07)
For the Sestina challenge. Inspired by an e-mail conversation with Macjoyce, which made me think about our different approaches to poetry.

THE FUNCTION OF RHYME I write these words on her skin; plain paper scribed with midnight ink; each year of passion fills a diary with lines and wrinkles as honest as the year is long. Each verse describes obsession and repeats the lie that blood is fundamental to all rhyme. The friction of flesh on flesh does not rhyme; but the sibilance of crumpled paper lends alliteration to one more lie about iambic pulses of passion. It is so hard to trust romantic verse, when veins grow hard and beauty finds wrinkles. And yet, I compose an ode to wrinkles and praise their facial pathways, though no rhyme can do more than mock my intent; no verse capture her true countenance. While paper remains smooth and blank, I fear passion will rip this page, so resort to a lie. So often, poems tell a pretty lie and hint at underlying truth. Wrinkles on a poet's brow reveal a passion that resembles constipation. Each rhyme is romance and contrivance. Waste paper overflows the bin with my crossed-out verse. I think of her and start another verse; trace her veins, as if my pen is a lie detector and these scratched spikes on paper can measure her responses. Her wrinkles relax into sine waves and inspire a rhyme that conjoins repetition with passion. Oh, but I have had enough of passion and the palpitations of fevered verse, which malinger and infect the poor rhyme I have nursed this far. I tell a white lie to soften the prognosis, like wrinkles air-brushed from her picture in the paper. The function of rhyme is to tame passion, catch it on paper, hem it in with verse, geld it with a lie and smooth its wrinkles.
Archived comments for The Function of Rhyme
---
e-griff on 05-11-2007
The Function of Rhyme
I like the scheme you have used here to bridge the (most difficult part to make interesting) repetitions between verses. I wish I had found that for my own effort.

This flows very well despite the restrictive form, which doesn't appear dominant. What's more, interest in the theme and ideas expressed blots out consideration of form. So, a very successful write, I would say. 🙂 JohnG

Author's Reply:

Thanks, John.

I've had a few previous goes at writing a sestina. I'm not sure whether the best approach is to try to conceal the end words or turn them into an integral feature. In the end, I think I did a bit of both. Some trickery with enjambment and internal rhymes. Playing with the concepts of repetition and obsession.

The most difficult thing, I found, was to sustain the theme for 39 lines when I am usually more succinct.

Regards,

Mandrake.


---
Bradene on 05-11-2007
The Function of Rhyme
I lked this one it flowed really well and the content was perfect I am in awe of this one. Val x

Author's Reply:

Thank you, Val. You are too kind.


---
Hazy on 05-11-2007
The Function of Rhyme
Oooh, it's a fabby!

Really not sure about using 'constipation' though :-/ Images in poetry are all well and good but, well, yeah, erm...

Thanks for taking part! Really enjoyed.

Hazy x

Author's Reply:

Is there a more apt word for that feeling when you have an idea clogging up your head that just won't void itself onto the page? Plus, it's in keeping with the anti-romantic sentiment.

Glad you enjoyed it, though.


---
Jolen on 05-11-2007
The Function of Rhyme
I agree, this is well done and I could also relate to the subject matter, which always makes me happy. I very much enjoyed this.

blessings,
Jolen

Author's Reply:

Thanks. If you're happy, then I'm happy. Glad you enjoyed.


---
Ionicus on 05-11-2007
The Function of Rhyme
I agree with Hazy about the wrinkles/passion/constipation references but taken in its entirety it is a worthwhile composition.

Regards, Luigi.

Author's Reply:

Well, the references are not gratuitous, so I stand by them. But I'm glad you found the poem worthwhile.


---
teifii on 06-11-2007
The Function of Rhyme
This is really clever. I'm impressed. Agree about the constipation though -- it made me laugh quite inappropriately.
Daff
http://www.merilang.co.uk/gallery/books/shop.merilang.htm

Author's Reply:

Is there any reason why you shouldn't laugh at that point? What makes you think your reaction is inappropriate? A sense of the absurd is never far away in my writing.

But it's gratifying to know you were impressed.




---
delph_ambi on 07-11-2007
The Function of Rhyme
An exemplary sestina. I am in awe. This is bloody brilliant.

One tiny, tiny crit. The punctuation in the first sestet - I'm not sure about the semi-colons. I would have used a dash for the first and a full stop for the second.

Author's Reply:

Yes, I think you're right about the punctuation. It's a leftover from an earlier draft, which was phrased differently at the beginning.

Thanks for your enthusiastic response.


---
Macjoyce on 07-11-2007
The Function of Rhyme
"Each rhyme is romance and contrivance" you say, John, but the same can be said of free verse, of all poetry. What is poetry but imaginative use of language? All poetry is contrived, otherwise it would just be a bus timetable or a note for the milkman. You told me once that all your poems contain some kind of structure - well, how is that any less contrived than rhyme?

"The function of rhyme is to tame passion" - well!

No, my friend! No, no, no! I know you don't empathise with the Romantic era at all, but I find much more passion in the words of Wordsworth or Byron or Shelley or Keats, than I ever will in Pound or Eliot or Plath or Ginsberg. There is no reason why passion cannot be found in rhymed verse. It's not difficult to rhyme, so it really doesn't restrict you that much. Can you really dismiss the sonnets of Shakespeare as lacking passion? Really?

The problem I have with postmodernism and free verse is that, most of the time, it seems that the poet is too lazy or talentless to rhyme, and just writes any old crap and justifies it with "Poems don't have to rhyme!!!" I don't think you're one of these, because your free verse is normally very good. But as far as I'm concerned, rhyme, and metre, make a poem listenable, and readable, and enjoyable. I know that's an old-fashioned view, but it's one that I'm sticking to. There is a Free Verse Mafia around who completely look down their noses at any kind of rhymed or metric verse. This is not only snobbery, but philistinism and a lack of feeling for the beauty of the sound of language.

Are you in or out of the Mob, John?...



Author's Reply:

Is that what I'm really saying? There are a few different layers, but mostly this is a poem about the frustrations of struggling to write a poem. The 'voice' is not necessarily mine, but that of an unreliable narrator. Conceit and metaphor.

I don't consider that I write truly 'free' verse. As you say, there is an underlying structure to my poetry. A poem without structure is difficult to distinguish from prose with random line breaks. (Yet, a note for the milkman can constitute a 'found' poem.)

Sometimes, my poems rhyme. Sometimes they don't. It depends on what I consider to be the appropriate form for the occasion. There is room for all types of writing in the world. In the end, there is just my subjective opinion about whether a poem is 'good' or 'bad' (or indifferent).

Like Groucho Marx, I have no desire to join any club that would have me as a member. That applies to Mobs, too.

And my poems stand by themselves.


---
Romany on 07-11-2007
The Function of Rhyme
This is excellent - very absorbing and lulling,

Romany.

Author's Reply:

Thank you. I like to make my poems absorbing. Very handy for mopping up spills.


---
teifii on 09-11-2007
The Function of Rhyme
Is there any reason why you shouldn't laugh at that point? What makes you think your reaction is inappropriate? A sense of the absurd is never far away in my writing.

No, you're dead right. Read again today and couldn't see why I thought I shouldn't. Actually it works very well on second thoughts.
Daff
http://www.merilang.co.uk/gallery/books/shop.merilang.htm

Author's Reply:

---
Jolen on 09-11-2007
The Function of Rhyme
HI Mandrake:
After receiving your reply, I thought perhaps my comment seemed trite or you found it belittling in some way. If so, I apologize. All I really meant was that, being older, I too found those wrinkles, etc something of a commonality I shared. Perhaps, I misunderstood or stated, again, if so, I'm sorry.

Jolen

Author's Reply:

No, it's my fault. Sorry if I sounded graceless. I'm not very good at accepting praise and it was getting quite late by the time I wrote my reply. I was just being flippant. No harm done, I trust.


---
---
The Moonfox (belatedly for the Prose Challenge) (posted on: 29-10-07)
Animals have their own myths - though they sound rather familiar.

THE MOONFOX At last, she stood in sight of the end of her quest. From the foot of the tumulus, she was able to discern the dim outline of the remains of the great World-Oak; wreathed in mist and silhouetted bleakly against the perpetually clouded sky. Although weary, she decided to begin her ascent at once. There was too much at stake to risk any further delay. As she passed between the massive Stones that ringed the base of the mound, she was acutely aware of their glowering life - the pent up force within each of their hearts - for she was akin to them: An elemental creature, also born of the womb of the Earth. Her eyes - cold and hard, like pebbles - became fixed upon the summit. The focus of so many hopes and dreams. The only chance of release from the oppression of Umbra. Fear gave her renewed strength. She began to run up the slope, her bare paws slipping on the slimy dampness of the grass. Thorn bushes grabbed at her from the darkness; scratching her exposed downy flesh, snagging her already tattered garments and once almost snatching the leather bag from her shoulder. After that, she slowed her pace a little and cradled the bag protectively in her arms. Its contents were precious beyond imagining. A terrible gloom seemed to be gathering - and with it, an ominous silence. Her progress was suddenly halted. She was caught in a chilling grip. Enveloped by a numbing coldness that froze her limbs. She could not move. Could not escape. She was paralysed. Trapped. Suspended in the web of a spidercat. She should have realised. Should have seen that the mists had been woven into a deadly pattern. This was just the sort of desolate region the spidercats would haunt. It was well known that they made their nests deep amongst the thorns and brambles. Already, she could hear their shrill cries as they came to feast on her blood. In desperation, she looked up imploringly towards the World-Oak. Its massive form seemed to dominate the sky, despite its being no more than a blackened stump in relation to its former glory. But there was no hope of intercession. Indeed, the whole situation was bitterly ironic, for she was the only creature with the Power to free the Man from His age old bondage. The strange, shifting red and green sparks of the spidercats' eyes now surrounded her. They seemed reluctant to approach her too closely. Probably they had never encountered an elemental before. Or perhaps they could sense the Artefact she was carrying and were rightly wary of its Power. Or, most likely of all, they were merely toying with her and delaying the kill. All of a sudden, a ghastly radiance flooded the scene. The spidercats scuttled way in confusion, screeching madly. Almost miraculously, a gap had appeared in the dense clouds above. The full, hideous brilliance of the Moon beat down upon the face of the Earth. The elemental was stunned. She had never before witnessed such an awful vision. It was surely the most ambiguous of all portents: The Light in Darkness. A symbol perhaps that the fate of the world was in balance, between Umbra and the Promised Dawn. A faint moaning came to her sensitive ears. It emanated from the foot of the hill. She glimpsed a flicker of movement down amongst the Stones. A slight breeze stirred the air. It carried a sharp stink of decaying matter. The moaning rose in pitch and became a desolate howl. The breeze picked up and swiftly reached gale force. It swept up the hill in wave after wave, drenching her with torrents of freezing rain. There was a final demented shriek. The spidercat's web was torn apart in the rabid jaws of a hurricane. She was flung through the air like a thistledown, then smashed with crushing force down into the mud. A low growl was all that now sounded in the far distance. Everything was once again still and expectant. She was certain that the storm had been of supernatural origin, but was at a complete loss as to the possible identity of her saviour. Bravely, she struggled to her feet. She was a pitiful sight in her bedraggled remnants of clothing and her filthy, matted fur. The bag, although grimy and sodden, remained clutched tightly to her chest. It was then she realised she was standing in the presence of the Man. His tall, naked form towered over her, close enough to touch. For a moment, she was overcome by a sense of reverence. Her breath caught in her throat. However, He was not the bronzed demi-god of legend. His skeletal limbs were extended in the shape of a cross, throwing the stark spurs and valleys of His rib cage into sharp relief. A sour smell rose from His sallow flesh. The tangled strands of His hair and beard were long and grey and lifeless. He was bound to the World-Oak with mistletoe, which seemed to have become fused to His hands and feet. His head was slumped down onto His chest; crowned with a wreath of holly, which appeared to be actually growing out of His skull. As she gazed up at Him, a holly berry fell and splashed on her tail. It was, in fact, a droplet of blood from His tortured brow. For the very first time, she doubted the Prophecy. She could not see how freeing the Man could possibly bring about the Promised Dawn. Nevertheless, she unfastened the bag and withdrew the sacred bundle from within. Carefully, she removed the protective wrappings from the Artefact, to reveal a curved white leather scabbard; cracked and discoloured with age. She then untied the thongs and uncovered the handle of the Sickle it sheathed. The handle had been fashioned from ivory and was inlaid with sapphires. She grasped it as tightly as she could. Her paws were not well suited to the task, but it nestled comfortably into her palm and seemed to hold her in a firm grip of its own. As if imbued with an unnatural life, the Sickle gradually emerged from its scabbard and pulled her arm high above her head. It shone with an eldritch, blinding light, far brighter than if it merely reflected the Moon. Its blue/silver blade could have been tempered from a lightning bolt. Transfixed with horror, she observed the fur melting from her limbs. Her claws became delicately painted china blue fingernails upon pale, translucent human fingers. Her whole body was changing... growing... She was dressed in a diaphanous, flowing white robe of the purest silk. Her hair was long and ash blonde. She was now as tall as the Man. He lifted His head towards her - but His eye sockets were dark and empty. He could not see her evanescent beauty. He opened His mouth to speak - but He had no tongue. All He could do was make a pathetic croaking sound in the back of His throat. She felt no pity. She was possessed by a cold, nameless spectre. She watched in morbid fascination as her hand fell with appalling slowness. The Sickle severed the Man's genitals and bit deep into the body of the World-Oak. For the space of a single heartbeat, everything was static in a phantastic tableau. The Power unleashed then exploded in a deadly backlash. She was convulsed and thrown violently off balance by a shockwave of energy. Her fur blackened and smouldering, she once again lay sprawled in the mud. Through eyes blurred with pain, she saw that the Sickle was twisted and dull. A foul blackness gouted from the wounded World-Oak. Its roots had burst free from the ground and were writhing like malformed fingers on a huge, mutilated hand. Mercifully, she lost consciousness... An age later, or so it seemed, she was awakened by the chilling breath of an animal against her cheek. Although her eyes remained shut, she was profoundly aware of its presence. A seventh sense told her it resembled a fox. The ethereal skeleton of a fox. Intangible. Invisible - to all but the most sensitive and perceptive of beings. In her mind's eye, she could see its ectoplasmic skull glaring down at her impassively. Its vacuous gaze threatened to engulf her, absorb her into sheer nothingness. That was the most terrifying thing of all. It had no allegiance either to Umbra or to the Promised Dawn. Its motives were so devious and obscure that they were incomprehensible to her. She knew implicitly that this was the vague, shimmering creature she had seen fleetingly amongst the Stones. This was her 'saviour'. Not that it mattered now. All hope had died with the Man. Vaguely, she believed she could hear the ghostly creature's un-voice, deep in her soul. Its quasi-words offered no comfort. ''The only freedom from Umbra,'' it seemed to say. ''Is in death.'' The clouds closed over the Moon like heavy iron doors. She was left alone on the hillside with only the silent, half imagined echo of the transient cry of the Moonfox to ease the darkness. She exhausted the little vitality remaining to her by forcing her eyes open and staring eastwards. Towards her homeland. Towards those whose trust she had betrayed. A dull redness was suffusing the horizon. It was as if the edge of the world was stained with the Man's blood. And so she died - without ever seeing the rising of the Sun and the fulfilment of the ancient Promise.
Archived comments for The Moonfox (belatedly for the Prose Challenge)
---
e-griff on 29-10-2007
The Moonfox
is this an response to the prose workshop challenge? It meets the criteria 🙂

Author's Reply:

OK, please consider this to be a belated entry in the challenge. Though I'm not sure what sort of animal the heroine actually is.

Is it any good? I was going for the slightly overblown style that is characteristic of the fantasy genre. But there's probably too much 'tell' and not enough 'show', due to cramming in a back story.


---
delph_ambi on 30-10-2007
The Moonfox
Powerful piece of writing. Felt like a fragment from a much longer work. Needed a prequel, maybe, of several thousand words (to satisfy my hunger for this sort of myth/fantasy writing).

Author's Reply:

Thanks. I was aiming to incorporate a sort of generic genre background that fantasy buffs could recognise and fill in the gaps for themselves, without hopefully being too cliched. Slapped on a bit of Celtic splatter-myth for shock effect and Jungian symbolism to mitigate its excesses. My main influence is probably Michael Moorcock, whose work should be better known.


---
SugarMama34 on 01-11-2007
The Moonfox (belatedly for the Prose Challenge)
Hi Mandrake,

I thought that this was written well. A unique piece of writing with a good imagination behind it. I liked the female character in this, even though I didn't know what type of creature she is. The story pulls you in straight away and it flows along nicely. The imagery was good too as was the backstory. I found this a fascinating read.

Sugar. xx

Author's Reply:

Thanks Sugar. I don't know about 'unique' as this is a typical piece of genre writing. But I'm glad to know the story worked for you and particularly pleased that you found it 'fascinating'.


---
---
The Green Rabbit (belatedly for the Prose Challenge) (posted on: 29-10-07)
Talking animals. There's no excuse for them.

THE GREEN RABBIT Once upon a time… Well, actually, that was not quite true – because this did not really happen at all. Let us start again: Once upon a time that never was, there lived a purple Aardvark called Cecil. But he has got nothing to do with this story, so we shall forget about him. Instead, we shall go to Australia – where a Duck Billed Platypus was making peanut butter sandwiches to take with him when he went to visit his friend Ernest the Wotnot. He was called a Wotnot, because no-one was really sure what sort of creature he was. And he was called Ernest, because that was his name. * Meanwhile, on the third floor of a multi-storey dustbin in Arnold the Elephant's back yard, Wallie Wurglesnip the worm was polishing his spectacles. As I am sure you can imagine, they tended to get very dirty since he lived in a dustbin. After cleaning them, he put his spectacles back on again and was surprised to see that there was someone in his living room. That someone was very furry and a bright shade of purple. ''Hello,'' said Wallie Wurglesnip. ''Who are you?'' ''Well, hello to you, too,'' said the furry purple stranger, brushing a couple of mouldy banana skins from his head. ''My name is Cecil.'' ''And what kind of animal are you?'' asked Wallie. ''Can't you tell?'' asked the stranger, pointing to his long, thin nose. ''I'm sorry. No,'' replied Wallie. ''You don't get to see much of the world when you're living in a dustbin.'' ''In that case, I had better explain: I'm an Aardvark.'' ''Cecil the Aardvark?'' asked Wallie, puzzled. ''But I thought this story was nothing to do with you.'' ''Yes, you're quite right,'' said Cecil. ''I'm sorry for interrupting.'' He then blushed – although no-one could tell, because he was already purple anyway. * As Arnold the Elephant dozed in his rocking chair, he did not know what had been going on in his dustbin. But, even if he had known, he would not have cared, because – as I am sure you will agree – it was not at all important or exciting in any case. All Arnold was thinking about was having a nice peanut butter sandwich with his night time drink. Unfortunately, he had no peanut butter – so he had to go without. Instead, he had to make do with cheese and jam, which was really not the same. * Of course, there was at least one lucky person in the world who did have some peanut butter. In fact, he had more than he could eat in a hundred years. This was because he owned a herd of special cows whose milk, instead of turning into ordinary butter, turned into – yes, you have guessed it – strawberry jam. But he did not like strawberry jam, so he traded it with a friend of his who owned a peanut farm. This friend was Alexander Aristotle Applejack Antelopeter Andyknees Andrew Ackack, the Ant who had a wooden leg. His name was something of a mouthful, so everyone called him Robert. Now, Robert was very good at his job, because he was just the right size to be able to milk an peanut. (It was a pity Arnold the Elephant did not know him, because then he would have been able to trade some of his cheese and jam for a jar of peanut butter.) * One of Robert's best friends was a certain Duck Billed Platypus, who – as I have already explained – was on his way to visit Ernest the Wotnot. This little journey took him through the Magic Forest where the Spidercats lived, past the Wicked Vampire's cave, over the bridge where the Nasty Nobbly lurked and close by the Haunted Castle. (Ł2 admission.) But, strangely enough, nothing bad happened to him. ''Ho hum,'' he thought. ''This visit is turning out to be more boring than I expected.'' At last, he arrived at Ernest's house. It was a perfectly ordinary house, except for three things: 1) It was hanging from the topmost branches of a Smiggle tree. 2) It was tilted over onto its side. 3) It was inside out. This meant that the Duck Billed Platypus had to climb the Smiggle tree, turn himself sideways and go inside the house to get outside the front door. There was a note hanging from the door knocker, which said: 'Dear Duck Billed Platypus. Sorry I'm not in, but I've gone out - and that is why I'm not here.' – which quite amazed him, because he did not know that door knockers could talk. * In case you were wondering, Ernest the Wotnot had gone to a tea party with Cecil the Aardvark in Wallie Wurglesnip's dustbin. But the party was rather spoiled by Arnold the Elephant, who kept crying because he still did not have any peanut butter. ''If only I'd known,'' said Wallie Wurglesnip. ''I would have invited the Duck Billed Platypus, too. Then he could have brought some of his perishing peanut butter sandwiches with him.'' ''Why didn't you, then?'' asked Cecil. ''How many people do you think can fit into a dustbin, anyway?'' said Ernest. ''Especially since you know very well that you're not even supposed to be in this story.'' ''Yes,'' agreed Wallie. '' For someone who isn't here, you're certainly causing a lot of problems.'' * And everybody lived happily ever after… Which again is not quite true, because nobody did anything of the sort. *
Archived comments for The Green Rabbit (belatedly for the Prose Challenge)
---
eddiesolo on 29-10-2007
The Green Rabbit
This is great!

I could imagine the characters and settings-this would be great illustrated.

Enjoyed very much.

Si:-)

Author's Reply:

You've reminded me that I did used to have some illustrations for this story, including a full colour portrait of the elusive Green Rabbit himself. I wonder what became of them?

Glad you enjoyed. It was fun to write.


---
delph_ambi on 30-10-2007
The Green Rabbit
Hilarious tale. I'd have loved this as a kid, as I was very much into nonsense writing (still am).

Author's Reply:

This was originally written as an entertainment for my young sister (she's now a grandmother!) and is probably a bit too Milliganesque for its own good. Though I've flagged it as a Children's Story, it has always seemed to be more popular with adults.


---
---
'Patchwork' Variations (posted on: 24-08-07)
A couple of attempts to 'rewrite' the challenge poem. Neither of them feel quite finished yet, so they are presently untitled. Although it wasn't required, I have kept to pentasyllabics and limited myself to nine lines.

-------------------------------------------------------------------- Clocks do not keep time; they have no power to do more than semaphore the concept of an hour. Beneath hands fixed forever at ten-to-two, she sees the worry lines on his face as he hurries into view. She glances at her wrist and counts freckles around the jewelled shackle of her watch. 'Sorry I'm late. Have you had long to wait?' he asks, as she turns her cheek to be kissed. ------------------------------------------------------------------------ The clock keeps more than time, counts more than hours: On grandmother's mantelpiece, it measures out the ration of her love remaining to be savoured. I will miss the flavour of this moment when the quarter-hour chimes wind down. Yet today is heavy as lead weights upon her kitchen scales and fragile as an egg, blended with butter and flour to fill one afternoon with baking smells. ------------------------------------------------------------------------------
Archived comments for 'Patchwork' Variations
---
e-griff on 24-08-2007
Patchwork Variations
these are both very good, IMO, with a suitable story/description woven in behind the primary story in each case.

I liked 'jewelled shackle'. 🙂

Author's Reply:

---
delph_ambi on 24-08-2007
Patchwork Variations
Oh, lovely poems. Two of the best from the challenge, in my view. Completely different, using the original as a prompt rather than slavishly copying ideas.

Author's Reply:

---
Kat on 24-08-2007
Patchwork Variations
I agree with delph's comments.

I like the way 'time' is a backing in your poems, in its place, allowing the concrete details of 'story' to chime through, and very poignantly. The opening to your first poem is wonderful! Both are worth working on until you feel happy with them, but I particularly like the second one.

Great work!

Kat :o)

Author's Reply:

---
Ionicus on 24-08-2007
Patchwork Variations
Brilliant opening to your first poem which is definitely my favourite but the other one is not too far behind.
Very skilfully written and if there is one criticism, it is that it has retained very little of the original.

Author's Reply:

---
Elfstone on 24-08-2007
Patchwork Variations
Two very different interpretations here mandrake. I think your second one is much superior. If I may be so bold, I don't think you *have* "kept to pentasyllabics", but in the seocnd poem that doesn't really matter. In fact at the risk of incurring you ire, I'm going to suggest that sticking to the nine line thing is restricting what is a very good poem, it needs room to breathe. Elf.

Author's Reply:

---
Perrorist on 25-08-2007
Patchwork Variations
Much prefer the first, but both are good.

Author's Reply:

---
---
A Brief Geography Of Time (posted on: 17-08-07)
The challenge poem reminded me of this, which I wrote two years ago:

A BRIEF GEOGRAPHY OF TIME Time is not the ticking of the clock Or the turning of the earth Or precession of the stars - It is the void through which they move Time is not the ocean swell of tides Or the running of a stream Or the ripples on a pond - It is the landscape they erode Time is not the child devouring god Or the figure cloaked in black Or the old man with a scythe - It is the source of avatars Time is not the measure of your life Or the lines upon your face Or the passing of your days - It is the medium of change Time is not the path from here to there Or the arrow's deadly arc Or the slope of entropy - It is the map on which they're drawn
Archived comments for A Brief Geography Of Time
---
e-griff on 17-08-2007
A Brief Geography Of Time
yes, interesting similarity. I also liked the parallels with relativity and cosmology (gravity drawn on the space-time continuum) , which is also reflected in the title of course.
G

Author's Reply:

---
Perrorist on 25-08-2007
A Brief Geography Of Time
Stephen Hawking would give this his imprimatur, I reckon. A good take on the subject.

Author's Reply:

---
---
The Human Zoo (posted on: 17-08-07)
If you were an animal other than human, what would you be?

THE HUMAN ZOO Welcome to the human zoo, where lions have no sense of pride, gazelles are graceful as gnu, hyenas cry and peacocks hide, elephants are long forgotten, mice have allergies to dairy, monkeys slouch in jogging bottoms, ants are lazy, bees contrary, vultures host a smorgasbord, owls look stupid in dark glasses, spiders spin their silken cord – nooses for death watch beetles – while time passes slow as worms and dull as dingoes, penguins march in line with lemmings, straight like snakes in a quiver of arrows, to break down fences hemming them in: Cheetahs know they will never prosper.
Archived comments for The Human Zoo
---
zigzag on 17-08-2007
The Human Zoo
Hi Mandrake,

Much enjoyed this imaginative poem. Made me smile thinking about the sight of it all. Interesting underlying message to me as well.

To answer your interesting question: I would be a sea horse (and hide away from man deep in the sea:)

zigzag

Author's Reply:

---
Romany on 17-08-2007
The Human Zoo
Lovely work! Really enjoyed the rhythm in this one. Cleverly written too. What would I be? Hmm... Something undiscovered as yet by man, right in the darkest depths of the ocean I think, so naturally, I haven't got a name yet!

Romany.

Author's Reply:

---
Gerry on 17-08-2007
The Human Zoo
Mandrake, some good thinking gone into this--it works well.
What would I be,? anything that bloody man cannot interfere with...

Gerry.

Author's Reply:

---
e-griff on 17-08-2007
The Human Zoo
I liked most of this very much, the driving rhythm, the internal rhymes, a lovely running rant with jokes! 🙂

however, I did have a few problems. 'allergies to dairy' means dairy products. the phrase used ('dairy' alone) I recognise from american speech, but not english.

As I said, the rhythm is great, but it curiously is interrupted completely by the 'nooses for ...' bit . I don't know why you did it - I'm curious to know, really - it delays the glasses/passes rhyme for far too long IMO.

Then I think you depart from the steady formula with the penguins - first they are compared to lemmings, then to a quiver of arrows (straight) - surely you are comparing them with arrows, not the quiver which holds them? - rather confusing for me.

then you suddenly start putting indefinite articles and prepositions in where you have not done before - surely dropping 'a' (quiver) 'to' (break) and even hemming 'them' in would make it flow more smoothly?

and how about 'they'll' instead of they will? - for the same reason.

Author's Reply:

---
Sunken on 19-08-2007
The Human Zoo
Oh that's easy, I'd definitely be monkey. I have a fondness for swinging. Nice poem and no mistake Mr. Mandrake.

I am currently using a system of rating previously made famous by 80's new romantic, Steve Strange. Apparently Mr. Strange once managed a second hand store and would subsequently rate using the various items of bric-a-brac found in said establishment.

Rate: 18th Century video cabinet. He's a strange one and no mistake.

s
u
n
k
e
n

what do you mean... she'd look better dead?

Author's Reply:

---
Macjoyce on 25-08-2007
The Human Zoo
I think "owls look stupid in dark glasses" is the best line, and sums it up. What has the human race become? We're not what we ought to be.

I think I'd be a gazelle-gnu.

Is that alliterative? Does one say g-noo or just noo? In the song it's "I'm a g-noo" but that could easily just be humour.

Mac


Author's Reply:

---
---
Market Forces (posted on: 06-08-07)
I'm not quite old enough to remember when farm animals were last sold in the local market, but it was within my lifetime. However, I do remember the men I describe here:

MARKET FORCES At the farthest corner of the market, where the pavement is still cobbled, there remains an old style boozer, in which flat-capped men nurse pints as dark as The Black Lamb's wool. They wear roll-ups as mock hearing aids and spit flecks of stray tobacco onto a floor that should be strewn with sawdust, but is threadbare carpet over boards that creak like arthritic joints. Their gnarled hands are missing shepherd crooks to complete a picture last painted in the nineteen-fifties, when the light through leaded windows was a murky monochrome. There was a bovine solidity in the pens outside, subverted by the squeal of pigs awaiting slaughter. Now, the same space is full of pirate DVDs and fashion fit for chavs. The cries of traders have been replaced by garage mix compilations blasting from cheap speakers. Taciturn, the men continue to sup ale and drown unspoken sorrows, for there is nothing left on sale they need to buy.
Archived comments for Market Forces
---
Romany on 06-08-2007
Market Forces
Very good imagery. I know I far prefer the earlier image to the modern scenario! A query though, as this threw me a bit:

They wear roll-ups

as mock hearing aids and spit flecks of stray - did you mean 'and' rather than 'as' - this didn't read quite right to me.

Romany.


Author's Reply:

---
Romany on 06-08-2007
Market Forces
Doh! As soon as I posted my comment, I got it! You meant roll up cigarettes placed behind the ear, right? I was thinking roll up sleeves... Okay, forgive my slowness. Good work!

Romany.

Author's Reply:

It's OK Romany - I'm not the sharpest knife in the drawer myself. (I think I lost my hair because of all the things that go 'whoosh' over the top of my head.) Plus this image is something you hardly see at all these days. Glad you appreciated it in the end.


---
discopants on 08-08-2007
Market Forces
I wander around the office with a pen placed behind my ear- it has drawn comment from colleagues, I have to say. I enyoyed this- it painted the picture of days gone by, while contrasting it effectively with the scene of today.

Author's Reply:

Well, so long as you don't try to light it up and smoke it.

Glad you enjoyed my attempt to photograph ghosts...


---
e-griff on 08-08-2007
Market Forces
I like the rolling quiet rant of this, and the unconventional layout which sucked you along from one verse into the next, and its fully-rounded relevance.

The only false note for me was 'shepherd crooks' (yes I've heard that construction, mostly in US context) especially given the traditional topic at this point. Surely 'shepherd's crooks' ? is not only 'correct' but more fitting here?

best, G

Author's Reply:

I was using 11 syllable lines - except where this would entail splitting words; so there are some 10 or 12 syllable lines to average it out. I find that using an odd number of syllables tends to push the reader onto the next line.

Since there are shepherds (plural) in the scene, surely it should be 'shepherds' crooks', if we are going to be grammatically correct. I think I avoided it because it sounds too sibilant.

Thanks,

Mandrake.


---
e-griff on 14-08-2007
Market Forces
Shepherd's, shepherds' - no extra sybillance there, IMO. But no, it's singular in the plural, trust me. (the crooks are plural, but their application is to 'a shepherd')

Don't feel bashful at amending something - especially when it eliminates a glitch. At the moment, it's a wee pimple for those in the know. 🙂 G





Author's Reply:

It's OK - I'm always open to taking advice and amending my work. It's hardly written in stone.

It's just that my mum always told me not to play with my pimples.


---
---
Sort of a Sonnet, Suggested by a Lost Sock (posted on: 06-08-07)

The title says it all, really...

SORT OF A SONNET, SUGGESTED BY A LOST SOCK Paperclips evolve into coat hangers; Lost socks decompose into navel fluff; Unobserved corners of the universe develop their own strangeness, which angers those who expect Physics to be enough to explain all; including the perverse. Remote controls create their own black holes; Sofa cushions breed pound coins from small change; Secular minds impose new mythagos upon mundanity: Symbols for proles and any who lack the cognitive range to recognise such blatant farragoes. Everything is in the last place we look, including wisdom half learned from a book.
Archived comments for Sort of a Sonnet, Suggested by a Lost Sock
---
Romany on 06-08-2007
Sort of a Sonnet, Suggested by a Lost Sock
Excellent in my opinion, and the couplet at the end is wise indeed. I like the idea that when lost some things replicate or grow bigger whilst others shrink to dust. Very much enjoyed,

Romany.

Author's Reply:

Hi Romany,

I'm not so sure I would describe this as being wise. Sometimes, poetry states the bloody obvious but wraps it up in coded language that makes it sound more profound. I suppose there's a double bluff going on here, about finding significance in trivia.

Glad you enjoyed it.

Mandrake.


---
e-griff on 06-08-2007
Sort of a Sonnet, Suggested by a Lost Sock
Yes, the last couplet is good - it sounds like the closing lines of an act of a Shakespeare play.

It could stand alone. 🙂 G

Author's Reply:

Wow! That's a big compliment. Rhyming couplets are tricky as they tend to sound very contrived - especially something as obvious as 'look / book'. Glad to know it works.


---
delph_ambi on 06-08-2007
Sort of a Sonnet, Suggested by a Lost Sock
Excellent 'sort of sonnet'. Avoided all the lost sock clichés.

Author's Reply:

Thanks - but where do all the lost socks go?! It drives me nuts...


---
Kat on 07-08-2007
Sort of a Sonnet, Suggested by a Lost Sock
Thoroughly enjoyed this - great read.

Kat

Author's Reply:

Thanks Kat. The sonnet form does make things sound more portentous.


---
littleditty on 07-08-2007
Sort of a Sonnet, Suggested by a Lost Sock
Yes -this is great! Original and interesting lines, all. xxldx

Author's Reply:

Thanks Nicky. Just my attempt to capture something of the new mythology that is emerging in these secular times, as we turn to technomancy for answers.


---
Macjoyce on 14-09-2007
Sort of a Sonnet, Suggested by a Lost Sock
The Mandrakian sonnet is indeed a wonder, taking sestets from the Petrarcan sonnet and the end post-volta couplet from the Shakespearean. A marvellous specimen of Anglo-Italian collaboration!

What are farragoes?


Author's Reply:

---
---
Conceits Written About Rivers (posted on: 03-08-07)
Written before the recent floods, so maybe not as apocalyptic in tone as it might have been.

CONCEITS WRITTEN ABOUT RIVERS Conceits written about rivers as lifesblood flowing over rocks: Veins too cold – a sculptor's fingers gouge tears of clay from the world's face. Brother sun sits on a boulder plunges golden hands into melt- water; sharp razor swift shallows that slash both wrists with icy blades while sister shadow raises skirts to piss raw silver down the slopes. Contrive to stand; stout walking boots athwart banks where bears hook salmon. Countryside clawed by vain attempts to escape wild oceans' clutches. Rivers are long straws to suck rain from clouds – imagine: each drop cries.
Archived comments for Conceits Written About Rivers
---
Romany on 07-08-2007
Conceits Written About Rivers
lifesblood - life's blood

sharp razor swift shallows - sharp, razor swift shallows

while sister shadow raises skirts
to piss raw silver down the slopes. - I don't get the word 'shadow' here. The 'piss raw silver' reference would imply another river or water source, but the word 'shadow' throws me a bit. Am I being dense? If so, sorry!

Countryside clawed by vain attempts
to escape wild oceans' clutches. - This didn't quite work for me. The rivers lead to the ocean/sea, yes, but I don't get the jump from what I thought was a poem about rivers, to the sea reclaiming its land. I see the physical link, but I thought it was a little clumsy in the poem.

This is quite brutally written (given the weather events in the UK recently, perhaps not surprisingly!) A fresh approach to the topic. All offered with respect,

Romany.



Author's Reply:

Hi Romany,

'lifesblood' is valid as one word, though it is a bit archaic. I wanted that particular nuance of meaning.

A comma after 'sharp' is more grammatical - but, in a poem, it would imply a pause where none is intended.

The most prosaic explanation for 'sister shadow' is that she is a rain cloud (with mythic pretensions).

With 'Countryside clawed', I was making a connection with the bears fishing for salmon, while referring back to the earlier image of rivers gouging at the world's face. This particular conceit was to suggest that oceans are dragging at unwilling rivers, which clutch at the landscape in a vain attempt to avoid being subsumed. (As the rivers themselves are described as sucking at clouds.)

This was written in early June, well before the recent floods. Its imagery is deliberately overblown (a series of 'conceits') in contrast to more idyllic depictions of rivers. Another of my attempts to capture the raw power and indifference of nature.

Whether it works or not is something I don't know unless people tell me honestly - so I value all opinions and thank you for yours.

Regards,

Mandrake.


---
---
Ten Thousand Men (posted on: 03-08-07)
Re-telling of a traditional nursery rhyme.

TEN THOUSAND MEN The former Duke of York led his Republican army up the hill to the castle of the human king-in-exile, following the fall of the Faerie Empire. But he triggered a terrorist spell, which placed all his men under a glamour that lasted one hundred years. Each soldier was transformed into a rose bush and they all became entwined together. Their discarded uniforms, snagged on thorns, soon turned to rags and rotted clean away. Brass buttons lay scattered like mossy pebbles, green with verdigris. Swords and spears first stood as a trellis, upon which wild roses climbed, until the blight of rust consumed their blades. A century of sedition and revolution passed, as the Crown fell, then was restored and finally was lost and all magic was exhausted in the struggle. So the spell was broken and an army of ten thousand naked, unarmed men came marching back down from the ruined castle, still twined arm-in-arm and wearing roses in their hair.
Archived comments for Ten Thousand Men
---
delph_ambi on 04-08-2007
Ten Thousand Men
Oh yes. Layers within layers here. A lovely subtle and rich re-telling.

Author's Reply:

Thanks d-a.

I wasn't sure if this merely came across as a piece of hippy nonsense. Glad you picked up on the nuances.

Mandrake.


---
Sunken on 04-08-2007
Ten Thousand Men
Always with an original twist, and always a joy to read. You are, Mr. Mandrake, a top Ukaneer and no mistake.
Rate:10

s
u
n
k
e
n

reluctantly devoured

Author's Reply:

Cheers Sunken. I used to be pretty good at the Twist, the Mashed Potato, The Funky Chicken...


---
---
Her Five Word Adage (posted on: 27-07-07)

Written to meet a challenge on another website: Write a poem incorporating the words 'blemish', 'avocado', 'thrust', 'overcoat' and 'November'.

She cannot pass a looking glass without checking her foundation for a blemish. To kiss her is to risk smearing Mona Lisa's lipstick. Such perfection only mars her beauty with scars of vanity. She lights a scented candle, which pervades the room with a perfume so exactly unlike avocado that it ruins her mood. The receipt is still in the drawer, so she takes it back to the one pound store. She grew up with the parry, cut and thrust of arguments at family dinners. Her first impulse is to disagree with everyone on principle. No man stands a chance unless he counters her demands. She wants a Humphrey Bogart look-alike, in tight belted gabardine overcoat and dented fedora. If life is worth no more than a hill of beans, then to keep on loving her is to court the Big Sleep. She behaves as though romance is brittle as an autumn leaf. Fiery for a while, but by November it has fallen from the tree and been raked up with the garbage. 'Love is for the birds': Her five word adage.
Archived comments for Her Five Word Adage
---
Kat on 27-07-2007
Her Five Word Adage
Wonderful writing, and how well you've done to slip your challenge words so smoothly in as if they were meant to be... which they are in this fine poem. Too many good bits to mention.

Kat

Author's Reply:

Thanks Kat,

I tried to 'conceal' the challenge words within the poem as much as possible, so they were just a part of the narrative flow. I'm glad to know I succeeded. With these sort of exercises, it's easy to lose sight of the fact you're meant to be writing a poem rather than a word puzzle.

Mandrake.


---
e-griff on 27-07-2007
Her Five Word Adage
Nice expressive poem as usual.

One possible problem I had was the candle pervading the room with a perfume. I think maybe the perfume can pervade the room - ibut something can't pervade 'with' something 🙂

Author's Reply:

Thanks John.

That's a valid point you make. I'll have to give some thought to the best way of rephrasing that whole sentence without losing its poetic sense. Not as easy a tweak as it first seems.

Mandrake.


---
littleditty on 28-07-2007
Her Five Word Adage
i like her...is she single? (sorry... :o) well written and a pleasure to read - fine poetry xxldx

Author's Reply:

Hi Nicky,

This was one of those strange poems that came out of nowhere. I had a clear view of the person as I was writing, but she is not based on anyone in real life. A purely poetic creation. It must say something if my 'dream woman' is such a difficult person!

Mandrake.


---
Sunken on 29-07-2007
Her Five Word Adage
I like her too Mr. Mandrake. I have been single for far too long and that Ms. Ditty can't be short of admirers? With this in mind I would recommend that she be shipped to me post hast and no mistake. Top write, as ever.
Rated - 10

s
u
n
k
e
n

he glossed over the past with little more than a shrug

Author's Reply:

Ah, Mr Sunken, I have missed your wise words while I have been away. As ever, you are too kind.


---
discopants on 29-07-2007
Her Five Word Adage
It flows smoothly throughout; I particularly liked the phrase 'a perfume so exactly unlike avocado'.

Author's Reply:

Thanks discopants.

It's interesting that you should pick on that phrase, because it was one that I was less sure of, since it is quite close to being a cliche. So I'm pleased to hear it works for you.

Mandrake


---
---
The Festival Of Fibulae (posted on: 11-06-07)

We dream the departed back into their bones...

THE FESTIVAL OF FIBULAE When the moon is black and pinpricks of stars fail to penetrate the night's plush fabric, we celebrate the diaspora of dead souls. It is time for the festival of fibulae. We dream the departed back into their bones and walk with them once more. Every necropolis becomes a candle-lit city with promenades between blank stones and lanterned yews. We feast on sugar skulls and candy clavicles as we stroll with our spirit families. Young men court the fey attentions of great- grandmothers, while ghostly gentlemen pay suit to maiden heirs. We dance like dust motes until the air becomes crepuscular and spider-webs glisten; silver spun veils across our faces. Wicks are snuffed or left to gutter in the mist of morning, while we snatch one final kiss or cold embrace from those who journey on without the sun.
Archived comments for The Festival Of Fibulae
---
Dil on 11-06-2007
The Festival Of Fibulae
A well worked poem that I greatly enjoyed.
Dil

Author's Reply:

Thanks. I enjoyed writing it. I actually used to live next door to a cemetery, which may explain something!


---
delph_ambi on 11-06-2007
The Festival Of Fibulae
That works brilliantly.

D.

Author's Reply:

Thanks. I believe there is a lot to be said for celebrating the memories of our ancestors and keeping them alive, in some form.


---
e-griff on 11-06-2007
The Festival Of Fibulae
Excellent overall. but while I apreciate the alliteration of the title, my orderly mind says why pick on the fibula when the skulls are predominant? this is presumably based on the Aztec festival - Day of the Dead still practiced in Mexico (except it's a week). - and the basis of a (still) spooky Ray Bradbury story

Author's Reply:

Hi John,

I had two main reasons for picking the fibula: One is that skulls are too obvious. Two is that leg bones are more useful if the dead are to walk again.

You got my influence exactly. Ray Bradbury wrote several stories about this festival and his books had a major effect on my early writing.

I was just too lazy to do any research and made up my own details.

Thanks for your appreciation,

Mandrake.


---
Sunken on 12-06-2007
The Festival Of Fibulae
Certainly worthy of the nib Mr. Mandrake. Well done. A very accomplished write and no mistake.

s
u
n
k
e
n

turn left by the crisp packet

Author's Reply:

---
Romany on 14-06-2007
The Festival Of Fibulae
I love this atmospheric poem!

Romany.

Author's Reply:

---
Zoya on 14-06-2007
The Festival Of Fibulae
I like the way the poem opens, immediately creating an atmosphere:
'When the moon is black and pinpricks of stars
fail to penetrate the night's plush fabric,'

I also love these lines:
'We dance like dust motes
until the air becomes crepuscular
and spider-webs glisten;'

You've maintained the spooky atmosphere well...

Love, Zoya


Author's Reply:

---
---
No New York (posted on: 11-06-07)
From post-punk to post-911: An impressionistic blur.

NO NEW YORK No New York, according to the New Wave, in the garage land of guitar bands, before the city became an open grave and I breathed the dust of dead insurance brokers. I spent my days in bed with David, bobbing for a birth mark shaped like Staten Island. We were the toker brothers, writing poems in the margins of the Wall Street Journal. Each crap concept was an uncracked kernel from the corn field craniums of midtown America's night-time emissaries, slick as the dance floors of Studio 54. It was all glitter, but no balls; all English bitter, but still sweet. I followed virgin arse along sorority halls and lost my street cred in a dance routine from Fame. I will live forever and remain unchanged, so long as my name is remembered by the deranged boy who looked at Johnny and needs no statue to stand for Liberty. In the deeper dells of Central Park, my friends all fear the dark of a Ringu-like well, where the ghosts of the video age still crawl and curse their imprisonment on this page.
Archived comments for No New York
---
Sunken on 11-06-2007
No New York
Lol, Mr. Mandrake you always manage to throw in a line that makes me laugh - ref.

'I followed virgin
arse along sorority halls and lost
my street cred in a dance routine from Fame.'

Classy write, as ever.

s
u
n
k
e
n

she's gonna live forever


Author's Reply:

Hi Sunken,

I like to sneak in (hopefully) witty lines to subvert the form. Plus it's a very economical and effective way to make a point. This poetry lark's a piece of pith.

Mandrake.


---
delph_ambi on 11-06-2007
No New York
Magic. I love lines like: 'It was all glitter, but no balls'. Clever, nostalgic and witty writing, full of heart.

Author's Reply:

Thanks. I was concerned that some of my references were too obscure. But it appears the lighter, aphoristic lines serve to open up the Warholian subject matter.

It's interesting that this poem is currently getting more hits than my 'nibbed' one!


---
e-griff on 11-06-2007
No New York
You put a lot of work into your poems. It shows. Here, i very much liked the internal rhymes which ocurred sporadically but often. They made it flow.

so is 'the city became an open grave and' called 'pre-jambment'?


Author's Reply:

I make poetry look like hard work? I would rather it wasn't so obvious, but I shall take this as an intended compliment!

I wanted to avoid the too obvious Wave/grave end line rhyme, which would have set up a pattern not replicated elsewhere in the poem. Instead it makes internal rhymes with garageland, bands, etc. It was also partially dictated by the syllable count of the lines. (42 to a stanza - two 10s plus two 11s.) Further, I feel it makes a dramatic pause with a 'weak' line ending, that forces the flow into the beginning of the next line.

I make it sound as if all this is planned. My original drafts are nearly always in 'free' verse, to which I apply structure once the whole poem is written and I can see its overall shape.


---
littleditty on 13-06-2007
No New York
It was all glitter, but no balls; all English
bitter, but still sweet. I followed virgin
arse along sorority halls and lost
my street cred in a dance routine from Fame.


funnnnny!

liked this english in new york poem - good read, thanks xxldx

Author's Reply:

---
---
Dog Ends In Disneyland Paris (posted on: 08-06-07)

To celebrate 15 years of wholesome family entertainment:

DOG ENDS IN DISNEYLAND PARIS On the outskirts of Paris, in the pastel hued shade of Sleeping Beauty's palace, I imagine Goofy takes his head off, after the parade, to smoke a Gauloise out of sight of punters and the gaze of his supervisor. He is required to dance and caper, to pose for photographs, to wave at tourists and to endure the sticky embrace of children, the frightened screams of babies, the scorn of teenagers scuffing round bored and insouciant. He sweats beneath the cartoon skin, the fixed and gormless grin, while he yearns to give a gallic shrug, to imply that everyone should bugger off. Sometimes, he sighs; a pffft of deflation, a garlic fart, in which he stews behind blank manic eyes, pupils huge and black as existential despair. Would Sartre find it too absurd? Would Proust have written 'Apres Tout, C'est Un Monde Petit'? Would Lautrec have painted him amongst prostitutes? He stubs out his covert fag, then proceeds to drag a piano along the concourse for an impromptu concert and resumes his costumed role as an Andalusian dog.
Archived comments for Dog Ends In Disneyland Paris
---
delph_ambi on 08-06-2007
Dog Ends In Disneyland Paris
A true culture clash poem. The artificial anti-culture of Disney, and lurking somewhere beneath, the real France. Excellent poem.

Author's Reply:

Thanks. This is more a clash of stereotypes, I think. There is something surreal in the very concept of Disneyland - and placing it in one of the major cultural centres of Europe is just bizarre. Once I identified Goofy as 'un chien andalou', this poem virtually wrote itself.


---
Sunken on 10-06-2007
Dog Ends In Disneyland Paris
Another excellent piece with an unusual slant. I'd heard that Goofy was into his smokes. You need the odd vice though don't ya? I hear that Minnie Mouse is into all sorts and no mistake. Nice one Mr. Man of Drake.

s
u
n
k
e
n

her craving for tuna was to lead to his untimely demise

Author's Reply:

I could never get my head round the idea that Goofy is a dog - yet Pluto is a dog, too. These people just mess with kids' minds!


---
Macjoyce on 14-08-2007
Dog Ends In Disneyland Paris
Oh, I can get my head around Goofy being a dog. But why is he Andalusian?

This is a very good poem, very French, right the way down to the word 'insouciant', capturing all the pissiness of that nation. Mind you, I think the English'd be pissy too if we had to have that be-Mickeymoused monstrosity plonked on our shores. When they were thinking of building it, it was a toss-up between the outskirts of Paris, and Essex. At the time I really wanted Eurodisney to come to Essex, but then I was only twelve and still unaware of the insidiousnesses of American consumerism...

Mac Soc Nat



Author's Reply:

Hi Paul,

I was making a reference to an acclaimed masterpiece of surreal French cinema; 'Un Chien Andalou'. One of its notable scenes has a figure dragging a piano along the road.

I come from Essex myself. I don't need Disneyland so long as I have Canvey Island.

Mandrake.


---
---
Canvey Island (posted on: 04-06-07)
Memories of a 1960s holiday resort and the loss of childhood.

CANVEY ISLAND Waves mark the edge of my world; brown with estuary mud, where they break and foam like espresso, but with a sharp smell of detergent. I think I can see France, yet I know it is the Medway, just as foreign in its desolation that it may as well be labelled: 'Here Be Dragons'. The multi-legged skeleton of the Pier keeps rising out of fire and blazes salamander bright at night with patterned scales of illumination. I watch floating skyscrapers of tankers heading for the terminal beyond Thorney Bay, where floodlit gas cylinders bloom with all the sci-fi surrealism of Quatermass 2. And omigod the sky, the sky; full of a billion alien suns and satellites that dwind-twink-le into infinity in a maelstrom of mythic beasts and heroes. I hear the sound of Telstar and strange voices from Luxemburg that overwhelm the Light, while pirates chatter in the Channel and define the language of modernity. Relentless raindrops beat upon the roof of a caravan that cooks with Calor gas and flickers with the blue glow of a mantle as I shake out my pacamac to dry. The Esplanade is still drowning and bells ring on ghost trains, circling at the foot of a grass embankment, which I roll down, down, even today. I stand up in a tie-dyed vest and pleated loons, taller than my father, as we drink tea in a deco cafeteria and I cannot remember if the beach is sand or shingle.
Archived comments for Canvey Island
---
delph_ambi on 04-06-2007
Canvey Island
The genius of Joe Meek. I'm going to have 'Telstar' in my head all day now (which is not a problem at all).

Love the poem. Pacamacs and R. Luxembourg... yep, I was there.

Author's Reply:

I still dream of Canvey Island (that's a good opening for a story) even though I haven't been there for 35 years. My dreams have become mixed up with unreliable memories, so that it has become a sort of mythic place in my imagination. I spent holidays there as a child when it seemed to rain torrentially all week, yet still I managed to enjoy myself. An early life lesson.


---
---
Her True Face (posted on: 04-06-07)
The zen indifference of trees, re-visited.

HER TRUE FACE Where branches blossom, twine and form an arch, there may you glimpse an entrance to the world where wildness is the living law of vein and vine. She who stands sentinel amongst the leaves is no sylvan spirit nor fey beauty in a realm of reavers, who would mulch your flesh to ferment wine. Though you cannot see them, the rocks are running and the trees are pivots that the stars swirl round, while the rivers tear silver ribbons down from cloud. She is ancient, by any measure of your concrete clock that would crack and turn to dust beneath weeds, in the time it takes to speak her name out loud. Yet the forests are far from immortal powers; a fleeting green affliction or faddish beard of sorts that conceal a scarred visage from its own regard. She knows she is nothing - and the love of mortal men for nature is a cruel infatuation she does not nurture, as her true face transcends your talent as a bard.
Archived comments for Her True Face
---
Dil on 04-06-2007
Her True Face
A joy to read.
Dil

Author's Reply:

Thank you, Dil. Glad you enjoyed.


---
Sunken on 05-06-2007
Her True Face
I know I always say this, but I do enjoy your subs. This is a bit different, but still just as strong as your previous posts. Especially liked -

Though you cannot see them, the rocks are running
and the trees are pivots that the stars swirl round,
while the rivers tear silver ribbons down from cloud.
She is ancient, by any measure of your concrete clock
that would crack and turn to dust beneath weeds,
in the time it takes to speak her name out loud.

Nice one Mr. Mandrake.

s
u
n
k
e
n

the tin foil tapes



Author's Reply:

Hi Sunken,

My intention was to write something that would sound like an old fashioned pastoral, but with modern day sensibilities. To create a sort of eco-myth for the 21st century, if you will excuse my pretension.

Mandrake.


---
royrodel on 05-06-2007
Her True Face
Now when I read this I'm reminded of a Mother Earth figure Possibly Isis. I never quite got into Narnia so maybe I'm away of on the wrong track but you paint some wonderful imagery.

RODEL

Author's Reply:

I was aiming to describe a Gaia figure in such a way as to emphasise the smallness of humankind. We have such an inflated view of our species, even though we have only been here five minutes and - if we became extinct tomorrow - our absence would have virtually no effect on the biosphere.


---
---
Feet Don't Dance Today (posted on: 28-05-07)
In praise of typical bank holiday weather:

FEET DON'T DANCE TODAY After the rain, paving slabs form mirrors to the sun. Gutters glitter, while gardens steam and drip like jungles. Wafts of wet grass and damp creosote evoke a heat-hazed memory: A junior Gene Kelly, ungainly in wellington boots, performs a splash-dance in long dried puddles. My feet don't dance today, for this is not the street where I used to live. I know nobody, so if I choose to skip the cracks or walk a kerb edge tightrope, no-one will stop me. I furl my black umbrella, unbutton my coat and jump laughing in the water - a reverse suicide - baptised, re-born.
Archived comments for Feet Don't Dance Today
---
e-griff on 28-05-2007
Feet Dont Dance Today
Your work is always worth reading, and this is no exception. I liked much of it, but at first I was confused as to who the 'Junior Gene Kelly' was: him, or a boy? Eventually I decided he was watching a boy. Then (forgive me mate, my brain grinds exceedingly small, I know) I wondered how he found a puddle when the boy's were 'long-dried'.

Shoot me if I'm being entirely thick! 🙂 JohnG

Author's Reply:

Hello John,

The 'junior Gene Kelly' is the narrator's memory of himself as a young boy, splashing in puddles in the street where he did used to live many years ago and which have long since dried. The memory, inspired by the sight, sound and smell of a rainy day, entices him to break free of his self imposed adult strictures and to literally jump for joy today.

Now, if you'll just stand over here, by this wall. Would you like a blindfold?

Mandrake.


---
e-griff on 29-05-2007
Feet Dont Dance Today
Oh, ok, understand it now 🙂 G

Author's Reply:

---
Sunken on 29-05-2007
Feet Dont Dance Today
You should have been weatherman Mr. Mandrake. It peed it down here on Monday and no mistake. Especially like the opening to this one. As ever, your work never disappoints.

s
u
n
k
e
n

her shoe infatuation was less pronounced during car crashes

Author's Reply:

---
---
Notes From A Project... (posted on: 21-05-07)
... To Create A Virtual Replica Of The Berlin Wall As An Art Installation At The Tate Modern...

The artist says, "Though an edifice of terror was torn down, the barricades have been built anew in our own backyards, so this symbol of oppression merely reconstructs the concept without bricks or concrete." Through a series of depictions drawn from photographs, the grey granular surface of suppression is graven with graffiti, to form a tattooed trope of fear on dolmen no more solid than despair. The suggestion of machine guns beneath the murky light of London manipulates the air of menace already extant in minds driven tribal by the North / South schism. In new editions of the gallery guide book, the border is depicted as a dotted line, which divides the left and right hemispheres of the brain. Should you find yourself on the wrong side of post-modern, the curators will escort you to a room full of Russian Impressionists, where a gulag wrought in gouache serves as a salt mine of imagination. On leaving, you become a refugee from a regime of ideas, never out of sight of watchtowers, with their spotlights and their crosshaired view of life.
Archived comments for Notes From A Project...
---
delph_ambi on 22-05-2007
Notes From A Project...
Writing of great intelligence and originality. Enjoyed this one.

Author's Reply:

Thanks d-a. I just hope I don't find myself on the wrong side of pseudo-intellectual. The attendants wouldn't be so kindly as they assisted me from the premises.


---
---
A Dead Bouquet (posted on: 21-05-07)
A bunch of flowers and a nice meal. What could be more romantic?

A DEAD BOUQUET And the cause of death was not discovered. Faded flowers in a vase, but am I bothered? Beauty is a sharp stick to thrust in your eye, while love is a fish best served filletted, so the bones don't lodge in your throat. Come on, spit it out. The taste of lust left politely at the side of your plate. We deserved a three course meal and four squares a day, but settled for a chip butty. Now, it's too late and no-one cares for cold leftovers. You were putty in my grease stained hands. For once, be told. A dead bouquet should be clear enough, else no surcease from pain is due; only decay and my disdain.
Archived comments for A Dead Bouquet
---
Romany on 21-05-2007
A Dead Bouquet
This is very clever and quite blunt. I like it,

Romany.

Author's Reply:

Hi Romany,

Part of my intention was to write a poem about unrequited love, from the unusual viewpoint of the person not doing the requiting. Glad you like it.

Mandrake.


---
Sunken on 21-05-2007
A Dead Bouquet
Another little cracker Mr. Mandrake. Love the chip butty line. Dark with a touch of humour, always a good combination in my mucky book.

s
u
n
k
e
n

turning to silence

Author's Reply:

Yes, this needs to be read with tongue placed firmly in cheek. But be careful not to choke.


---
delph_ambi on 22-05-2007
A Dead Bouquet
This is a cracker. Great imagery, totally subverting the usual romantic sonnet. Some useful internal rhymes and witty wordplay. Fun line breaks too.

Author's Reply:

Thanks d-a.

Until recently, I felt overawed by the idea of writing a sonnet. But now I like to play with the form and create post-modern variations. I especially like to take the cliched elements of romance and turn them into something more realistic.

Thanks for your appreciation.

Mandrake.


---
e-griff on 23-05-2007
A Dead Bouquet
hangs together and flows well. I suppose that's the beauty of a sonnet, which I see as halfway between poetry and speech.

Author's Reply:

Thanks John,

I tried to avoid the declamatory aspects of a sonnet and the 'tum-ti-tum' of regular metre, so I'm glad to hear that it still hangs together and flows well.

Mandrake.


---
---
Unseen Clouds (posted on: 18-05-07)

I'm not sure what comment to make without directing the reader too much, so I'll leave it up to you...

UNSEEN CLOUDS The wind walks; a giant in seven league boots. These days, hurricanes do happen in Hereford and Herts, as the estuary gets wider. I could describe storm clouds; fingers dipping, dipping down and stirring the streets, while rain falls in joke buckets and keeps falling, until it is not funny any more. On the way home, I stop to console a woman whose roof is flying away. This is so unlikely that I realise I am dreaming. There is nothing as prosaic as puddles, when the sun shines with improbable lucidity. Unseen clouds still gather.
Archived comments for Unseen Clouds
---
Sunken on 19-05-2007
Unseen Clouds
Saidit before, and will say it again, you are a class act Mr. Mandrake. Well done on the nib. Especially liked -

I could describe storm clouds;
fingers dipping, dipping down
and stirring the streets,
while rain falls in joke buckets
and keeps falling,
until it is not funny any more

Actually, I especially liked it all. Nice one Mr. Mandrake.

s
u
n
k
e
n

her eyes met his over a steaming kipper

Author's Reply:

Thanks Sunken,

I'm pleasantly surprised at the nib because this is such a spare piece of writing that only makes oblique hints at a number of subjects. I thought it may have seemed as insubstantial as the dream that inspired it.

Mandrake.


---
---
A Portrait of the Android as a Young Machine (posted on: 18-05-07)
It sounds like a science fiction parody of James Joyce, but...

§ A PORTRAIT of the ANDROID as a YOUNG MACHINE § You'd better watch out. I'm a Crazy and I'm really speeding. Hitting the uppers and watching the future fade. A real temporal kick. Mainline medulla, vein to clock. All the people slide by, but I can take it. Here, on the edge of things, I see a concrete tree with plastic leaves, set in a Formica field. And the faces. Crazies like me with sharp eyes, needles in the city dark flesh. Shining blue. Radioactive sweat on corpse features. We go jerking down the street. Frame to frame. This is so real. It's vivid, like a documentary. Now the light comes washing down. Like a crack in the sky. The flash of neon. 'LOONY BIN' in big red letters. But Crazies don't stop to read. So maybe I clicked it on my screen once. Anyway, it's the Sign. Where we collide. Like a car crash. Erotic but cerebral. Orgasm and amputation. Shooting up on semen anaesthetic. The door slithers open and I penetrate space. Into the overhead glare. Like a theatre. Stage or operating table or scene of war. It's the same fix. And it's… clinical… Here, I'll project the scene. 3D and social realism, right? It's open plan with strip lights and plate glass. Over there's the E.C.T. Jumping and sparking, where we pick up the beat. And there's some Crazy coming down, rattling like a half empty Librium bottle. And there's a Terminal. Red ribbons and his pants full of shit. This is really moving, don't you think? Here comes a Real-people. Compare the motion. Ain't she slow? With her grainy grey skin. 405 lines black and white. Her eyes stuck in 'now'. I mean, claustrophobic. I slip into synchro and my mouth says, ''Help.'' But you'd better watch out. I'm a Crazy and I'm speeding. There's a knife in place of my heart. Real-people don't know. We're just a blur. They're vinyl records crammed in a CD player. § ''Welcome to the future,'' she says. ''This is 1984.'' Of course, she's right. The Picasso girl. The one with the single, distorted eye. Set into the side of her face. Like a stained glass window. Smile like a crucifix. My mandrax Madonna. It's hard to believe. Big Brother's a junkie. He wears flowers in his hair. Kaftan and beads. Pleated flares and granny specs. The uniform of the karma police. Sometimes, I wonder whether this is really happening. Perhaps the neo-psychedelic revival is only taking place in the minds of a few journalists. A montage of articles and evocative photographs. They provide a superficial framework. A couple of tabs of acid and we fill in the details. Picasso girl doesn't care. ''Reality's just a bad trip,'' she tells me, delighting in cliché. How can I argue? When her body drifts down on me like a scented cloud. There's no denying the vibe. Peace and love. Soothing liquid air dreams of Aquarius. Skies polluted only by the gentle smoke rising from incense and burning sandalwood. We merge on a bed of flowers. Their tranquil song strengthens our harmony. O.K. The grubby facts. It's a quick grope on my afghan coat. The sickly yellow grass is damp and dying. The sky is grey. Not grey like Picasso girl's real eyes. Grey like concrete. Like factories. Like belching plumes of industrial waste. I don't want this truth. Numb me out, baby. See the carnival streamers of your hair. The firework flash of my tears. Bitter and mad celebration of this fucked up decade. Rushing headlong away from the old millennium. Fast forward wind. Screeching babble of obsolete reality tapes. Picasso girl, your canvas will soon be torn. Paint peeling from your mini skirts and patchwork denims. I want to break your frame. Roll you up and steal away with you under my arm. The gallery is crumbling. Yours is the only treasure I wish to save. § Observe. The cars embrace. Violent intercourse of steel and chrome. Manic screech of auto-lust. Brutal rape. Torn radiator grilles. You lift your hood enticingly. The windscreens break in ecstasy. I kiss the glass. My head breaks through your brittle hymen. I dive into the metal mayhem. Join the orgy. My blood anoints your number plate. I will always bear your lover's mark. Forehead stamped with your registration. I enfold your steering wheel. Clasp it tight to my chest. Enraptured, I am shitting blood. Lung tissue spurts between my pouting lips. I expire in sweetest agony. You pirouette coquettishly. In this fatal pas de deux, your door flies open. I am cruelly cast aside. But you keep my leg as a bizarre memento. Crushed in the fierce grip of your engine. My phallic stump ejaculates blood. A crude expression of machine age desire. Cars and carnality. The new erotica. In the afterglow of our savage intercourse, we relax together. My limbs entwined with your cold extrusions. You sing a strange and gentle song. Your radio buzzing out of tune between stations. Your wreckage settles like the folds of a tattered dress. Here, on a hard bed of concrete and tarmac, we share a momentary quietude. The soft moans of the injured. A few distant sirens. We await the arrival of the TV cameras. We will then announce our consummation formally. I daydream of our possible issue. With wheels of flesh and metal hands. Eyes like yours, I hope. Large and shining. A streamlined body, warm and sleek. Four star blood. A cute little chassis. The ambulance arrives. Have they come so soon to preside at the birth? I see them in their luminous uniforms, clustered round your bonnet. One man peers in at me, the father to be, with a worried expression. Are there complications? I try to ask, but my emotions keep me silent. My vision fades, no doubt in a haze of tension fraught tears. The man seems to understand. He touches my brow with a soothing hand and folds down my anxious eyelids. § You know, I'm convinced the world came to an end some time ago. Back in 1972, or thereabouts. But no-one seems to have noticed. We're all carrying on as if nothing has happened. It's the age of the casual spectator. I'm a mourner at my own fragmentary funeral. Watching the gradual interment of my body. The room slowly fills with dust. The dust is my own dead skin. I take another handful of pills and cram them carelessly into my mouth. These days, I eat them like Smarties. Perhaps they are Smarties. They might be, for all the effect they seem to have. Outside, the buildings stand like headstones in a vast cemetery. Markers for the victims of the – what is it? – Third… Fourth… Fifth World War… Taking place on the motorways and flyovers, in the offices, in our homes. Sniping across the no-man's-land between the muddy trenches of our own bloody minds. The war to end the war to end war. I wish I was a Crazy. I need the illusion of speed. But there is only the relentless progression of organic time. It's worse even than being a Real-people. If I stopped taking drugs, I know, I would come to a complete halt. Solidify here in stony thought. I return my attention to the story I've been trying to write for several months now. I'm back to page one again with nothing more substantial than the title. 'A Portrait of the Android as a Young Machine.' It sounds like a science fiction parody of James Joyce. But I've not been able to produce anything even half as imaginative as that. Repeatedly, I've been churning out an awful, unsubtle poetry of violence. A blatant rip-off from the 'New Wave' writings of the late sixties. O.K. It's fashionable. The hippy culture is the latest craze amongst our brave young necrophiles. But I'm hardly breathing new life into its corpse. Merely tarting it up and hoping no-one will notice the funny smell. Oh, fuck this. I can't be bothered thinking up plots and characters. It's all so phoney. Artificial. Life itself is one enormous fiction. Sit back and watch it unfold. Page by page. Macrocosmic in scope. Operating on both personal and universal levels. The smallest, most trivial and banal of real events are still more poignant and profound than anything I could possibly write. § In the end, it comes down to this. Waking up in bed next to the familiar stranger. I married a monster from out of town. The alien invader who took over my personal universe. Still, if she's the Bride of Frankenstein, what does that make me? I rise from my dreamless slumber as if from the darkness of my tomb. I crash clumsily into the bathroom and regard my looming image in the mirror. The animal hair on my face. The primitive bone beneath. I can see the ape behind the artist. The skull behind the smile. Cold steel strips away the simian mask. Through a haze of steam, I emerge reborn. The pale, flabby form of urban man. Eyes like scars. Two ugly black holes in my synthetic flesh. I am not in control. My body moves through the flat on its pre-programmed route. I am a passenger inside its head. Flying on automatic pilot. I am ready to seize control in the event of an accident. This is unlikely to happen, but I am still nervous. I am so out of practice. I may have forgotten the skill of being human. Seeking affirmation, I look in on my child. His curled, sleeping shape like some tiny, hibernating animal. My son, the dormouse. I melt in the silly, soft glow of my love. I make a far better father than I do a husband. My Picasso girl is not an original. She is a cheap, reproduction print. One of a thousand, all identical. Full of so-called 'guilt' for this cruel observation, I return to the scene of my habitual crime. Morning sunlight now oozes between the curtains and splashes, cold and insipid, against the bedroom wall. Like a shapeless blotch of vomit. The whole cosmos is an expression of my sickness. I yearn to reach out and shred it like a faded photograph. But I don't. I put my clothes on calmly. Back on automatic pilot. I relax and my attention begins to wander. I am vaguely aware of myself walking out of the front door. A bland, unevocative impression of the outside world. Somehow, I find my way to the station. Onto a train, which carries me into the City for the one thousand, two hundred and ninety second time in my life. The rest is not important. I'm no longer personally involved. § Do I want a cup of coffee? I'm sorry, you'll have to excuse me for not answering straight away. I don't mean to be rude. Do I want a cup of coffee? Do I want a cup of coffee? Do I want a cup of coffee? Do I want a cup of coffee? Do I want a cup of coffee? You see, you ask me one question, but it's really half a dozen. And besides, that's not what you're really asking. When you offer me coffee, you are, by implication, extending me your hospitality. Therefore, my acceptance or refusal of a drink has a far greater significance. If I reject your coffee, I also reject your friendship. In which case, I'd better have a cup. Thank you. It's a hazardous sport, sometimes. Skating across the thin ice of personal relationships. Pardon? How's my latest story going? Well, let me tell you. It has no obvious beginning, middle or end. There's no plot. No dialogue. No underlying moral. No action to speak of. And a central character who has no readily perceptible personality. In fact, it's no better than a blank sheet of paper. A writer's block? That's one way of describing the situation, I suppose. My own view tends to be less dignified. I see it as mental constipation. Work out the implications for yourself. What's that? You think my writing reveals a great deal about my inner self? My dear, I reveal only to conceal. You think I'm baring my soul. You think you know me. So you don't feel the need to probe. My true 'inner self' remains safely hidden. A few swear words and a hint of perversion, garnished with blood and wrapped up in cheap psychology – and you think I'm naked to your gaze. Oh, I'm sorry again. Sometimes, my pose of being the 'angry young man' gets out of hand. I'm not angry at you, love, You're so patient with me. Always prepared to listen. I don't know how you can possibly tolerate me in this mood. Yes, you're right. My coffee's gone cold. § Would you like a moral? Or, more to the point, would you like my moral? Are you that desperate for meaning? And what about your moral? Isn't it any good? Or haven't you even got one? Well, if you haven't got a moral, you can piss off. You're not getting mine. I come awake. I could be anywhere. I stare at the ceiling. Off-white. Patterned with cracks. They evoke no other picture. I remain stuck in the reality of a surface that needs a new coat of paint. Is this a hospital? Am I undergoing treatment for my addiction? Just another Crazy, coming down. Heading for the shakes. The grim, snotty coldness. Monochrome grey. Hungry for a blur of colour… Or is this the commune? Haven for representatives of the alternative culture. Huddled on bare floorboards in our urban guerrilla chic. A nuclear family, primed for detonation… Maybe a garage. Where I'm being re-assembled. A mad fusion of spare parts. Torn from cannibalised auto-wrecks. Gleaned from mortuary slabs. An M.O.T. service bay is my womb… Perhaps I live in a pill-box apartment. Gun sights instead of eyes. Standing sentinel over a world found guilty of treason. Its population court martialled and sentenced to death. Waiting for the dawn… Are you beside me? Are you also disenchanted with our marriage? When we make love, do you feel as lonely as I? Gazing into oblivion. The abyss of your glazed eyes. Focused on something I cannot share. Nor even comprehend… Will I rise and speak with you again, my friend? Will our conversation follow the same spiralling course as always? Like the grooves on an old vinyl record we play compulsively. Over and over again… These are the alternatives. The choice is mine. Here and now, I must decide. Sitting in this room. A word processor for a brush. I paint a portrait of me. The android. The young machine. A victim of my rigid programming. There is only myself. The meagre and tawdry parade of my obsessions. Time presses in on me. The future contracts. Grows smaller. I am Real-people. I am claustrophobic. §
Archived comments for A Portrait of the Android as a Young Machine
---
littleditty on 19-05-2007
A Portrait of the Android as a Young Machine
wow - may be weve got the same dealer, lol - fav story xxldx,

Author's Reply:

Hey, ld. That's really cosmic, man.

Who needs uppers and downers when writing creates such natural highs and lows?

Mandrake.


---
---
Seven Days In A North London Suburb (posted on: 11-05-07)
Ethnographic Haiku

SEVEN DAYS IN A NORTH LONDON SUBURB cats litter gardens in squirrel lined avenues of bird spattered cars art deco stations inhale commuters; exhale discarded Metros hilltop Palace view: London rendered soft edged grey beneath smoggy skies police tape tatters mark boundaries of bloodstains round flower tributes kebab scented streets daubed with fresh pavement pizzas; knife culture cuisine cars broadcast reggae from pirate radios of the Caribbean exotic bush meat, healthy as a Big Mac, brings a taste of the veldt
Archived comments for Seven Days In A North London Suburb
---
delph_ambi on 11-05-2007
Seven Days In A North London Suburb
Works well as a series, but each is a gem in its own right. Super writing. Took me there (not that I especially wanted to go, but you know what I mean).

Author's Reply:

Thanks d-a,

Some of us have to live here, so I just described what I see every day. It's a love/hate thang, but I find the diversity endlessly fascinating. There's something new and unusual round virtually every corner, like watching a 24/7 edition of 'Crimewatch'.

Mandrake.


---
Gerry on 11-05-2007
Seven Days In A North London Suburb
MD this could relate to any large city today I imagine.
Very well written Haikus...

Gerry.


Author's Reply:

Thank you, Gerry.

I'm pleased you find them well written, even though these are not Haiku for purists of the form, but the requirements are less stringent for this variation. An ethnographic haiku consists of 7 stanzas of 5/7/5 syllabics which describe a specific locale over a period of time and evoke each of the five senses. (So I understand.)

Mandrake.


---
flossieBee on 11-05-2007
Seven Days In A North London Suburb
Hi,

Great images that are so familiar. I have a clear picture of the views and the changes that have been happening over years. I particularly like the last Haiku.
fB

Author's Reply:

Hi fB,

Thanks for the appreciation. I'm gratified to know that I've managed to capture the flavour of this location; between the Twin Towers of Broadwater Farm and Alexandra Palace.

Mandrake.


---
Sunken on 12-05-2007
Seven Days In A North London Suburb
Still enjoying your work Mr. Mandrake. Uka is all the better for your presence. Ten from me, 'cause I want to, 'cause I want to.

s
u
n
k
e
n

swears by old spice

Author's Reply:

Cheers Sunken,

I hadn't noticed your resemblance to Billie Piper before, but now you've brought it to my attention, it's uncanny.

Mandrake.


---
littleditty on 12-05-2007
Seven Days In A North London Suburb
...and i was looking forward to going 'home' for a bit...well written all, and it is exactly described 🙁 lol, good write xxldx

Author's Reply:

Thanks ld,

I always used to think of Essex as home, because that's where I spent the first 26 years of my life and its memories still inform my poetry. But it seems North London is now my spiritual home.

Glad I could bring a little bit of 'home' into your life.

Mandrake.


---
---
The Heartstone (posted on: 04-05-07)
I have more or less given up on the idea of myself as a writer of fiction, but every now and then I dig into my archive of ancient manuscripts and wonder whether I can do anything with them (apart from start a bonfire). I know there's plenty wrong with this, but is there enough right stuff to make it worth a re-write?

☼ THE HEARTSTONE ☼ The sea roared and hissed like a silver-green dragon as it clawed its relentless way up the beach. John had spent the whole morning scratching poems onto the sand with a stick of driftwood. Now, he stood impassive and watched his words being devoured by the rising tide. He squinted in the pale winter sunshine as if it was of a dazzling brilliance. His shirt was open at the neck and his arms were bare. He seemed oblivious to the squalling wind that raged along the shore and caused his clothes and hair to flutter and stream like banners. His reverie was broken abruptly by a sharp clatter from the cliffs behind. He turned to see a young girl descending the sheer face, her every cautious step setting off a minor avalanche of pebbles. She was huddled up in a shapeless blue nylon anorak. The hood suddenly fell back and released her long auburn hair, which was instantly swept across her face to effectively mask her features. Even so, John felt that he recognised her. ☼ The bus broke down for the third time that week. Jack listened for a while to the complaints of the other passengers and to the apologies of the harassed driver, then decided to walk the rest of the way home. He alighted onto the uneven pavement and started to toil his way up the hill. He could see the block of flats, in which he and his wife lived, towering like a concrete island out of the surrounding ocean of condemned houses. He thought he could smell ozone. A welcome illusion as he passed by the mounds of uncollected rubbish stacked at the roadside. He saw the remains of a dead rat; its body infested with a writhing mass of maggots. For a moment, the pale squirm of tiny bodies almost seemed to form words. Jack shuddered and carried on his way. He noticed that a few more shops were now boarded up. The economic miracle promised by President Kennedy, when England became the 63rd State of America, had never materialised. He shivered again, despite the mildness of the autumn weather. Perhaps in anticipation of the winter to come. He wondered if he would be able to save enough coupons to buy his wife the new overcoat he had promised her. ☼ The huge golden shield of the Sky-God radiated its blinding light upon the desert sands below. Jonathan sweltered in his heavy black armour as he rode upon his dragon steed. Its green and silver scales glistened as it slithered across the blazing dunes in a subtle liquid motion. Jonathan's eyes were fixed upon a point beyond the horizon; his mind filled with a vision of his goal. He could see a dark Tower rising out of the desolate wasteland. Tall and grey and sinister. He could feel the presence of evil surrounding it, foul and corrupt. He could almost smell the stench of decay. His path was clear, marked by the shifting runes he could sense being formed in the sand. Also, he was profoundly aware of the plight of Lady Deyanne, who was being held captive in the topmost room of the Tower. Her spirit, her purity, acted as a bright beacon to guide his unerring way across the miles in pursuit of his quest: Her rescue. ☼ John ushered the girl into the living room of his seaside cottage. Her name was Diane, he had discovered. She was a student who had only that day returned home for the Christmas holidays. For his part, John had bought the cottage a mere two months previously, as a haven of solitude away from the madness of City life. As if setting up a magic trick, he had firmly established the fact that he and Diane had never met before. He waved his hand theatrically to indicate the bizarre montage of pictures that covered every square centimetre of the walls. ''There,'' he said. ''You thought I was joking when I asked you to 'come up and see my etchings', didn't you?'' Diane felt distinctly uncomfortable in their midst. They were all abstracts of a rather bleak and disturbing nature. The tubes of paint laying about exuded a pungent odour, like that of a wild animal. ''Did you do all these?'' she asked faintly, wondering why she had allowed herself to be persuaded to come here so easily. ''That's right.'' John swivelled his easel round to reveal his latest creation. ''What do you make of this?'' he demanded. It was a portrait of a woman, so vivid that it seemed to flood the room with light. She was reclining in a pale blue silk gown of medieval design. Her fiery hair framed a face composed in gentle sleep, so realistic that Diane almost believed she could see her breathing. As if looking through a window into another world. Its simultaneous rawness and romanticism emphasised how very empty the other pictures were. For a moment, the incongruity blinded her to any further realisation. But then, she understood why John had been so anxious for her to see it. The woman in the portrait was an uncanny likeness of Diane. ☼ Of course, the lift was out of order and Jack was forced to mount the stairs to the top floor. Luckily, they were deserted - for a change – and his ascent took place without incident. He had never grown used to the squalor in which he lived. As he opened the door to his flat, he recoiled in shock at the compound stink of wet nappies, boiling vegetables and human musk. Somehow, it reminded him of the no less awful smell of paints in an artist's studio. Didi stood in archaic wifely pose behind the ironing board. It was difficult to equate her with the girl he had married. He remembered how glamorous she had once looked in her simple blue print dress. But now, it had faded – and so had she. Her complexion seemed almost grey. Her long mousey hair dangled down lifelessly onto her stooped shoulders. ''Hello, love,'' he said and kissed her automatically. But then, in a sudden wave of sadness and sympathy, he kissed her again with greater tenderness. Her eyes came alive and she rewarded him with a smile. ''Any luck?'' she asked. ''No chance,'' he replied wearily, as he sank into the lumpy, threadbare embrace of an armchair. ''It's not worth a light. Not precious or even semi-precious. Certainly not a bleedin' ruby.'' Jack produced the object of his dismay from his pocket. It was a ring, inset with a round, smooth stone that seemed to glow red hot. He had hoped to sell it for a good price, but no-one had been interested. Whilst agreeing that it was unusual and distinctive, not even the least reputable of dealers had been prepared to make a worthwhile offer. Inwardly, Didi was pleased. Although the extra coupons would have been welcome, she had felt all along that selling the ring would have somehow been an act of betrayal. Jack had chanced upon it during their honeymoon and it had subsequently become a symbol of love and happier times. ''Never mind,'' she said brightly. ''We'll get by.'' ☼ The vision was now grim reality. The Tower rose before him, massive and daunting, casting its huge shadow across the barren ground. It had no doors or windows that Jonathan could see. Its blank grey walls were fashioned of some unnatural substance that resembled sallow flesh. He licked his dry, cracked lips, then called out a defiant challenge. At one, there came a mewling cry in response. A nightmare apparition burst out of the Tower. A bestial cross between panther and man, mounted on a black unicorn. Jonathan reached for his axe. It leapt from his belt to meet his hand and pulled his arm high above his head. Its blades reverberated with a shrill metallic sound as if it too was singing a battle song. The panther swung a sword at his head. Jonathan brought his axe down to ward off the blow. The two weapons met with a chilling shriek. Sparks flew. Jonathan hacked at the panther's body. His axe did not even come close. The unicorn was able to twist itself sinuously to protect its rider. Sweat gleaming on its sleek flanks, it suddenly lunged into a counter attack. Jonathan's dragon reared up to avoid the long, wicked spike of its horn. The panther then sliced at its exposed underbelly. Jonathan toppled from his saddle. Dazed, he watched as his dragon collapsed, mortally wounded, with its talons raking madly at the air. One of its flailing limbs struck the unicorn's proud head, so that it also fell moribund onto the sand. Again hearing the panther's scream, Jonathan swiftly regained his feet and prepared to defend himself. But there was no need. The creature was pinned, helpless beneath its fallen mount. Demented with rage, it clawed and spat as it fought in vain to extricate itself. Jonathan regarded it coldly, sickened by the strong, uric odours of its furred, rippling flesh. Before he quite realised what was happening, his axe suddenly jerked out of his grasp and imbedded itself in the panther's chest. The baleful crimson jewel set into its handle pulsed obscenely. Once, it had been a daemon's heart – but now it served to provide Jonathan's axe with a chilling semblance of life. As he gripped the axe handle to retrieve its sadistic blades, he could feel it throbbing rhythmically as it gorged itself, feasting on the blood it needed for sustenance. ☼ John sat transfixed at the table, looking down at his plate in sheer revulsion. His knife had torn a crude gash in his medium rare steak, exposing the juicy pinkness of its succulent flesh. For some reason he could not define, the sight filled him with an uncharacteristic sense of nausea. Diane regarded him quizzically. ''Are you feeling all right?'' she asked. He made no reply. He dropped his knife and fork with a suddenness that made her jump. Pushing his plate aside, he stepped away from the table and stood with his hands pressed hard against the wall. The room was bitterly cold, or so Diane had told him. As a concession to her, he had lit a small fire in the grate. But he was uncomfortably hot. Even the wall emanated its own warmth and strangely seemed to yield to his touch. Diane noticed the pendant on a chain round his neck. It glared at her like a malevolent eye through a tear in the fabric of reality. John became aware of the focus of her gaze and clutched it protectively in his right hand. ''My touchstone,'' he explained with a wry grimace. The tension in the room eased as he deliberately forced himself to break the mood. ''I found it washed up on the beach,'' he continued, faking a laugh. ''It's probably a fragment from an old wine bottle, worn smooth by the sea.'' ☼ The image on the TV screen flickered annoyingly. Jack adjusted the remote control but could not obtain any better reception. ''There must be some sort of local interference,'' he decided at last. ''Not that it matters. It's the same bloody programme on every channel. The so-called 'Wedding of the Century'.'' He sneered. ''Even the newspapers are full of it: Elvis and Marilyn. Who the hell cares about a couple of old has-beens, anyway?'' Didi cuddled up to him in an attempt to soothe his anger. He was normally very even-tempered, so she did not have to exercise her intuition too hard to realise he was deeply worried about something. He responded a little and put one arm around her. His body was extremely cold. ''I'm sorry.'' He attempted to apologise. ''It's just that I've got this nagging feeling that there's something… critical… going on behind the scenes… I've got this vague… dread… as if a… façade… is going to lift and reveal… the presence of a new… dimension… transcending… the flatness of everyday life…'' Didi frowned, unable to quite understand what he was trying to express, or even to face the intensity of his halting words. He did not sound at all like himself. Jack also frowned. He was confused by his increasing ambivalence. Didi's warmth and softness seemed only a surface illusion. Really, she was hard and angular. He might equally well have en embracing a brick wall. In his confusion, everything appeared to have assumed the quality of metaphor. Each object in the room existed merely to represent, or perhaps only to hint at, the nature of a deeper level of existence. Whatever that meant. ☼ Jonathan approached the Tower with due caution. A jagged fissure now marked where the unicorn and its rider had emerged. A thick, dark fluid oozed from its edges. The walls' resemblance to flesh had become even more pronounced. The fissure gaped like an open wound seeping blood. The vampiric axe moaned in his hand as if it too was almost deceived by the sight. Jonathan pushed his way into the Tower, revulsed but undaunted by the fact that the walls even, horrifically, felt like living organic tissue. He found himself within the narrow, cramped confines of a corridor that curved away into gloomy darkness. A dull, ruddy light emanated from all around. The floor was treacherous; being ridged and slimy, like the inside of some huge creature's mouth. He continued on his quest, once more being guided by his love for the Lady Deyanne. A passionate bond that drew him ever onwards through the maze of winding passages. A new vision entered his mind's eye: A vision of a lavish wedding ceremony, more extravagant than any he had thought possible. His arms thrilled to the imaginary touch of a woman. Truly, a most presumptuous vision. One in which he hardly dared to believe. That his quest might end in such a marriage! Joyous and emboldened, he was barely able to restrain himself from running wildly around the Tower, laughing and singing with mad abandon. ☼ Diane could barely understand the situation at all. She had met John for the first time only a few hours previously and now she was sharing a bed with him. She was by no means a prude, but even so… He was such an oblique person that she felt that, even after a number of years, he would still be a stranger. He just was not her type. And yet… In some indefinable way, he and she were bound together by something rather more profound than animal magnetism. She was acutely aware of his pendant pressed between their two bodies. It lay with them in the bed like a third cold and insensitive person. She did not believe in destiny or reincarnation. So what was going on here? Her speculation was abruptly halted. John sat up and literally jumped out of bed. He called out a strange word in another language. Diane stared at him in fright. The pendant glowed fiercely on his chest. Its weird light cast ugly shadows on his face. There were tears in his eyes, shining like drops of blood. ''Can you hear?'' His anguished voice came from behind a daemonic mask. ''There's someone in pain… a woman… crying…'' Diane found herself listening, possessed by the force of his belief, but there was only the distant rolling of the sea. Once more, John called out a word in an alien tongue. ''Deyanne!'' A word she knew… and yet, did not know… ☼ The sea. Shifting black and silver. Dark thunder. Crushed under leaden cloud. Night sky. Cutting edge of raw air. Stumbling. Falling in stone. The biting face. Crumbling. Cliff descent. Into sharp coldness. The sea. Fragmenting. Falling. Dark confusion. He plunged into the roaring blackness of the sea. A cold, raging monster. It clutched him in a firm, icy grip. Somewhere, far behind him, atop the cliff, someone screamed his name. Over and over. A girl's high, clear voice. Crystal hysteria. Breaking glass sky. Silver shout. Jack awoke with a start and leapt from his chair. He could still feel the coldness of the sea and night air in his bones. A shrill voice still called incessantly. Didi smiled at him. ''It's all right,'' she said. ''I'll go.'' Puzzled by her cryptic words, Jack watched her in bewilderment as she left the room. But then, he suddenly realised. The violent scene in his mind, though vivid, was only a dream. He had been woken by the sound of their baby crying. Or had he? A doubt lingered. A suspicion that his dream held a greater significance. Perhaps this was the dream and the storm torn beach was in fact the reality. He laughed in self mockery. He thought he had long outgrown this brand of adolescent claptrap! ☼ Jonathan raised his axe and chopped at the membrane-like barrier that blocked his way. The blades shrieked as if in protest at being used for such a crude purpose. The pink fibres soon hung in tatters, dripping foetid quasi-blood. Both excited and afraid, he stepped into the chamber beyond. He thought he could discern the shape of a bed against the far wall. It was difficult to be sure in the oppressive gloom, but his instincts had led him true thus far. As he crossed the floor, he could feel it pulsing rhythmically beneath his feet, like the beating of a massive heart. Suddenly, her heard a wailing cry. It resembled the squalling of an infant - or the battle scream of another man-panther. Jonathan turned swiftly. A dark shape loomed before him. He struck out at it. The axe whirled from his hand. It bit deep into flesh. The shape fell. The jewel set into the axe's handle shed its hideous radiance upon its crumpled victim. Jonathan regarded the fallen body in sheer horror. It was the Lady Deyanne. Her limbs moved convulsively as she moaned in agony. She still lived. The axe had struck below her ribs without piercing any vital organs. He seized its handle and struggled to pull the blades free. But it refused to relinquish its hold and continued, greedily, to drink its fill of virgin blood. He struggled harder and Deyanne screamed as the axe perversely twisted itself deeper into her body. It seemed even to shudder in ecstasy as it sought to quench its evil thirst. Helplessly, Jonathan knelt down and cradled her gently in his arms, watching her life gradually ebbing away. Her eyes were glazed and sightless with pain. Tears streaked her contorted face. She wept – and the sound of her weeping became less human as her pain increased. ☼ John picked up a tin of paint and deliberately poured it over the portrait. The crimson stain spread like a widening pool of blood. At first, Diane felt a blank incomprehension. John seemed to be acting out an obscure ritual. He appeared to be obeying an inner compulsion, following an ancient design that no longer held any relevance to the shape of this world. Diane knew she should do something to intervene. Intellectually, she realised John was obviously in some neurotic fugue state. Atavistically, she felt herself to be a part of the ritual. But emotionally, she was shocked and outraged that he had defaced what to all intents and purposes was a portrait of her. In any case, it was ridiculous to be philosophising at a time like this. She roused herself in time to hear the slamming of the back door. John had slipped out of the house without her even noticing. She chased after him, out into the untamed wildness of the garden. The night sky was clouded over and the darkness was absolute. For a moment, she was lost as her eyes became adjusted. She heard the rattle of loose stones being disturbed and rolling down the slopes of the nearby cliff. She ran towards the source of the noise, calling John's name. She felt like a runner in a dream, taking an age to cover the ground. Her voice was seized by the vicious talons of the wind and savagely torn to shreds. ☼ Jack stood at the window of his flat, gazing out at the decaying world. The sky was a garish, unnatural hue. The adjective that came unbidden to his mind was 'incarnadine'. When he looked down at the streets, he almost expected to see them ablaze. But it was all quiet. There was no clue as to why the heavens were such an appalling shade. He had overheard rumours that a terrorist gang in Soviet Ireland had actually succeeded in constructing a nuclear device. Maybe they had detonated it. That would be one way of finally resolving the Troubles, he supposed. The room became suffused with the sickly-sweet odours of milk and talcum powder. Didi entered, carrying their baby son. ''Come on,'' she crooned. Let's go and see daddy, shall we?'' They joined him by the window and Jack swept his arm outwards to indicate the town, surreal beneath hellish skies. ''One day,'' he promised his son bitterly. ''All this will be yours.'' He trembled. Some vestiges of his recent dream remained. He could feel the awesome force of the waves striking his chest. They rose steadily higher until he was completely engulfed by their icy blackness. His feet were plucked from the sea bed. He was drowning… drowning… He reached out in desperation and clutched Didi round the waist. He clasped her to him. She was his lifeline, his security. The family would keep him afloat. His moment of panic passed. His dizzy confusion receded and slowly faded away. He extended a hand to his son, the ring on his finger glittering with tiny sparks of inner flame, brighter even than the incandescent sky. ''Look,'' he said. ''Pretty.'' ☼ Deyanne relaxed into the posture of death. The axe toppled from her body and hit the floor with a dull thud rather than a metallic clatter. Jonathan reached for it in a cold fury, intending to break its treacherous haft over his knee. But it wriggled from his grasp and slithered away into darkness like some incredible steel serpent. He raged incoherently, so that his voice boomed and echoed throughout the empty corridors of the Tower. At the height of his rage, he was overwhelmed by a new and macabre vision: He saw the sky turned to blood and fire raining down upon the people' upturned faces. The sight filled him with a perverse satisfaction. ''Let everyone share in my devastation!'' he shouted. ''Let the whole world suffer the pain of my loss!'' He lifted Deyanne's pale, wasted form into his arms and stalked grimly out of the Tower. Out into the furnace heat of the desert, which was no match for the searing intensity of his vision, or for the burning of his righteous anger, his eternal passion. ☼
Archived comments for The Heartstone
---
Granddad on 04-05-2007
The Heartstone
If you write fiction, you are a writer of fiction. Hold off on that bonfire.

Good luck,
Harry

Author's Reply:

Hello Harry,

Thanks for the encouragement, though your comment is maybe a little too zen for my taste. On the other hand, there is the postmodern view that Art is whatever the artist states it to be. But then , that still begs the question whether I am an artist...

I feel that I am a reasonable poet, yet I am far less confident that I can handle the very different dynamics of writing fiction.

Mandrake.


---
shadow on 06-05-2007
The Heartstone
An intriguing tale - I found the jumps from John to Jack to Jonathan a bit disconcerting at first, till I realised we we in an 'alterate reality' story. Jonathan's story worked best for me, more exciting, and I liked the gritty realism in the Jack segment, in fact all the parts worked well individually but taken together - I'm not sure. Can't quite make out what the conclusion was. Feel I'm missing something - which is frustrating. Still, definitely worth working on.

Author's Reply:

Hi shadow,

I used to read a lot of 'New Wave' SF from the 60s and 70s, which has influenced my approach to narrative structure.

Although I have used a device that resembles alternate realities, what I have really written is a single story where the different layers of a relationship have crystallised into apparently separate strata:

John has an intellectual/artistic view of neurotic self involvement. Jack is leading a normal everyday life in the face of an almost incidental apocalypse. Jonathan is the questing hero of romantic myth. Yet each of these archetypes is being subverted as they influence one another.

John is at first inspired by visions of Jonathan's quest, but its alien intensity is more than he can cope with. Jack's mundane existence is fractured by dreams of a deeper life of the imagination. Jonathan's heroic quest is tainted by flashes of a life that is ordinary to us but incomprehensible to him.

There was never an intention to wrap up this story with a neat conclusion to explain everything. I think that would be too contrived. Instead, I wrote the story sideways, as an exploration of a critical moment in which everything is going wrong.

I don't know if this makes it any clearer, but thanks for the encouragement.

Mandrake.


---
shadow on 08-05-2007
The Heartstone
Well of course - why didnt I see that? Must be more 'Old Wave' than I realised. Or a bit dim. Yes, that would be it. Mind you, I liked it even though I didn't understand it.

Author's Reply:

Blame Jimmy Ballard. After reading 'The Atrocity Exhibition' as a teenager, I was literally mindblown and could never settle for writing conventional 'stories'. I'm just waiting for the style to come back into fashion, so I can be all cutting edge and avant garde again.


---
---
Confessional (posted on: 30-04-07)
The best way to tell a lie is by telling the truth. I reveal in order to conceal.

CONFESSIONAL I could take my words apart and put them back again to tell a more palatable tale of when I still gave credence to theories of love's disorders and the coincidence of meeting you at Border's book shop in the Charing Cross Road where I was looking with all due vanity to see if they stocked my slim volume of poems and did not recognise that I had crossed a node a confluence a point charged as if by ley lines that you deemed evidence of fate's designs for us to edit each other's prose to smooth rough edges and untangle verse from strictures of any form other than what grows our thoughts together in pursuit of perfect hybrid pleasure a cross pollination of romantic syntax untroubled by the simple facts by the normal modes of human expression that would have revealed my shallow interest and the clinging depths of your depression a mistake I can yet unmake by writing lines that sound confessional and true while putting all the blame on you.
Archived comments for Confessional
---
delph_ambi on 01-05-2007
Confessional
Brilliant. Very witty use of rhyme. Love it.

Author's Reply:

Thanks. Just a bit of an experiment, placing what would have been internal rhymes at the ends of lines and using the irregularity to support one of the poem's themes.


---
---
When Women Are But Men In Frocks (posted on: 30-04-07)
A little bit of pastoral nonsense in honour of Spring, with liberal helpings of English folklore and a nod to the Wicker Man.

WHEN WOMEN ARE BUT MEN IN FROCKS The grass grows long in Mummer's Field and stones stand silent on The Weald, where once the Passion Play was held and Morris Men were capped and belled. Now, as the hedgerows bloom with May, fools Bavian and Malkin stray and caper twixt their restless graves, beneath a cross of wooden staves, each tied with bladders on a string. Their spirits seek out Reynard's ring, whose triple gems bind them unseen: prismatic cells; red, white and green, in which each day is endless night, so far removed from realm of wight. Drawn by the cry of Isengrym that echoes round the forest rim, the distant sons of villein folk still bear the weight of plough and yoke. In thrimilce, after equinox, when women are but men in frocks and topsy-turvy is the game, all sport in Mary Molloch's name, while Tom O'Bedlam's sister Bess is favoured for her nakedness. Until the dawn of next calends, the gender bending knows no ends; unbound by limits and extremes: such is the power of goupil dreams.
Archived comments for When Women Are But Men In Frocks
---
Sunken on 01-05-2007
When Women Are But Men In Frocks
Hello Mr. Mandrake. I fear that I will have to return to this piece. I got the line -

Their spirits seek out Reynard's ring,

and totally lost the plot. This is not a fault of yours, but rather a fault of my sewage like mind. Please forgive me.

s
u
n
k
e
n

still waters run expensive

Author's Reply:

Did you lose it again at the forest rim?

Strictly speaking, Reynard the Fox is a French folk hero. Maybe that explains something.


---
Bradene on 01-05-2007
When Women Are But Men In Frocks
This is clever and funny, well I think so.. my husband is from Dorset, now I'm not casting aspersions so to speak but some of the language in this pagan piece sounds awfully familiar ((-; Val

Author's Reply:

Hi Val,

I probably did more research for this poem than anything else I've ever written. (Rather than winging it and relying on my memory for trivia.) The result is something of a pastiche. A gentle homage to a mythic Englishness that is characteristically self mocking.

Mandrake.


---
---
Galleria (posted on: 27-04-07)
The next time you're in town, check out the following attractions:

GALLERIA I cut my finger at the Exhibition of Broken Windows touching a display that wasn't for sale The artist gave me a blow-job at the Semen Art Show then gobbed on the canvas and framed my seed for posterity I paid a return visit to the Factory of the Eccentric Actor where delinquency and alienation were still drawing the crowds I hid behind the bushes outside the Palace of Litigation hoping for a glimpse of the Page Three Princess A new ride has been opened at the Ecstasy Theme Park but all the best thrills take place in the queues I browsed the empty frames in the Gallery of Escaped Paintings where torn scraps and flakes of paint litter the floorboards I paid for a ticket to the Charnel House Theatre where the actors just sit and heckle the audience I held my breath in the Museum of Boring Old Farts suppressing a yawn while history repeated itself For a while I was lost in the Library of Unfinished Books where a whole wing was devoted to my own unwritten work
Archived comments for Galleria
---
Sunken on 27-04-2007
Galleria
Yet another very strong write Mr. Mandrake. Very original and highly entertaining.

s
u
n
k
e
n

no tag april

Author's Reply:

Thanks Sunken,

I enjoyed writing this. Once I had the basic concept, the stanzas virtually wrote themselves. It is a modular poem, to which I could keep adding parts. It invites occasional updates.

Mandrake.


---
delph_ambi on 27-04-2007
Galleria
I agree with sunken. Original, thought provoking, but also very funny.

Author's Reply:

I am a fan of both popular culture and modern art, but I think a wry outlook is useful in order to avoid becoming too precious or pretentious. I find that my sense of the absurd informs a lot of my poetry.


---
Bradene on 27-04-2007
Galleria
I thought this was quite ironic as well as funny, I loved the last stanza in particular and many will relate to it I'm sure. Val

Author's Reply:

Yes, you can't imagine the works of genius I have yet to write. There are a lot of ideas sitting in my head that haven't made it onto the page because it's too much like hard work. 95% inspiration to 5% perspiration is the ratio I prefer to the prevailing wisdom.


---
Zoya on 29-04-2007
Galleria
Dear Mandrake, a very good take on the deteriorating tastes of people and how all the wrong things are advertised.
Witty, smart, ironic and funny!
Love, Zoya

Author's Reply:

Thanks Zoya.

This is just the product of someone with a short attention span who is easily distracted by ephemera.

Art and entertainment are everywhere - not just where artist(e)s decide to stage it.

Mandrake.


---
---
Coffee Break (posted on: 23-04-07)

There is nothing stranger than the mundane.

COFFEE BREAK I peer across the table at her face; serene features obscured by steam rising from my coffee. I gaze down into murky depths of a plastic cup, where dark liquid broods, primeval ooze, out of which new life may yet evolve. I feel out of place, sitting in a Co-op snack bar, in what could be any suburban town. My clothes droop, shabby and uncomfortable, while my hands flutter helpless as trapped birds on the ends of goose-fleshed arms. I brush stray hairs back in place behind my ears, as I watch traffic passing by outside. I read words on the sides of lorries. Bizarre fragments of mobile poetry. Perhaps, one day, they will assemble themselves into a coherent, epic work. I find it so difficult to understand her lack of concern. She appears content to read some lurid paperback astrology book, while the world solidifies around us, like quick drying cement. I lift my cup to my lips. A bitter, scalding fluid emerges from beneath a layer of non-dairy froth and burns the roof of my mouth. Through a haze of tears, the zodiac mandala on the cover of her book also burns, bright with the false promise of magic. A woman comes to clean up our table. She does so with a damp, dirty cloth and a single, negligent sweep of her arm. A few crumbs are arranged in a slightly different pattern and grease stains become blurred at the edges. I am sure that a symbolic message can be read into this act, as the same forces that shape stars into constellations also scatter grains of sugar on cheap veneer. No sign could be more significant than the endless cycle of normality.
Archived comments for Coffee Break
---
Sunken on 24-04-2007
Coffee Break
You take the mundane and make it anything but. This is brilliant stuff Mr. Mandrake. Especially liked -

'...as I watch

traffic passing by outside. I read words
on the sides of lorries. Bizarre fragments
of mobile poetry. Perhaps, one day,
they will assemble themselves into a

coherent, epic work.'


A classy write and no mistake.

s
u
n
k
e
n

into the valley of the tag


Author's Reply:

Thanks Sunken,

It's a trademark of mine that I like to find significance in non-events and poetry in the everyday. I think we reveal as much about ourselves in these unguarded moments as when we are tested by larger concerns.


---
littleditty on 24-04-2007
Coffee Break
Brilliant! xxldx

Author's Reply:

Thanks littleditty.

Brief and to the point, but still very welcome.

I guess you may have already seen this elsewhere?

Regards,

Mandrake


---
Bradene on 25-04-2007
Coffee Break
I echo the word of LD Brilliant, you have really managed to capture feeling of 'What the hell is it all about' and the 'what am I doing here feeling. Good stuff Val x

Author's Reply:

Thank you, Val.

Yes, this is one of my 'Existential Lite' poems. It is also a description of a real event. Poor girl, she had no idea what was going on in my head. And I had not the first clue about her, either.

Hello, Gloria. This is for you, wherever you are now!

Mandrake.


---
discopants on 27-04-2007
Coffee Break
This has a pleasing flow to it (unlike the coffee) and has some great phrases and observations in there. I particularly liked the possibility of new life evolving from the coffee cup.

Author's Reply:

Thanks. The wandering imagery is an indication of my inattention to the woman. There is more potential for life in the coffee cup than there is between the couple. Glad to hear that it flows.


---
---
Curses (posted on: 23-04-07)
No cats are being harmed in the concept of this poem.

CURSES She curses as she stirs the pot. Cat hairs round the rim again. Too familiar, that's the trouble. Sprinkles herbs with bony fingers. Turns the heat down. Licks some juices from the spoon... ... Not too hot. Wrings a dish cloth to dab a stain. One spot of blood amidst the muddle. Strange how the smallest traces linger. Wipes sweat from the creases of her frown. Curses again as she lifts her broom.
Archived comments for Curses
---
Sunken on 23-04-2007
Curses
Lol. You are a class act Mr. Mandrake. Cats and me don't mix too well, so I like this more than I should. You might be interested to note that uka has many female cat lovers. I don't know why. To be quite frank, it makes me nervous. They might give you some stick, but I'm sure you can take it(-;

s
u
n
k
e
n

west end tags

Author's Reply:

Hi Sunken,

Sorry to disappoint you but, as my disclaimer states, there are definitely no cats being harmed here. There's something else bubbling in that pot. Perhaps I shouldn't have put the idea in your head!

Mandrake.


---
Sunken on 23-04-2007
Curses
Ahem. I do apologise Mr. Mandrake to both your good self and any cat lovers. Blimey, the female leg of uka will have the rspca onto me at this rate. I wouldn't harm any cats you understand, oh no. They are more likely to harm me. I have read your poem again but can't get the cat out of my head. Perhaps this aversion of mine needs proper medical attention.
Cheers Mandrake.

s
u
n
k
e
n

no tag april

Author's Reply:

---
---
Touch Wood (posted on: 20-04-07)
Sometimes, we make up our own superstitions in a naive attempt to negotiate with blind fate...

TOUCH WOOD 'Touch wood,' he said and rapped my forehead with knuckles knotted as a blackthorn branch. Rough hands, no more subtle than shillelaghs, that grew a garden full of flowers, tall as a small boy in short trousers, humbled by the bees; all dirty knees and careless as a summer breeze. When it became too much to tend, he laid a lawn and expended what remained of strength moving his divan downstairs. I pushed a mower up and down for hours, striving to cut each stripe as straight and perfect as I could. What I hoped to hold behind green bars of grass, I did not comprehend. But it meant something – touch wood.
Archived comments for Touch Wood
---
Sunken on 20-04-2007
Touch Wood
Always a pleasure to read your subs Mr. Mandrake. I have a cheap joke about touching wood every morning, but it wouldn't be fitting on such a classy piece. Well done.

s
u
n
k
e
n

no tag month

Author's Reply:

Well, I have a cheap joke about something pink and hairy that pokes out of my pajamas in the morning - but it doesn't work now that I'm nearly bald.

Anyway, thanks Uncle Sunk.


---
delph_ambi on 21-04-2007
Touch Wood
Classy piece, as Sunken says. Moving poetry. Enjoyed the imagery, the thought, the structure.

Author's Reply:

Thank you. That's five important boxes I've managed to tick with this poem: classy, moving, imagery, thought & structure. I couldn't really ask for more.


---
---
I Met You (Much Too Late) (posted on: 09-04-07)
Regrets, I've had a few - and this one deserves a mention...

I MET YOU (MUCH TOO LATE) I would have loved you, but I did not know you then. I could have kissed your scabby knees and licked ice cream from your chin. I might have pinched your puppy-fat and pulled your pigtails, just in fun; yet, if I had been first to make you cry, I may have prevented worse pain to come. If only I had been aware that you were just two streets away, I would have saddled up my imaginary horse and ridden to save the day. But I met you much too late, when the damage was already done and fell in love with 'might have been', instead of what you had become.
Archived comments for I Met You (Much Too Late)
---
potleek on 09-04-2007
I Met You (Much Too Late)
Mandrake I think you have said something here that a lot of people will relate to.
Can't hold the tide back nor change the past.
I enjoted reading this...Well said...Tony

Author's Reply:

Thank you, Tony.

After last week's abstract pieces, I decided to submit something very simple and direct.

I think the word 'regret' I use in my introductory comment is probably inaccurate. It is one thing to mourn taking the wrong path in life - but when you didn't know the path even existed... I suppose it is somewhat quixotic.

Glad you enjoyed.

Mandrake.


---
delph_ambi on 10-04-2007
I Met You (Much Too Late)
Very touching poem. Poignant.

Author's Reply:

Thank you for the '10' rating.

I wanted to write about 'damaged goods' without dwelling on the gory details or making too simplistic a statement. By taking a removed but not emotionally neutral viewpoint, I hoped to evoke the sense of a wasted life - the details of which could be filled in by the reader.

I get a little uncomfortable in case I am being over-sentimental, so I'm pleased you were touched.

Mandrake.


---
Romany on 10-04-2007
I Met You (Much Too Late)
I agree - poignant is the word,

Romany.

Author's Reply:

Hi Romany,

I guess this is another take on one of the themes of my 'Pole Dancer' poem, without the distraction of a salacious central image.

Thanks for reading and commenting.

Mandrake.


---
Sunken on 12-04-2007
I Met You (Much Too Late)
Hello Mr. Mandrake. I agree with Ms. Romany, but sadly I am unable to spell said word. I could copy it, but surely that would be cheating? Oh balls to it. What's one more regret? 'Poignant'. I swear that word should be longer. Perhaps I'm saying it wrong. Am I rambling? I am aren't I? I'll shut up. Thanks.

s
u
n
k
e
n

no tag week

Author's Reply:

'Poignant' is an interesting word, with its origins in old Westerns: When the good guy is pinned down in a canyon by the bad guys all a-shootin' off their six guns, it's the noise that bullets make when they ricochet off the rocks.


---
-phoenix- on 14-04-2007
I Met You (Much Too Late)
To true.. A brilliant read.

Best Regards,
-Phoenix-
..the fire in her was slowly dying..

Author's Reply:

Hi -Phoenix-

At the risk of sounding patronising, I would have thought you were a little young to identify fully with the sentiments this poem. But thanks for the appreciation.

Regards,

Mandrake.


---
---
A Shot Of Sunday (posted on: 09-04-07)

If software existed with which you could edit your life...

A SHOT OF SUNDAY Take a shot of Sunday and filter it through Photoshop: Clouds are rendered grey and embossed to deep abstraction. Cut and paste a clip-art couple and smear them with a gaussian blur. Say: Look at us. Remember when we walked beneath this winter sky? Crop and clone some flowers and tile them in the foreground, as if scattered at our feet. Smooth the pixellation and enhance the background contrast. Apply a cyan gradient tint. Say: Look at us. Remember how our happiness could conjure spring?
Archived comments for A Shot Of Sunday
---
Macjoyce on 10-04-2007
A Shot Of Sunday
I think the software of which you speak is already built into us. Maybe nostalgia is mechanical, like a computer program.

Very good poem, nice symmetrical form.

Mac


Author's Reply:

Hi Mac,

Of course, we have all sorts of utilities built into our wetware that are constantly editing our view of life.

You may interpret this as you will - and certainly 'nostalgia' is one of the tools we employ to re-colour the past - but I was thinking more in terms of denial...

Yes, sometimes it does my head in to make these patterns in words - so I'm glad you appreciate the form.

Mandrake.


---
delph_ambi on 10-04-2007
A Shot Of Sunday
Double-edged poem. I find it very dark. Very effective.

Author's Reply:

One of the things I love about poetry is the way so many layers of meaning can be crammed into so few words. I'm not always sure how successful I am at achieving this, so I'm glad to receive your appreciation.


---
Romany on 10-04-2007
A Shot Of Sunday
I think this is an excellent concept for a poem and I also think you handled it extremely well. I agree with delph_ambi; it is double edged. I like it,

Romany.

Author's Reply:

Thanks Romany.

I must admit, I'm not sure where the concept came from as I don't use Photoshop! I guess it may be the celebrity fake photos that sometimes appear in the gutter press.

We all mythologise ourselves and embroider anecdotes to make ourselves out to be 'better' people, but this poem is intended to have a more cynical and sinister edge.

Thanks for finding it 'excellent'.

Mandrake.


---
Zoya on 10-04-2007
A Shot Of Sunday
Excellent idea! I do not know why but it brings to my mind the following Rubayee of Omar Khayyam- may be it is the underlying thought to re-create our lives better:
"Ah Love! Could you and I with Him conspire
To grasp this sorry Scheme of Things entire,
Would we not shatter it to bits - and then
Re-mould it nearer to our Heart's Desire"
Omar Khayyam


Author's Reply:

The trouble is, one person's Heart's Desire is another person's Living Hell.


---
Ionicus on 11-04-2007
A Shot Of Sunday
Deserving of the 'Great Read' tag. Very well crafted.

Author's Reply:

Thank you for reading and commenting - and for your generous rating. I particularly appreciate your use of the word 'crafted'.


---
-phoenix- on 12-04-2007
A Shot Of Sunday
Brilliant!!! A really great read, Cant wait for more!

Best Regards,

-Phoenix-
..The sky darkened but the flames lit her way..

Author's Reply:

Thanks for your enthusiastic response. There's plenty more where this came from!
---
e-griff on 13-04-2007
A Shot Of Sunday
I found this slightly mechanical - referenced to everyday subjects by rote. Interesting, yes. But lacking originality, except in the interpretation of the defined subject, which was imaginative, I grant.



Author's Reply:

After about 5000 years of written poetry, there's very little (if anything) original to say about the human condition. You must admit, the vast majority of writing is just a spin on the same old recurring themes. If I can find imaginative ways to interpret them, then I am at least doing something a little out of the ordinary. But I can always try harder!


---
---
From Archway To New York (posted on: 02-04-07)
'mythteria' is a made-up word - a cross between mythology and hysteria

FROM ARCHWAY TO NEW YORK There were only cities and the quantum in- terstices between them. On a hill leading up to the edge – where unwary travellers fell into the warp space of bus lanes – I found a black cat in a cage. He said: 'burn again, learn again, never return again' in the language of bells from the beyond time. I left a sample in the local bar and drank beer in the clinic waiting room. There were esca- lators, but they could only take me to the past, where my skin was sloughing from my legs and my toes emerging like snakes. From Archway to New York was only one stop on the Tube. The shadow of the Siamese Twin Towers was a ghost haunting grave zero, whose presence possessed nothing but gravity, yet bent the Greenwich line like a circus strongman's act. In the myth- teria of London's fabled woods, I found the High Gate and locked it against encroaching hordes. I turned the same key to release the cat.
Archived comments for From Archway To New York
---
Slovitt on 02-04-2007
From Archway To New York
Mandrake: I like almost everything about your poem which establishes very successfully the odd vision herein. The black cat, well, the entire second stanza, 'a black cat in a cage. He said 'burn again,/learn again, never return again' in the/language of bells from the beyond time. I left/a sample in the local bar and drank beer'/ is rich, and the word that occurs to me is valid, an alternate vision herein established, to borrow from myself earlier. '...my skin was sloughing from my legs and/my toes emerging like snakes.'/ is another odd detail that seems just right, and your '...locked it against encroaching/hordes. I turned the same key to release the cat.'/ completes this poem of yours, this living, different reality. A very nice piece. Swep

Author's Reply:

Well, I must say I am relieved that you find so much to like in my poem. The trouble with surrealism is that it can all too easily lapse into the absurd or the incomprehensible.

My intention was to connect the large themes of 9/11 and 7/7 with the small personal themes that were affecting me at the same time. A swirl of merged time and space. The urbanity of New York with the village mentality of North London.

As with other of my recent experiments, this was very much affected by the 'New York' poets of the 60s and 70s, whose influential works I have been re-reading.


---
delph_ambi on 03-04-2007
From Archway To New York
My type of poetry. Love the Dick Whittington echoes. One to savour.

Author's Reply:

Thanks. It's a great compliment that you would 'savour' my words.

I am not sure how much the images mean to someone else who is not familiar with the Dick Whittington story, or with the fact that there really is a black cat in a cage on the hill leading up from the tube station to the hospital. But hopefully they are substantial enough to create their own resonances.


---
littleditty on 27-04-2007
From Archway To New York
Yes - i know that cat - your poetry is fine btw - i'd meet you for a coffee in the woods at the Osho Basho cafe -but they've closed it down, reopened it as something fancy, and i now live in Tenerife - oh well - have been enjoying your poetry - xxldx

Author's Reply:

'I know that cat'! There's something about this phrase that tickles me. I'm sure there's an idea for another story here.

Thanks for the offer, but I've given up caffeine. I'm one of those smug people who drink herbal tea instead. Paying a premium for a cup of hot water with a vague hint of fruit.

But I digress: Glad you enjoy my poetry.


---
Macjoyce on 05-10-2007
From Archway To New York
Sorry, I'm lost. I'm a Londoner myself but I feel I don't have enough local knowledge when I really should. I don't know that cat. Erm...

Are you sure it's just herbal tea you're drinking? 😉

Mac the Meridian-Straddler


Author's Reply:

---
Hazy on 08-10-2007
From Archway To New York
Cryptically complicated... like all good poems should be 😉

Liked reading your comments then going back to the poem. There's so much about London I really should know.

There's a big black cat in Catford too. And a large pink elephant at Elephant & Castle (although I think it's gone now). And a parade of painted cows throughout London a few years ago. Hmm, I've not been on the vino, honestly!

Nice one.

Hazy x

Author's Reply:

---
---
Splinters (posted on: 02-04-07)
This is me, leaving my safe job in local government after 16 years and definitely not having a mid-life crisis.

SPLINTERS There was the sound of a dry branch snapping and all that came from my mouth was splinters. Time was different underground, where the indicator showed 5 minutes, then 5 minutes later still showed 3, then a minute later the train arrived. My desktop had no screensaver, because I never stopped. I gave my three months notice in the form of a Haiku, using a stapler to create Chinese pictograms on my manager's forehead, loosely translated: 'Swallows fly sunward / Feathered arrows strike bullseye / Bow strings break when dry' Described with the cold logic of process mapping, the key procedures of my heart were brief as winter's memory in the minds of migratory birds at the equator. Though I was responsible for money, the penny never dropped until I realised my own books did not balance and were askew; so I threw six coins to form a hexagram, whose enigmatic prophecy stated I was fated: 'Dead trees yet stand tall / Strength in weakness unchallenged / Leaves fall where they will' Homeward tunnels connected by an arcane topography, derived from a notion of straight lines my senses deny.
Archived comments for Splinters
---
Slovitt on 02-04-2007
Splinters
Mandrake: I like this off-center version of proceedings that you supply, replete with reported and yet unquestioned oddities from the world you're living in eg the three lines of your second stanza beginning 'Time was different underground, ...'/. And so you lay your quirky view line by line, though it's not quirky, it's the world that you're reporting and quirky is a subjective word, and you're just commenting as you go, and the two haiku are formatically correct, and not bad, and your concluding couplet ties this very good piece, admirably off. You're about the business of establishing visions, and versions today, and successfully. Swep

Author's Reply:

This is meant to be a detached, poet's eye view of the central dichotomy of my life - between the poet and the office worker - finally resolving itself, though perhaps too late. The quirkiness is a side effect of living an untenable existence for so long. Even the boring and the mundane have a poetry of their own because everywhere I go, I am inside my head.

Yet I hope I have succeeded in establishing a vision that anyone can identify with.

I'm glad you liked it.


---
delph_ambi on 03-04-2007
Splinters
That image of using the stapler to make pictograms is going to stay with me. Very strong.

Clever writing. Effective.

Author's Reply:

It is always heartening to hear that I have created an image that will linger in the reader's mind.

I just hope I don't hear of any copycat resignations!

Thanks for the compliments.


---
e-griff on 03-04-2007
Splinters
I enjoyed this very much. funnily enough the stapling business I can't make up my mind about - sure it's strong, but it's unreal, impossible in fact. the rest of the poem is your observation of things, this seems like an intrusion. Yes, I understand it's a thought, an anger at the authority figure for perceived meistreatment, but that is in fact a pretty juvenile (but natural) feeling whereas the rest is reflective and mature. So, if it had been an F You! poem (which would have had lots of readers saying 'good on yer' it would have fitted exactly. I'm not sure (can't decide) whether it fits here, but thought I would just expore the thought with you for what it's worth.

best JohnG

Author's Reply:

Hello John.

It's an interesting point that you make and I will think further about it when I come to do a re-write. There is some scope for changing the words in that stanza. But I wonder if I can do it without losing any impact?

The point I would put back to you is that the opening stanza is equally unrealistic in its own way. There wasn't a dead branch in my head that snapped and filled my mouth with splinters, but it's a strong and accurate way of describing the feeling.

Handing in my notice was also tainted by feelings of defiance and anger, which were petulantly aimed at my manager. As you say, this is not an FU poem - but it was an FU moment within a scenario of greater emotional complexity.

Without this spark, the poem would consist entirely of a portrait of a hollow man who had finally broken - and I wouldn't want the picture to be completely negative.

Still, I am glad you enjoyed it overall.

Regards,

Mandrake.


---
---
Disconnected (posted on: 30-03-07)
This comes from the same place as my 'Bangers and Mash' poem, but is more subjective in tone and experimental in form.

DISCONNECTED She told me I was - The ink turned out to be disconnected from the earth - permanent. Green dotted and needed to unblock - line of marker pen where the chakra at my - I was opened like a fundament. Apparently, - zippered purse for such small my aura was purple - change as I could spare. like her fingernails, her - Garlands strewn in celebration lips, her eyelids and her - of the season, as hair. Colour therapy - Lennon died and I lay could help me to overcome - gutted in bed, facing my psychic wound, in - a lone gunman of my conjunction with a - own. I said stop the fucking personally attuned - cavalry or I healing chant, set to a - will tear out all these tubes soothing monotone. All I - and run to dress a could visualise was - snowman in the paisley a green dotted line where - pyjamas I have borrowed. my skin was still furrowed.
Archived comments for Disconnected
---
orangedream on 30-03-2007
Disconnected
Wow - you really got me going here, Mandrake. VERY clever. I was halfway through reading it and suddenly twigged what you'd done. Interesting and well written. Don't think I'll try it though, I would be bound to get in a complete mix up. Enjoyed!

Tina

Author's Reply:

Hi Tina,

I was recently reading an anthology of the 'New York Poets' of the 60s and 70s, which reminded me of how influential they were on my early writing and inspired me to compose a few pieces in a more experimental style. However, my aim was also to stay true to my own voice and not become too incomprehensible. So I'm gratified that you found this interesting and well written.

Mandrake.


---
Bradene on 31-03-2007
Disconnected
Very cleverly executed Does it have a name? The form I mean or is it an invention of your own. I am really interested to know as I love to experiment myself and this form whatever or wherever it came from or is called, intrigues me. Val

Author's Reply:

Hello Val,

I don't know if this form has a name. I'm sure it must have, because I doubt that I invented it.

It's a technique I use sometimes when I want to bash ideas together and see if I raise any sparks.

In this case, the intention is a sort of 'split screen' effect, to convey the way we can hold multiple thoughts in our heads simultaneously.

Regards,

Mandrake.


---
---
Jigsaw Puzzle (posted on: 30-03-07)
Exactly what it says on the box: 1000 piece puzzle.

JIGSAW PUZZLE When I broke into one thousand pieces, I became a puzzle, as yet unsolved. No way to put myself back together, While the complexity still increases. Please stay away and do not get involved, For I am no more fixed than the weather: A shattered picture of gathering clouds, Over a landscape obscured by shadow. Unfit for company, this lone pastime Keeps my brain functioning, away from crowds. Random flowers scattered on the meadow Demonstrate my chaotic paradigm: Each fragment's independence only mocks The perfect photograph upon the box.
Archived comments for Jigsaw Puzzle
---
potleek on 30-03-2007
Jigsaw Puzzle
Aren't we all jigsaws in a way.
What lies behind many a false smile, or a nod or a gesture.
Life is very complex, hoping we can keep it all together and not become another one of life's puzzles...Tony

Author's Reply:

---
delph_ambi on 30-03-2007
Jigsaw Puzzle
Works for me. A good sonnet, where the form never intrudes or gets in the way of a well worked out metaphor. Would have been good if you could somehow have got 'involved' to rhyme with 'shadow', but I don't think that's a major flaw.

The final couplet is excellent.

Author's Reply:

Thanks delph,

I was following a rhyming scheme of ABCABCDEFDEFGG, which is disguised by the 4 line stanzas and places a particular emphasis on the final couplet (so I'm glad you think the ending is excellent). Under this scheme, the intention is for 'involved' to rhyme with 'unsolved' and 'shadow' with 'meadow'.

I can see the point you are making, which would apply if this was a sonnet written strictly to conventional form, but I have taken a couple of liberties with rhyme and metre - which I hope do not offend the purists too much.

Mandrake.


---
Bradene on 30-03-2007
Jigsaw Puzzle
I thought this was a wonderfully different Sonnet with a great metaphor, very unusual. Val

Author's Reply:

Thank you, Val.

If I bring something slightly different to the sonnet form, it is in order to attempt to disguise my own shortcomings. It is daunting to write in the shadow of great writing from the past, so I employ a little sleight of hand to distract the eye.

Regards,

Mandrake.


---
Sunken on 30-03-2007
Jigsaw Puzzle
This will mean very little coming from a munky, but you do post some classy stuff Mr. Mandrake.

s
u
n
k
e
n

Author's Reply:

Well, if only there were an infinite number of munkys bashing away at their keyboards...


---
orangedream on 31-03-2007
Jigsaw Puzzle
Another little munky admires this one too!

:-)Tina

Author's Reply:

---
scotch on 01-04-2007
Jigsaw Puzzle
i like this a lot but i would prefer it if you could find another word for paradigim...scotch

Author's Reply:

Hi scotch,

I chose 'paradigm' for its associations: As well as meaning patterns generally, it also refers to patterns of nouns and verbs. Plus it rhymes with 'pastime'. And I just like the sound of the word!

My one reservation is about the metricality, which maybe could flow a little better with a different choice of word.

Regards,

Mandrake.


---
---
Triptych of Illusions (posted on: 23-03-07)
This is a small experiment in form, which looks more confusing on a web page than it does in my word processor because all the text formatting gets stripped out. The key is in the title: View it as three poems side-by-side.

TRIPTYCH OF ILLUSIONS The word is not the –-------- The poet and the –----------- To write one thing in thing; it is well known. –----- man in love share se –------------- order to reveal Words upon a string –-------- crets, beneath the sheets, --- another thing, more construct a meto –------------ upon the pages, -------------------- hidden, is a pe nym: As a king is –------------ both no longer white, --------------- culiar pursuit. not a throne, so each –------- but the stains are made –----------- If I could only word stands apart / a –------- by beauty and by –----- speak more plainly, these lone. A bird is not –------------ passion, so they have –----- lines would be redun a word. A tree is –------------- a sanctity, an –------------ dant and I might waste not the sea, any –-------------- innocence of pur –------------ less time explaining. more than baum and mer. –-- pose rendered perfect –------------ The artifice of The attribute they –------------ in a verse, a u -------------------– writing is a sha share, an accident –----------- niverse, where the ran –------ dow play of ciphers of ear, vibrations –------------- dom and romantic –------------ who enact a dumb in the air. Poe –---------------- fit together, where –------------- depiction of some try and truth are some –------- the chaos all makes –--------------- travesty of life. times near, but lies are ------– sense and the rude things --------– It is neither cle just as easy to –---------------- of the flesh are smoothed, -------- ver nor creative hear. Be clear: To write –----- improved, for love's mea ------------– to pursue illu is not to be right. –------------- ning is renewal. –-------------- sions of art as truth.
Archived comments for Triptych of Illusions
---
scotch on 23-03-2007
Triptych of Illusions
unusual...scotch

Author's Reply:

---
Romany on 23-03-2007
Triptych of Illusions
I am not sure it worked as it stands - I found it clumsy and difficult to read, but the separate poems, read individually, I enjoyed. Congrats on posting it here and I hope you get some useful constructive comments on it. Perhaps it would work better if you posted it line by line, if you see what I mean? e.g:

The word is not the thing
The poet and the man in love share secrets
To write one thing in order to reveal
It is well known
Beneath the sheets, upon the pages
Another thing, more hidden etc...


Just a thought. Good luck.

Romany.

Author's Reply:

Hello Romany,

Thank you for your thoughts. I have reformatted the poem using extra dashes to make the separation clearer, though the alignment is still not quite right.

If I was only intercutting two threads, your suggestion would work very well. (I have another poem in that form I might submit in the near future.)

Each line is currently made up of three blocks of five syllables. This is perhaps too arbitrary and artificial, so I will think further about preserving sense over form.

Regards,

Mandrake.


---
Romany on 23-03-2007
Triptych of Illusions
Actually, on a third read, I think this would work with some serious editing of the third and possibly the second poem, in order for it to be more flowing with the first lines. But then again, that would probably just end up as one heavily edited poem! I really applaud your courage, for want of a better word, in attempting this. Once again, I wish you luck,

Romany.

Author's Reply:

---
---
My Favourite Place In My Favourite City (posted on: 05-03-07)
It doesn't feature in any A-Z.

My favourite place is somewhere you can never go, While, no matter where I am, I am always there. I cannot guide or describe the route with any certainty, For you will only find your way to some place of your own. Behind my face is something you can never know: My smile; a door to slam, not a grin to bare. I need not lie or try to lead you far astray. Though I seem unkind, I merely show a face defined by bone. My favourite city is more remote than any star. Endlessly, I walk its haunting streets throughout each night, Needing a map to show the flow of traffic to its heart, For each time I blink my eyes, the city morphs and re-locates. Despite such absurdity, I prefer this shifting scene by far. Helplessly, I hide beneath my sheets and turn out the light; Seeking only to return and learn my way back to the start. Though hard to recognise, it is absurdity through which my dream translates.
Archived comments for My Favourite Place In My Favourite City
---
Gerry on 05-03-2007
My Favourite Place In My Favourite City
Mandrake, many will relate. Read my post 😉

Gerry.

Author's Reply:

---
-phoenix- on 09-03-2007
My Favourite Place In My Favourite City
Dear Mandrake, You continue to blow us away with every poem.

Best Regards,

-Phoenix-
''She loved the cracking of the nearby fire''

Author's Reply:

---
---
A Machine To Feel Things (posted on: 05-03-07)

It's the waste disposal aspects of the design - potentially worse than from the nuclear industry - that are delaying mass production.

I built a machine to feel things for me. Its engine burns my rage and its moving parts are oiled with tears. I gave it a face like mine, but made of burnished metal, battered and buckled, like an old coal scuttle. I polish it on Sundays and keep it in the front room, for best. It smells of Brasso and dodgem cars. I am left free to trundle round the world, immune from harm, while the machine fills up with clinker from an unbroken heart. I empty it each night and scatter cold detritus in the garden. It makes the vegetables taste bitter and the roses bloom rust red with thorns like iron nails that would scratch me, if I were vulnerable.
Archived comments for A Machine To Feel Things
---
Gerry on 05-03-2007
A Machine To Feel Things
Mandrake I like this. It is very seldom we get anything for nothing 😉

Gerry.

Author's Reply:

---
Sunken on 05-03-2007
A Machine To Feel Things
Really enjoying your subs at the moment Mr. Mandrake. I offer nothing but high praise, because I want to. Well done.

s
u
n
k
e
n

their short time together was spent on fantasy

Author's Reply:

---
delph_ambi on 06-03-2007
A Machine To Feel Things
Very striking poem. Excellent writing. Wouldn't change a word.

Author's Reply:

---
e-griff on 06-03-2007
A Machine To Feel Things
Yes, excellent is a good word for this one. 🙂

a really 'together' bit of work.

Author's Reply:

---
Ionicus on 07-03-2007
A Machine To Feel Things
Exceptionally good. I am very impressed by its originality.

Luigi.

Author's Reply:

---
littleditty on 07-03-2007
A Machine To Feel Things
VERY GOOD, very, very - excellent! xxldx

Author's Reply:

---
chant on 10-03-2007
A Machine To Feel Things
imaginative and thought-provoking. the only thing i was uncertain about was the end line, which felt a bit diluted to me - my personal preference would have been to push 'like iron nails' onto the last line and end the poem there.

Author's Reply:

---
Michel on 10-03-2007
A Machine To Feel Things
Stunning, up to the end. I think that would be brilliant, with just 'like iron nails' alone on the last line.

Author's Reply:

---
Bradene on 11-03-2007
A Machine To Feel Things
A spendid piece of writing. I think that the last few lines:-

I empty it each night
and scatter cold detritus in the garden.
It makes the vegetables taste bitter and
the roses bloom rust red with thorns like iron nails
that would scratch me, if I were vulnerable.

reveals the true heart of the poem . I wish I had writen it (-; Val x




Author's Reply:

---
Pilgermann on 04-09-2014
A Machine To Feel Things
Fine piece of writing.
Just one point: Never been a fan of the word "like" in poems and they could be discarded here without affecting the message and the flow.

Author's Reply:

---
---
Bonfire (posted on: 02-03-07)
A little unseasonal, I know. Just pretend it's November.

BONFIRE Beneath a sky bereft of stars - Orion's Belt reduced to gleaming buckle and Bear once Great a single sparkling tooth - the lights of London brightly blaze. No need for firework displays, when all of heaven is less than electricity. There is no cause to raise our eyes above the roof, yet some atavistic impulse brings us to this hillside, where a bonfire - though a meagre sight obscured by smoke - still meets some unspoken need. Half an hour spent standing in an open field, while bottle rockets fail to scratch the dome of darkness and sparklers do not invoke true magic, though waved like wands to ward off evil spirits, drawing near. As the pagan new year turns, the borders of the otherworld wear thin and the meanings of cheap tattoos on our skin become plainer in the gestalt of a crowd, where something more than an effigy burns.
Archived comments for Bonfire
---
Sunken on 03-03-2007
Bonfire
Hello Mr. Mandrake. Thank god for the 'least read' board. I seem to have missed this one. Yet again you have introduced me to a new word, 'gestalt'. It wasn't too hard to pretend it was November by the way, not with such a strong write.

s
u
n
k
e
n

attacked by a penguin at the age of seven

Author's Reply:

---
---
Poet Tree (posted on: 02-03-07)
Is this just an excuse for a stupid punning title?

POET TREE The leaf tells little of the tree, when it is brown and turned to mulch. One fallen leaf in autumn, in a forest far, unseen: At such a tiny moment, even God must grow quite bored by his creation. He blinks and a thousand leaves whirl in the breeze. A tree grows deep inside me, from the apple pips I swallowed during lunch. Such tales are humdrum amongst children. The green of verdigris stains a monument to the folly of the age of swords. No matter what the poet thinks, these words are less than the susurrus of trees.
Archived comments for Poet Tree
---
e-griff on 02-03-2007
Poet Tree
Yes.


but apart from that, I did find the use of the word susurrus at the end slightly pretentious. Whisper would fit the rest of the words in this poem well, it is not a 'fancy' poem. and I feel the 'these words' is too internal to the poem. I myself would go for something like
'his words are less than whispers from the trees'

Author's Reply:

Ha! Well, I was asking for that, wasn't I?

This may not be a 'fancy' poem, but its underlying message is a sort of existentialism lite. The use of the word 'susurrus' is deliberate, as it has no connotations beyond describing the noise of rustling leaves. Whereas 'whisper' suggests the trees are actually saying something intelligible that I cannot quite hear. This would change the sense, as I am writing about meaninglessness. Why distance it into the third person, when I am certainly not exempting myself?


---
delph_ambi on 02-03-2007
Poet Tree
Second stanza's great, though I would also ditch susurrus and use whisper instead. First stanza is superfluous in my view. Whole poem would be much better with just the second. It's not that the first is badly written (it isn't), it just isn't memorable the way the second is.

Author's Reply:

It's ironic, but the word 'susurrus' was actually my starting point for this poem, so I would be reluctant to remove it.

I agree that the second stanza is more poetically worded, but it is riffing on the theme established in the first, which also sets up the repeated rhyming scheme.

Maybe I could rewrite this as a piece of free verse, but I can't help feeling something would be lost in the process.


---
-phoenix- on 02-03-2007
Poet Tree
Yet again you have out done your self!
I am eagerly awaiting more of your wonderful poetry.

Best regards,

-Phoenix-

Author's Reply:

---
Gerry on 02-03-2007
Poet Tree
Mandrake, although susurrus is a lovely descriptive word I too think it doesn't sit quite right here. A great poem though...

Gerry.

Author's Reply:

---
Romany on 02-03-2007
Poet Tree
I think yo should keep sussurus - it reminds of the rustle of the trees in the wind!

Romany.

Author's Reply:

---
Sunken on 02-03-2007
Poet Tree
You always seem to be teaching me new words Mr. Mandrake. Trouble is, I never remember them. I shall try harder. Oh, the word I'm on about it, 'susurrus', as you probably could have guessed. More quality with a big Q and no mistake.

s
u
n
k
e
n



Author's Reply:

---
e-griff on 05-03-2007
Poet Tree
well, just a wee second bite ...

-why not use 'rustling leaves' then?

and third person? I guess I was prompted because you have used 'He' and 'the poet' earlier on. Best G 🙂

Author's Reply:

---
---
Small Bubbles Burst (posted on: 26-02-07)
Washing up or washed up?

SMALL BUBBLES BURST The nihilistic shine of spoons next to knives in the cutlery drawer. She washes the stains off while I dry, wiping away each remaining flaw. Small bubbles burst and a lemon scented rainbow is no more. Tepid water drips from her wrists, forming a puddle on the kitchen floor. The radio plays a tune, not ours, when we watch the flight of a solitary jackdaw. She tells me it is colder out than it looks as I go to unbolt the door. Finding a stick, I poke warm grease down the drain and consider what else I can use it for. She plays mother while I potter; steam scalds her hand as she starts to pour.
Archived comments for Small Bubbles Burst
---
e-griff on 26-02-2007
Small Bubbles Burst
A lovely small moment: are they children or adults? are they adults behaving like children? what are they thinking? really nice setting and involving execution as far as i'm concerned.

If i were to pick on something it would be 'jackdaw' (both for rhythm and (rather too close) rhyme. but nowt else!

Enjoyed it very much. best JohnG

Author's Reply:

Hello John,

I'm pleased you enjoyed it. I like writing in this style, where it is all surface (in)action and the characters' inner lives are revealed by inference.

Although I am not following a strict metre, I agree there is something a little amiss about the rhythm in the 'jackdaw' line. One syllable too many, perhaps?

I didn't think the rhyme was particularly close as -daw and door have slightly different vowel sounds, moderated by the end consonants.

How about 'in counterpoint to a crow's rough caw' as a possible substitute, which also gives the whole line an aural theme?

Regards,

Mandrake.


---
e-griff on 28-02-2007
Small Bubbles Burst
as you say, there is no regular metre here. It is the only line end that finishes with a two-syllable word, but more importantly, i think jackdaw is normally stressed on the 'jack' , so it's the also only line that ends on an unstressed syllable. (potter is allowed) Your poem is characterised by the stressed beats at the end of each line And the rhyme? maybe it's just me, but I say 'daw' and 'door' the same - even flaw and floor would be the same, except you've used them in different verses. So what would fix it is another aw/oor sound with a different consonant, such as 'caw' as you say. (jaw, saw/sore, raw ... etc)

sorry, but I was thinking as i went .... best JohnG



Author's Reply:

---
Sunken on 28-02-2007
Small Bubbles Burst
Another tip top Mandrake production. Especially like the 'stick' line -

Finding a stick, I poke warm grease down the drain
and consider what else I can use it for.

You are a touch of class and no mistake young Mandrake.

s
u
n
k
e
n

their hopes were dashed by august

Author's Reply:

Well, if anyone can find 101 uses for a stick and some warm grease, I'm sure it's you.

(All meant in the best possible taste!)

Mandrake.


---
Cornbob on 01-03-2007
Small Bubbles Burst
You put magic into ordinary life, I like that, and you express it so well.

Bengt

Author's Reply:

Thank you, Cornbob.

There is no such thing as magic, so we have to create the illusion wherever we can. It's part of a poet's job, I suppose.

Regards,

Mandrake.


---
---
A Crash Of Bangers And Mash (posted on: 26-02-07)

This breaks a lot of my own 'rules'. I don't usually write confessionals or poetry-as-therapy, but this scene has been sitting in my head for over 25 years, waiting for me to find the right words. Hopefully, the truth does not get in the way of a good story.

A CRASH OF BANGERS AND MASH Unsure if I am hungry or in pain, I slice up sausage and try not to think of surgery. The man in the next bed is flirting with two nurses – the giggly one, glamorous enough but too petite to be a model and the jolly one, whose thighs feature in my night shift dreams – when he suddenly falls silent. Giggly calls his name and reaches out to rescue him from pillows piling white like pounding surf. Jolly strides with purpose and shoves his wheeled table from her path, sending dinner clattering – a crash of bangers and mash - as she punches the alarm and shouts for resusc. I sit with sausage raised part way to my mouth as the pushing of compressions and pant of counting breaths keep time with bed frame creak. There is a rumble as more staff come running at the double and the squeak of wheels on cardiac machines. Curtains fail to close completely round the scene as I hear the command given to stand clear. In all the commotion, I notice my poor sausage growing cold. I almost put my fork down and push my meal away in small sympathy for another's frail mortality. But I have been 'Nil By Mouth' for days and salivating more than lachrymose - so fuck it. Life is far from a free banquet, so we must lunch upon each moment while we can. (Besides, the man survived.)
Archived comments for A Crash Of Bangers And Mash
---
e-griff on 26-02-2007
A Crash Of Bangers And Mash
a very effective scene (of course)

I'm probably not going to be that helpful in details (except one)

Detail: The last statement is really out of place for me (Besides, the man ...) I'd lose it.

Now the unhelpful generality: Having read your work, I think you could make more of this. Yes the situation is effective, yes you have clearly described the event and drawn thoughts from it and the contrast between your situation and his, the sudden arrival of mortality in a simple scene., I just feel there's more depth to be had, but can't say what.

I hope you see what I mean 🙂 best JohnG

Author's Reply:

Hi John,

This is a poem I have been groping towards writing for many years and is basically my first attempt to put it into words. There may still be issues I am shying away from. But I was anxious to avoid the pitfalls of writing something either too visceral or too sentimental.

The parenthetical last statement is meant to be a throwaway piece of self justification: It doesn't really matter because he didn't die anyway, kind of thing.

I think it's the line before that which is weaker, as it is more expositional than the rest of the poem and draws a slightly fatuous conclusion - although again it's part of the unreliable nature of the narrator's voice.

Thanks for your comments, as they help me to examine my own intent and execution.

Mandrake.


---
Sunken on 26-02-2007
A Crash Of Bangers And Mash
Hello young Mandrake. This is a quickie, as I am between therapy sessions. One of your best as far as I'm concerned. You even taught me a new word 'lachrymose'. The fact that he didn't die makes for an unusual ending (does in my book, I'm always killing people off). Well done, most enjoyable.

s
u
n
k
e
n


Author's Reply:

Hello Sunken,

I must admit, some of my writing is influenced by the Terry Nation school of plot resolution: Kill everyone off until only one unlikely hero is left standing. Certainly, while I was in hospital, I saw plenty of people wheeled away in a grey metal box. But my intention here was to write something unsentimental about basic human survival.

Glad to expand your vocabulary. I'm one of those geeky people who likes reading dictionaries for fun - and not just the naughty words, either.

Regards,

Mandrake.


---
Romany on 26-02-2007
A Crash Of Bangers And Mash
I think this is an honest presentation of the basic human state. It may have taken something out of you, writing it, but I think it is to be applauded in its content.

Romany.

Author's Reply:

Thank you, Romany.

I consider myself to be a reasonably empathic person, but after 4 weeks on a surgical ward with about 20 other men in various states of pain, distress, shock, trauma and denial, I found that I had little left in the way of compassion. I was mostly focused on my own recovery.

The incident with the sausages actually happened - but my intent was not to tell an anecdote but to convey a moral dilemma as a wider metaphor, while not shrinking from my own frailty.

Thanks for the applause.

Mandrake.


---
Cornbob on 27-02-2007
A Crash Of Bangers And Mash
A rapid action packed piece that perhaps needs a prose form rather then a poetic clothing.

Author's Reply:
Thanks Cornbob,

I can see this could be the basis for a short story or reformatted as a piece of flash fiction. However, I decided some time ago that prose is not my strong point as I can never seem to get the dynamics right. I prefer the poetic form, for which I have a more instinctive feel.

Regards,

Mandrake.


---
delph_ambi on 27-02-2007
A Crash Of Bangers And Mash
Good one, and very well written, but I agree with CornBob that this would be better as prose than poetry. I would keep the last sentence, but take it out of brackets.

Author's Reply:

Hello delph,

Thanks for the compliment.

I think taking the last sentence out of brackets would cause it to run in with the previous lines, which are moving at a faster pace. My intention was to introduce a pause there and a more casual throwaway remark. But I will think further about the whole ending, which is not completely satisfying to me at the moment.

Regards,

Mandrake.


---
Zoya on 27-02-2007
A Crash Of Bangers And Mash
Trite and well narrated; honest and straight forward... The last line brings in a sense of black humour... could have been a tad more poetic, but then it is a narrative...
Sincerely,
Zoya


Author's Reply:

Hello Zoya,

Well, I am a little stung by 'trite', but you do not qualify the remark, so I am not sure how to respond.

I wanted the piece to be direct and uncluttered by too much poetic frippery or overcooked emotion, so I used more low key effects from my box of writer's tricks: It is formatted in syllabic metre (though not completely strict). There is the recurring 'sausage' motif. There is an image of the patient drowning in the white surf of his pillows. There are internal rhymes and half rhymes and touches of alliteration. The narrative is the device I use to play out an underlying metaphor about the human spirit.

Sorry if I sound a little too defensive. I know that it isn't possible to please everyone and that my style is inclined to be more cerebral and restrained than some people like.

Regards,

Mandrake.


---
Bradene on 28-02-2007
A Crash Of Bangers And Mash
well I didn't know whether to laugh or cry. It was certainly different. On the whole I enjoyed the read if a little macabre. Val

Author's Reply:

Hello Val,

Your reaction is just about what I was aiming for. The absurd juxtaposition of images and weight of significance given to eating a sausage enabled me to write something quite serious without getting too heavy in tone. 'Different' I will happily accept, too.

Maybe it is my age, but at some time every writer has to confront the topic of their own mortality.

Glad you enjoyed it, on balance.

Regards,

Mandrake.


---
narcissa on 01-03-2007
A Crash Of Bangers And Mash
e-griff really said what I want to say (but much more articulately!!). Bearing in mind your reply, I think what's weighing you down is that you seem not to know what angle you want to write this from.

For example, I really like the conversational tone you adopt in some places, but then you use more archaic, almost forced 'poetic' phrases which weight it down, like
"I almost put my
fork down and push my meal away in small
sympathy for another's frail mortality." - which really doesn't work!

I think from what you've said the best thing you can do is really try to get this out - in as many different styles as possible. Write a version in prose, write a sentimental one, a completely humourous one, etc. That could help for you to make the most of this, in my opinion. If you're writing it as a poem, try not to think of it as poetry too much, because then you get bogged down trying to be poetic, if you know what I mean!

I would love to read another version of this, because I think you could do really great things with it!

Laura x



Author's Reply:

Hello Laura,

Thank you for your thoughts, which I really appreciate.

I see what you mean about the phrase you picked out. I was aiming to express myself concisely, to maintain the narrative flow. More conversational language seemed wordy and inaccurate. Also, I think I bottled out a bit at the end and wanted to wrap it up before I lost my nerve completely. A more satisfying ending, for me, would leave room for the readers to draw their own conclusions, rather than a glib 'life is a banquet' conclusion.

The other thing I noticed is that 'the man' is rather a faceless cipher, while the nurses get a thumbnail sketch and 'my' voice is very clear. Perhaps it would be more involving - and make the moral dilemma even sharper - if he existed as a person in his own right.

As you say, there is plenty of scope for development.

Regards,

Mandrake.


---
Zoya on 01-03-2007
A Crash Of Bangers And Mash
Dear Mandrake, it is meant in all goodness. I noticed the perfect syllabic metre format. The internal rhymes and half rhymes are beautifully maintained. What I meant here was the descriptive style is a bit common- that is all, but then it is a narrative and so the style suits it, and then I also rush to say it is well narrated honest and straight forward... it is all in spirit of healthy criticism. I hope you do not mind?
And what do you mean by I don't qualify the remark? Now it is my turn to get 'stung'! lol!
*Hugs*
Love, Zoya


Author's Reply:

Hi Zoya,

As you know from our private conversation, I was mainly querying your use of the word 'trite'. Perhaps I jumped a little too heavily on one small word. It is all too easy to misunderstand each other on a forum like this. Please don't let it put you off criticising my work when it deserves it. I welcome all comments that help me to improve as a writer.

Best wishes,

Mandrake.


---
Gerry on 01-03-2007
A Crash Of Bangers And Mash

Mandrake, a worthy nib in my humble opine.
I enjoyed the read very much. I have seen such scenes many times. A sense of humour is a must--you got it about right...

Gerry.

Author's Reply:

Thanks Gerry.

I just love sausages more than my fellow man. It's as simple as that.

Glad you enjoyed.

Regards,

Mandrake.


---
barenib on 01-03-2007
A Crash Of Bangers And Mash
Mandrake, I really enjoyed reading this, and my main comment is that there's no reason why it shouldn't be a poem - it might make a good short story too, but it works perfectly well as verse. I don't think that you've got 'bogged down' at all in the form that you've chosen. The only thing I'd reconsider, like egriff, is the way you've chosen to end the piece. Maybe something like:
Life is far from a free
banquet, so we must lunch upon each moment
while we can, and I , for now, survive.

Anyway - this is a good poem, it's thought provoking and strongly written. John.




Author's Reply:

Hello John,

Thanks for your positive feedback.

As you may have noticed in my other replies, I agree that the ending could be stronger.

It's gratifying to receive so many supportive comments, even though the drawback is that there is some disagreement about the finer details. There are as many opinions about poetry as there are poets. I consider them all carefully, but in the end I have to be true to my own vision.

The fact that you found it thought provoking is good enough for me.

Regards,

Mandrake.


---
erniewall on 03-03-2007
A Crash Of Bangers And Mash
I hate to sound so terrible but I'd have eaten the food with a clear conscience. I'm glad the man survived but I think in a hospital you gotta get yourself back on your feet and back home quickly and food is a big part in that. I like the way you have cobbled together this poem. I dunno if it really is a therapy-type of poem. But if it clears your mind of seeing such a terrible thing then I guess it is. I'll try not to ramble on....

Author's Reply:

---
---
4 Turner Prize Entries (2006) (posted on: 19-02-07)
This is a sequence of interconnected stanzas linked by a common conceit, as per the title. It was inspired by some articles in a tabloid newspaper about 6 months ago. What I am particularly interested in knowing is whether this piece still stands up, divorced from its 'historical' context.

4 TURNER PRIZE ENTRIES (2006) 1: WITNESS Through replicating splatter patterns Within chalk circles, the artist Draws imaginary lines, connecting Then and now. The hue and texture Of dried blood make a tactile link With living flesh. The temptation To dwell on gore is sublimated in The random Rorschach of arterial Flow, captured on a flat canvas Imitating walls and floor. Angry At life and angry at God, he is Acting out of revenge and ties The paintings together with wire, Before lining them up, execution style. 2: MADONNA OF THE HAGGARD HANDS To subvert the morphology of beauty, The artist creates cosmetic chaos In which each blemish is rendered perfect And the zit is the acme of allure. One model is placed with fingers to her lips, Striking a pensive pose in an airport lounge, Revealing her nails are chipped and dirty, As she picks at the acne on her chin. Another shows her balletic toes, Teetering on each skyscraper stiletto From her designer collection; to die for, As they crush her bulging bunions. A third prides herself on looking younger, With her yoga toned, healthy eating form, But is depicted injecting dermal filler, Straight into her liver spotted claws. 3: DISHING THE DIRT The contents of a vacuum cleaner bag Assume a geological significance As the artist arranges domestic detritus To reveal the hidden strata of decay. Placing what is deemed to be rubbish In the context of an artistic exhibit Creates an associative resonance Between the transcendent and the everyday. Each piece of fluff and scrap of paper Once ascribed its own particular order Plays out the dynamic of a drama And moulds an image more real than clay. 4: THE OUTSIDERS ''Politics isn't rocket science'', the artist declares, as she replaces the Prime Minister's brain with a bag of oven chips. Next to this homage To the spirit of Magritte, She hangs a reproduction of a Rubens Painted in invisible ink. Visitors are encouraged to strip Behind a gauze screen And to rediscover each other's bodies, While a recorded voice shouts: ''Nooo! Please stop!''
Archived comments for 4 Turner Prize Entries (2006)
---
delph_ambi on 20-02-2007
4 Turner Prize Entries (2006)
It's an interesting piece. Can't help comparing it with Moussorgsky's "Pictures from an exhibition". The big difference (quite apart from the fact that yours is poetry and his is music) is that as well as the pictures, he depicts the viewer walking between them, and reacting to what he has seen. I think that's what's missing here. This is a list of four distinct objects. They are connected by the title, but nothing else. Each in itself is of some interest, but they need more; they need a connection and an emotional response, in my view.
I'm surprised you haven't received more comments on these. They're well worth reading.

Author's Reply:

Hello delph,

Thank you for taking the time to read, think about and comment on my poetry. I really appreciate your input.

As I say in my intro; what I am responding to are actually articles in a tabloid newspaper rather than artistic objects. The newspaper commented on Art in a lurid tabloid fashion - so I am commenting on the newspaper in a pseudo-intellectual style of artistic criticism. My emotional response is therefore one of irony, with an underlying current of anger.

However, what is now obvious is that I do require some linking device - an overview or explanation - otherwise my intent is lost without the framing device of the original concept.

I am gratified that you considered this piece worth reading.

Regards,

Mandrake.


---
Slovitt on 20-02-2007
4 Turner Prize Entries (2006)
Mandrake: You pretty much have an idea what you're doing, and these linked poems of yours deserve a readership. That said, I think pieces that are essentially descriptive, and particularly pieces about art, are hard to do well and hard to do so that the reader cares. Accordingly, I would cut the long sentence beginning in the sixth line of your first piece, 'The temptation/..../..../..../imitating walls and floor.'/ The interesting thing that you say is '... Angry/At life and angry at God, he is/Acting out of revenge.../. Similarly, in your second piece I would cut the second model's appearance, with the third, now become the second, 'A second prides herself on looking younger,'/. In 'Dishing the Dirt', cut the analysis 'Creates an associative resonance/Between the transcendent and the everyday.'/, coming to a full stop after '...artistic exhibit.'/ and re-arrange the concluding lines to mesh. Your final poem, 'The Outsiders' holds together the best of the links, and offers interesting details, though I swear I'd pare somewhere. Anyway, the charge of modern poetry, as given by Pound: emotion, and Larkin: substance, is such that purely descriptive pieces are hard pieces to move readers, however interesting some of the details are, and the details themselves often dryly intellectual. To your attention, Swep

Author's Reply:

Hello Swep,

Thank you for your thoughtful comments about my work. I appreciate you taking the time and will certainly give some thought to your editing suggestions.

One thing I need to make clear though is that this poem is not about pieces of art. As I say, it was inspired by reading a tabloid newspaper, which ran a typically sensationalist piece about certain entries for the Turner Prize. My response was to write about various articles in the newspaper as if they were pieces of Art themselves.

Part 1 is the headline news of the day, which was the killing of children in an American school. I wrote about this emotionally charged subject in a deliberately detached tone of voice as my own way of dealing with the horror.

Part 2 is about trivial celebrity news: Kate Moss has a spot, Posh wears uncomfortable shoes, Madonna's hands are showing her age.

Part 3 is actually about a Turner Prize entry, which was likened to the contents of a vacuum cleaner dust bag - and is my attempt to turn a philistine comment back on itself.

Part 4 is a summary of the evening's forthcoming TV programs.

The air of dry intellectualism was therefore an integral part of the conceit - so maybe I was trying a bit too hard to be clever.

Regards,

Mandrake.


---
---
Shall I Compare Thee To A Wet Wednesday Afternoon? (posted on: 12-02-07)
Beware of men bearing gifts...

'SHALL I COMPARE THEE TO A WET WEDNESDAY AFTERNOON?' I bring you a box of chocolates to rot your teeth and raise your cholesterol; a rush of sugar and endorphins. I bring you a bunch of flowers to watch them wilt and slowly decay; a vase of brown stems and dirty water. I bring you a Valentine card to read the words of another poet; a picture of roses that mock by not dying. I take from you your sweetness and your bloom, your love of romance; in exchange for a memory of this Wednesday afternoon.
Archived comments for Shall I Compare Thee To A Wet Wednesday Afternoon?
---
teifii on 13-02-2007
Shall I Compare Thee To A Wet Wednesday Afternoon?
Very clever take on an old theme. Maybe she liked the humble offering and maybe even changed the water and removed them when dead. But that's another poem.
daff

Author's Reply:

---
Sunken on 14-02-2007
Shall I Compare Thee To A Wet Wednesday Afternoon?
Hello young Mandrake. I really like the caustic tone of this. It suits my anti valentine mood. Another excellent write me thinks.

s
u
n
k
e
n

he fades to grey on thursdays

Author's Reply:

---
---
Shall I Compare You To A Day In Summer? (posted on: 12-02-07)
A non-Shakespearian update of Sonnet 18. (A light hearted parody in honour of St Valentine.)

Shall I compare you to a day in summer? You may look lovely, but you've got a temper innit. Rough winds blow slates down from the roof. It's a bummer, And the length of seasons has become indefinite. Sometimes, the heat encourages pollution's haze And often skies are stained yellow as a jaundiced eye And blondes are only blonde for a few days, By time and nature revealed, as dark roots grow 'neath dye; But you remain a stunner for all that. Nor does your Croydon facelift detract from Bingo wings, Nor do you sweat that much for a woman who is quite fat, When inappropriate hem and neck lines promise such things: So long as men lust after all they see, So long shall summer's moods resemble PMT.
Archived comments for Shall I Compare You To A Day In Summer?
---
e-griff on 12-02-2007
Shall I Compare You To A Day In Summer?
i just knew 'bummer' was coming up! 🙂 Good fun. JohnG

Author's Reply:

---
Sunken on 12-02-2007
Shall I Compare You To A Day In Summer?
Nice one young Mandrake. Why does summer seem so far away? I long for short skirts... not for me you understand... though I bet they do feel nice when it's warm... ahem. Anyway, yeah. Top, as per usual.

s
u
n
k
e
n



Author's Reply:

---
delph_ambi on 14-02-2007
Shall I Compare You To A Day In Summer?
Classic. Love it.

Despite coming originally from West Wickham, which is perilously close to Croydon, I am happy to say I have not succumbed to the temptation of a 'Croydon facelift'. (And nor do I have Bingo wings. Yet.)

Author's Reply:

---
---
Torn (posted on: 09-02-07)
I spotted the 'rap' challenge on the Poetry Forum too late to write something new. This is a bit short and doesn't contain any colloquialisms, but it's the nearest I have to hand. Yo!

Torn, I've been torn Since the day that I was born Between the choices and the voices Crushed, ignored and yet deplored I speak the language of the bored Fast and vast, the new outcast In my uniform, I don't conform To any expectation but frustration And the need for confrontation With my greed for speed, I won't concede My point of view to the likes of you I play it loud, I'm proud of my crowd I'll do it more if it's not allowed Out of step with the age? Then get off my stage, or face my rage I write these words on a burning page
Archived comments for Torn
---
e-griff on 09-02-2007
Torn
yes, that sounds like rap!

trouble is it sounds like a hundred other raps - but that's hardly your fault, it means you've been sucessful - you've captured the genre well 🙂

Author's Reply:


This is not an authentic rap - more of a pastiche.



You're rather scathing of a whole musical genre, which is even more important than Punk was to my generation - literally putting creativity into the hands of people on the streets and allowing them a voice, no matter how crude. Though I hope you were being tongue in cheek.




---
Bradene on 09-02-2007
Torn
Pretty much agree with Griff on this. Read Romany's I think she must have a young one helping her Lol only joking! ((-; Val

Author's Reply:

Yes, it's difficult to avoid sounding like an old fogey when writing in this form. Infinitely worse than 'dad on a disc dance floor' syndrome.


---
Romany on 09-02-2007
Torn
Sounds like a rap to me too - it's certainly aggressive enough anyway! (btw no youngsters helping me, honest!)

Romany.

Author's Reply:

I think it helps still being seventeen years old in my head, though it's embarrassing when I catch sight of myself in a mirror.


---
Ionicus on 09-02-2007
Torn
The sound of an angry (young?) man is all there. Was it just coincidence that you had one that you prepared earlier?

Author's Reply:

More the sound of a grumpy old man.

This was originally written for a challenge on another poetry board, where the theme was to write something that would appeal to a teenage audience. So yes - pure coincidence.


---
admin on 09-02-2007
Torn
Crikey, Eminem eat yer heart out 🙂

Author's Reply:

Ha! There's no way this competes with Eminem!

Listening to a crew of freestylers on form is a humbling experience for a poet, as they pick rhymes out of the air without missing a beat.

I tried to write this as quickly as possible, without editing and couldn't keep it going for long.


---
Kat on 10-02-2007
Torn
Hey, this was (good) fun - enjoyed!

Kat :o)

Author's Reply:

Well, fun was all it was meant to be - so, mission accomplished.


---
e-griff on 11-02-2007
Torn
hey, I'm too old to understand the context of rap.

To an outside observer, it does seem to be about drugs, prostitutes, sex and macho males, gangs and violence, plus cars, and crudely expressed. Valid in its own context, but frankly not something to aspire to, IMO.

I'm not sure how that helps, sorry ...

Author's Reply:

---
---
Prayer For A Maiden (posted on: 09-02-07)
Just limbering up my smooth tongued poetry for St Valentine's Day...

PRAYER FOR A MAIDEN On a shoe lace, round her neck, she wears the seven names of god, engraved on silver and gold plated: Heaven rests between her breasts. An elastic band holds back her hair, to form a halo, less angelic than the dawn pink curve of wing- shaped lips, while sacramental sips of beer give a stained glass hue to eyes of many colours. She borrows my old leather jacket and folds the sleeves up against the cold. I play the bad samaritan and walk her home, meandering, with my hands in sacred places. Jesus, please, let her not be a tease.
Archived comments for Prayer For A Maiden
---
Gerry on 09-02-2007
Prayer For A Maiden
Aren't you a bit old for this kind of caper? 😉
Bad Samaritan indeed LOL...

Author's Reply:

One has one's memories...


---
orangedream on 10-02-2007
Prayer For A Maiden
Like this Mandrake. It's got style!

:-)Tina

Author's Reply:

A cautionary tale of casual misogyny: If you think this has style, then I'm glad I don't know the men in your life.


---
---
Five Senses (posted on: 05-02-07)
You may not believe it, but this is a heavily veiled love poem.

FIVE SENSES I touch the hidden message of imperfection In the braille of your skin I hear the orchestration of fatality In the music of your breathing I see the defenestration of your soul In the broken panes of your eyes I smell the intimations of deception In the bed-sweat perfume of your bathrobe I taste the years of futility In the mildewed cup between your thighs
Archived comments for Five Senses
---
Bradene on 05-02-2007
Five Senses
This one is great I love the senses theme, the layout is perfect. Val

Author's Reply:

Hi Val,

Thanks for another kind comment. Glad you appreciated the theme and layout, which was a small experiment in style.

Mandrake.


---
e-griff on 06-02-2007
Five Senses
mildewed cup? Yerchhhh!

Author's Reply:

Well, this image is part of an unflinching look at 'corruption'. Whether due to age, illness, infirmity, or a sickness of the soul is up to the reader to decide. Maybe I crossed a line. There is a danger of sounding a bit adolescent in tone when going for shock tactics.

Or perhaps I shouldn't leave the washing up so long.


---
---
As Journeys Go (posted on: 05-02-07)

If roles were reversed, I would sling his stuff out on the lawn and change all the locks. Or move. Still, this is sort of a love poem.

AS JOURNEYS GO It's not the going, it's the coming back. As journeys go, there's a distinct lack; for the homeward trail is the sweetest view, because the road is straight and leads to you. What have I learnt, so far away, if all I yearn for is the day my weary feet reach your garden path? Put the kettle on, love and run me a bath. Such small comforts come with a price; they mean I've settled for things being 'nice'. Why have adventures, travel the world, when I fly further while I am curled up in bed, playing at spoons? I soon forget those bleak hotel rooms - teasmaid and trouser press, pay per view porn - as I wake up to a suburban dawn lighting the landscape of your eiderdown. No snow capped mountains overlooking this town, but your pillows loom larger and smell of your hair. What good is the world if you are not there to kiss it all better and make it make sense? Though I may call you ignorant and your innocence soon drives me away again, looking for more; you know I'll return to knock at your door.
Archived comments for As Journeys Go
---
Bradene on 05-02-2007
As Journeys Go
Yup! I would have thrown him out with the rubbish too (-; good poem though. Val

Author's Reply:

Hello Val,

Thanks for reading and commenting. Glad you think the poem is 'good'.

Regards,

Mandrake.


---
Hazy on 05-02-2007
As Journeys Go
Ah, men don't know when they have it good!!! Or at least they do, but they're greedy buggers lol.

TY for another enjoyable poem. It seems I love your writing 🙂

Hazy x

Author's Reply:

Hello Hazy,

I'm glad you enjoyed my poem. Thanks for the compliment.

Yes, men want to have their cake and eat it, then have a full English breakfast in the morning.

Mandrake.


---
e-griff on 06-02-2007
As Journeys Go
I too like your writing, but for some reason I had trouble with this one. I had to read it twice to fully get the pattern of it, it might be better broken into verses. For me, some of the rhymes are just too obvious. I didn't understand the Qmark after 'path' either, and don't like the repetition of 'when'.

I liked the sentiments and the expression of them was clear. I understood the bloke's feelings (somewhat) from my own travelling days. best johnG

Author's Reply:

Hello John,

I've now split the poem up a bit and removed capitalisation from the starts of lines that don't require it. Hopefully, this improves the clarity.

I haven't used regular stanzas, as this would make the poem too formal in appearance. Also, the sentences are of differing lengths, so they would introduce strange line breaks and defeat the object.

The rhymes are simple because this is not meant to be a complex poem. I wanted the lines to sound quite conversational in tone, bordering on the superficial and banal. However, breaking them up a bit has also helped to make to make them slightly less obvious.

The question mark after 'path' is there because it is the end of a sentence starting 'What...'

The repetition of 'when' is a sly reference to the old song 'Quando, Quando, Quando'. Did you miss this vital connection? Well... I am lying, of course. I totally failed to spot it, although it is glaringly obvious in retrospect. I have made some small changes accordingly.

Thanks for your helpful comments.

Mandrake.


---
orangedream on 06-02-2007
As Journeys Go
"When I wake up to a suburban dawn
lighting the landscape of your eiderdown..."

Says it all for me.

Great poem and as for men - you can either love em or leave em, they're all the same! It's the way of the world.

My hubby travelled a lot on business and I was fortunate sometimes to be able to go with him and can identify with the trouser-press line. Been in one hotel room, been in them all! Sometimes I even used to forget which country we were in. They are all so uniform, so uninspiring and so universal.

Enjoyed.

Tina



Author's Reply:


Hello Tina,



Thanks for reading and commenting on my poem. I'm glad you enjoyed it.



Suburbia has always been my home, so that's what I mostly write about. I like to find poetry in the ordinary and everyday.



Mandrake.




---
Sunken on 06-02-2007
As Journeys Go
Hello young Mandrake. I was wondering if you could settle an argument for me? What exactly is 'spooning'? I had a disagreement with a lady once about this. I always thought it was a lesbo sex position. Please don't tell me I've been wrong all these years... Am I thinking of scissors perhaps? It's all so confusing. Love the poem btw. If you need any help understanding my in-depth crit, don't hesitate to ask (-;

s
u
n
k
e
n

...or was it tea bagging?

Author's Reply:

Hi Sunken,

If you want to interpret this poem as being a lesbian sexual fantasy, then far be it from me to disagree. The concept may attract some extra prurient readers.

Cheers,

Mandrake.


---
e-griff on 08-02-2007
As Journeys Go
Ahah! Didin't see that question first time (is a bit disconected)

Actually, I think you have too many breaks now! (sorry, but I'm serious) best JohnG

Author's Reply:

---
Rupe on 08-02-2007
As Journeys Go
On a further reading, it's clear you pack a lot into this.

The narrator's feelings about travelling and homecoming ring some bells - I also travel on business from time to time, staying in dull hotels in various European cities (don't forget Gideon's Bible & those peculiar bathroom notices about putting the towel in a certain place if you don't want it to be washed...).

But there's also an intriguing & convincing sketch of a relationship that's evidently not quite satisfactory (the patronising tone of the narrator - the wife/girlfriend termed 'ignorant', innocent', 'nice', 'suburban') but somehow endures.

Good stuff.

Rupe

Author's Reply:

---
---
First Day At Secondary School (posted on: 02-02-07)
Comparions with Belsen are outrageous...

FIRST DAY AT SECONDARY SCHOOL The first thing I noticed was that no-one else was wearing a cap, so I quickly doffed mine and folded it out of sight into the pocket of my brand new blazer. So I entered the school gates more angry than nervous: Ten bob of dad's wages from the factory wasted on something I would never wear again. Not much, but more than he could afford. ''Oi, fustie!'' I was accosted as I crossed the asphalt playground by two Cro Magnon Krays. From being top dog at juniors, I was now back at the bottom of the food chain. I committed the mistake of making eye contact. ''Wotcha looking at, fustie?'' they demanded, light glinting off their Prefect badges, like stars on the chests of a crooked Sheriff and his deputy. ''Don't wanna talk, eh? Too stuck up.'' They grabbed my arms, while I glared, indignant at being accused by two working class oiks like myself, who had scraped entry into grammar school. ''Into the holly bush wivvim.'' Sentence was pronounced and executed with a shove. I landed amidst the prickle of green leaves and false jollity of orange berries. It should not have hurt. I slumped dizzy on the dirt with something hot and wet in my eyes. Not tears. A bell rang and I sprang to my feet, swinging a fist in the direction of two mocking grins. If only it had connected… All of history would have changed that moment and five years of misery at the hands of bullies would have been broken with their grinning teeth. But I missed. They tripped me and I fell again at their feet, that kicked me only once in contempt. They snatched the cap from my pocket and passed it like a rugby ball. I played piggy-in-the-middle until the second bell. A final drop-kick lobbed my cap over the wall into no-man's-land: The girl's playground; as forbidden to me as East Berlin. My tormentors became officials, ushering first years with authority towards the doors, while I seemed to be invisible. No sympathy, no recognition, no wish to suffer the syndrome of victim by association. I joined the line and filed into school. Comparisons with Belsen are outrageous, but all hope was gone from my soul; as tattered as my muddy trousers. And still I had to face my dad and find ten bob, somehow.
Archived comments for First Day At Secondary School
---
Sunken on 02-02-2007
First Day At Secondary School
Hello young Mandrake. Your poem pretty much sums up why I would never attend a school reunion. I wouldn't go back if you paid me all the porn in the world. I hope the years got easier. Another top sub in my ickul opinion.

s
u
n
k
e
n

last to be chosen for football

Author's Reply:

Hi Sunken,

There's a bit of artistic license going on here and the experiences were ultimately survivable. I have attended a few school reunions in recent years and managed to lay what ghosts remained. This mainly came out of anger that bullying is still institutionalised in all walks of life.

M
a
n
d
r
a
k
e

always stuck in goal


---
Macjoyce on 02-02-2007
First Day At Secondary School
Yeah. Grand. Very poignant. Going to school in London is very much like this. I think school bullies should be put in gas chambers.

m
a
c
j
o
y
c
e

first to be chosen for netball


Author's Reply:

Hello Macjoyce,

I was really worried about the Belsen reference in case it was seen as disrespectful and trivialising acts of genocide. But I could think of nothing else strong enough to convey the desperate misery and self dramatisation of childhood bullying. Perhaps I should flag it up earlier in the poem, instead of the more playful 'crooked Sheriff and Deputy' image.

There is also a flipside to the comparison, as the soldiers at Belsen were just ordinary people and not monsters. The capacity for committing acts of atrocity exists in all of us.

Mandrake.


---
Gerry on 02-02-2007
First Day At Secondary School
Nicely written, and I fully understand the sentiments...

Gerry,

Author's Reply:

Thank you, Gerry.

It is disheartening that this poem is based on my memories of starting secondary school in the 1960s and yet people are still able to relate it to their current experiences, 40 years later.

Regards,

Mandrake.


---
---
Departures (posted on: 02-02-07)
All that New Age nonsense in the nineties has a lot to answer for...

DEPARTURES: My most significant departure Was from the womb, I suppose; Though I don't remember it, Of course. Upstairs, Back bedroom of my granny's house. Forty-eight hours in labour! My mum complains, as if It were somehow my fault. Yes - and what about me? Surely it was more traumatic, Which is why I don't remember. Thirty years later, I parted company With good money on therapy To re-live and release This trauma. Upstairs, Back office above a high street shop. Forty-eight minutes of screaming My head off, in the company Of complete strangers. What A rip off. If nothing else, I learnt It's not all about me. Mum says I don't have the sense I was born with.
Archived comments for Departures
---
Macjoyce on 02-02-2007
Departures
Ha ha ha!

Very witty, Mandrake. Very witty. I really like how the second stanza is a metaphor for the first. Departure/parting with money etc.

You've even made the lengths of each line pretty much parallel its equivalent in the other verse, right down to the positions of the full-stops/caesurae in the fourth and ninth lines. This is an incredibly well-thought-out, complex poem. I'm jealous.

I'm trying to find something wrong with it, and I can't. I can't think of a way to improve it. Well done. Hot story for me.

Mac


Author's Reply:

Hello Mac,

Thank you for your enthusiastic response to my poem.

If you'll excuse me for sounding diffident, I've always just seen this as a piece of light verse with nothing particularly profound to say, beyond a sort of disarming illusion of honesty. I am constantly surprised by the things people find to relate to in my work.

I must also confess that I am more of an instinctive writer than an intellectual one. I rely on my aesthetic sense to make patterns and form connections where there were possibly none before. The first verse dictates the structure of the second. It poses a question which I then answer. Stir in some hints of subtext. It's not much more complex than that. If I find myself sweating too much with effort, then I know it ain't gonna happen and set it aside until I can see its shape better.

Cheers,

Mandrake.


---
Gerry on 02-02-2007
Departures
Mandrake, always trust your mum... 😉

Gerry

Author's Reply:


Yes, mum had a knack of seeing through my pretentions and puncturing them. I was always just her little boy. (Kerching: there goes another therapy session.)


---
Sunken on 03-02-2007
Departures
Hello young Mandrake. Isn't it a lovely day? I like your poem very much. I tried to hypnotise myself after reading it as i would be most interested to discover where the hell I came from. Sadly, my hypnotising skills are less than perfect and i ended up at some 1980's disco with a bad haircut and a dislocated shoulder pad. I realise that this comment is not too helpful, and for that I apologise. Remember, a simple pm to my good self is all that is required to put an end to these puerile ramblings. I hope this helps. Thanks.

s
u
n
k
e
n

jack jack jack jack ya body

Author's Reply:

Hi Sunken,

I guess everybody on UKA probably has a theory about where you come from...

Ramble as much as you like, dear fellow. It helps to keep me from taking myself too seriously.

Cheers,

Mandrake.


---
Frenchy on 05-02-2007
Departures
Excellent!

Author's Reply:

---
---
Faith, Hope, Charity (posted on: 26-01-07)
Three demanding women of my former acquaintance.

FAITH, HOPE, CHARITY When Faith walks, I hear the passing years; The tick of heels on flagstone floor, As she takes me gently by the hand And leads me through the dunmow door, Into a draped and darkened room, Where all I breathe is her perfume. The bitter reek of stale incense Fills the deconsecrated air, As she lifts her veil to free her face And scatter spiders from her hair; While saints look down from dusty panes, I make love to what remains. When Hope returns and finds me gone, But for this enigmatic note, She speaks my name as a summoning And touches the locket at her throat, Where my face is pressed to hers inside; My gilt encrusted former bride. Though precious metal does not rust, A cameo plays a role more brief And what glitters is mere ornament, To attract attentions from a thief; Such stolen moments cannot endure, When the links that join us are not pure. And when Charity grips my other hand, To demand attention, here and now, I am distracted by cleavage and a flash of thigh Through her tattered dress and I forget her vow; That no man can touch her unless he pays To keep her family all their days. Although she drags me out of darkness And sets me barefoot on this road, I am bereft at being rescued, For I prefer my previous abode, In which the only truth is what I believe; Where nothing can be lost, there is nothing to grieve.
Archived comments for Faith, Hope, Charity
---
red-dragon on 28-01-2007
Faith, Hope, Charity
I can't understand why this hasn't had more attention - OK, I'm late in reading it, but it's a cracking poem, cleverly worded and rhymed. Ann

Author's Reply:

Well, thank you for stopping by, Ann. You're very welcome.

I have some reservations about the last two stanzas myself, which seem to break the established rhythm. But then again, each of the stanza pairs has a different atmosphere as the subject changes - so maybe it is appropriate, after all.

Regards,

Mandrake.


---
-phoenix- on 02-03-2007
Faith, Hope, Charity
Dear Mandrake, I LOVE your poem. It is one of the poems with the most feeling I have read.
I am greatly impressed by it.
Eagerly awaiting more of your amazing writing,

-Phoenix-

Author's Reply:

---
---
Reasons To Be Fearful (posted on: 26-01-07)
A circular sequence of interlocking haiku, spelunking the subconscious.

REASONS TO BE FEARFUL Birds without feathers fly underground, disturbing foundations; creatures unbound by daylight, unseen by god. Feverish contrails make ripples in the sod, burning deep strata; where seismic dreams of magma fingers sculpt rocky data. Tectonic music inspires continents to dance, while subsonic beats from wings in cavernous dark shake vaulted ballrooms. Gravity sings; voice cracked: Geological time harsh upon the tongue; wracked but not ruined, wild predators circle, beaks pecking at the core. Eyes without a smile: Dead avian gaze, rending countries in their claws, as days in earthquake season's unholy silence grind in toothless mouths; cattle find reasons to be fearful: Herds buried beneath shed plumage.
Archived comments for Reasons To Be Fearful
---
Bradene on 26-01-2007
Reasons To Be Fearful
i really love the idea behind this. Very cleverly put together. Well done. Val

Author's Reply:

Thank you, Val.

This was one of those poems that came out of left field and just tumbled onto the page. At the time, I was actually working on a piece based on the lyrics of an Ian Dury song (as you might guess from the title), but this insisted on being written instead.

Regards,

Mandrake.


---
red-dragon on 26-01-2007
Reasons To Be Fearful
I like this - i did this a while ago, linking them together. Yours is very effective. Ann

Author's Reply:

Hello Ann.

I believe I know the poem of yours you are referring to, which was posted on another site. You set an informal challenge for other writers to produce something in the same style. There wasn't much response - but this was one of them. So thanks for the inspiration. I wouldn't have written it otherwise.

Regards,

Mandrake.


---
Hazy on 26-01-2007
Reasons To Be Fearful
Well constructed. I likey lots! Very cleverly done. I especially like these lines:

while subsonic beats
from wings in cavernous dark
shake vaulted ballrooms.

I'd like to understand it more, but it's how poetry works best IMO - open to individuals' interpretations!

People think haikus are easy as they're just three lines with 5-7-5 syllables. But I've only managed one in my time, and that was bloody hard lol. Nothing's come to me since. You might want to check out threelightsgallery if you've not already as they deal in a lot of short form poetry, mainly haikus, I think: http://www.geocities.com/threelightsgallery/foyer.html

Not done this for yonks, but it's a 'favourite' for me as it's one I want to remember to come back to at some stage.

Hazy x

Author's Reply:


Thank you, Hazy.

I am pleased that you like this and flattered that you have made it a 'favourite'.

As some hints to understanding it more, here are some of my thoughts: The fossil record holds millions of years of history suspended precariously in what is only a thin crust of material over the planet's volatile core. Similarly, the human mind is only a thin veneer of civilisation over millions of years of reptilian instinct.

Haiku purists will complain that I have taken some liberties with the form. Apart from keeping to the syllable count and just about sticking to an allegorical theme from nature, I have not stayed within the format. The stanzas are not self contained, they contain numerous run on lines and they have an internal rhyming scheme.

However, I would commend writing in this form as a useful exercise for any writer, as it forces you to make very deliberate word choices and hone down your imagery to bare essentials.

Regards,

Mandrake.


---
Jolen on 27-01-2007
Reasons To Be Fearful
I really have to give you credit here, not only have you done some creative work with a limiting structure but your weaving of same is quite strong and a pleasure to read.

blessings,
Jolen
Author's Reply:

Thank you, Jolen.

I think the trick with structure is not to see it as a limitation but as an essential foundation for a poem. It affects so much about how we compose the words, then how they are read, perceived and interpreted.

I note that you say 'quite' strong, which implies it could be stronger - and there are indeed some places where I use weak conjunctions that maybe could be more densely written images instead.

But I will happily accept whatever credit is available.

Regards,

Mandrake.


---
delph_ambi on 28-01-2007
Reasons To Be Fearful
Fascinating. I love the way you've been inspired by such a rhythmic song to write such essentially arrhythmic poetry.

I had to look up 'contrails'. That's not a problem. Learned a new word.

You use a lot of semi-colons. I tend to as well, but often a hyphen works better, particular in haiku-like poetry.

Lots to like in this one. I was particularly drawn to 'Tectonic music inspires / continents to dance'.

I'm not convinced by your use of capitals. Sometimes they start sentences, sometimes they follow colons. I'd get rid of them all, or else just use them for new sentences.

Enjoyed this one greatly. Thanks.

Delph.

Author's Reply:

Hello Delph,

Thanks for your comments and I'm glad you enjoyed it.

Yes, you're probably right about the semi-colons. I got told off once for not using enough punctuation in my poems, so sometimes I go a bit overboard, if I'm not careful.

My approach to capitalisation is often down to my word processor, which I get fed up with fighting against. That's my excuse, anyway: Blame Microsoft. (But point taken.)

Regards,

Mandrake.


---
e-griff on 28-01-2007
Reasons To Be Fearful
You do realise Mandrake that Hazy above was the inventor of the famous 'Hazyku' some time back?

She's too modest that girl.

I am a traditionalist as far as Haiku goes (most haiku is not), as the form has been subverted so much (in the US particularly) it has become something else. But it is valid in its own right, I grant.

Author's Reply:

Hello e-griff,

I haven't been on the site a month yet, so I'm only just beginning to get an idea about the idiosyncracies of the regular and long term contributors. I hope to find my own niche soon and start to return some of the compliments I have been receiving.

As I mention above, I have an admiration for the Haiku form. In this case, it seemed appropriate for my poem to exploit the fault lines and break out of the traditional structure.

Regards,

Mandrake.


---
---
Pole Dancer (posted on: 22-01-07)
What does she think about while she is dancing?

POLE DANCER She spins around the pole And feels the spinning of the world, Like a ballerina on a music box. Her mummy paid for all those lessons, So her little girl could dance In second hand taffeta and worn out shoes. But she just spins around a pole And ends up wearing nothing, But a washing line for all the filthy notes. Her daddy took her to the park And spun her on the roundabout; The last time that she saw him, she was sick. Yet as she spins around the pole, She remembers his strong hands And she urges; 'Daddy, spin me faster.' Though mummy says he won't come back, If she keeps her eyes tight shut, She will turn around and see him once again. So she keeps spinning round the pole, For there is nowhere else to go And each revolution fails to set her free.
Archived comments for Pole Dancer
---
scotch on 22-01-2007
Pole Dancer
good..scotch

Author's Reply:

---
eddiesolo on 22-01-2007
Pole Dancer
I like this, it's a good strong write.

Great imagery of a lost little girl.

Tops.

Si:-)

Author's Reply:

Hello eddiesolo,

I am glad you liked it. Thank you for your remarks and the '10' rating (though it doesn't leave me much scope for improvement!).

Regards,

Mandrake.


---
kenochi on 22-01-2007
Pole Dancer
Good and bad here, I thought. I found the whole thing a bit clunky, rhythm-wise. I'm not an expert on poetic form, but the words didn't seem to trip along.
I thought the the music-box simile (1st verse) was cliched.
I did like the daddy / roundabout thing, possibly because I have a young daughter myself and it got me thinking, but overall I found the thrust of the poem a bit tired. (worn-out, damged individual exploited by others, waiting for Daddy to rescue her even though he never will etc...) Its the 'standard' take on this sort of thing, if you know what I mean.
I'm not sure its an accurate image either - many pole dancers make a great living and are doing it by choice while they can, to rake in as much cash as possible. The chances are, as she gyrates around her podium, hypnotising her punters, she is revelling in their glazed expressions and wondering who she can nab for a private show to squeeze their wallet even harder.
Its a situation in which I think its unclear who is manipulating who - there are many possibilities - and is therefore a potential gold-mine for exciting and interesting poetry. I just didn't think you really nailed it, I'm afraid.

k


Author's Reply:

Hello kenochi,

I am sorry this poem didn't work for you, but I appreciate you taking the time to say so and for giving your reasons, too. They have given me food for thought and will inform my next re-write.

The words were only intended to have a loose rhythm and I agree it is not consistent across the stanzas. I had a slightly jerky music box tune in my mind as I was writing. But I know I do have a tendency to follow the natural cadence of words rather than writing metrical verse, so I sometimes end up writing prose with odd line breaks rather than poetry - but miss seeing it myself.

The music box simile seemed apt at the time, but I take your point. This can be replaced with something more original and personal to the character, but will require a complete deconstruct of at least two stanzas - so I will have to give this considerable thought.

As for it being an 'accurate image' - well, it's not really intended to be. I don't know any pole dancers, I have never been to see one and I haven't done any research on the subject. I was using it as a metaphor for anyone whose life is 'going round in circles'. The image is taken from popular culture, where it is often used as a quick'n'easy visual shorthand to establish the background of a scene. The audience uses its own prejudices to fill in the details.

So, yes - I accept this is somewhat cliched. More importantly, it is lazy writing on my part.

I think it is a little unfair to criticise me for not writing a totally different poem on an entirely separate theme - but I do take your implied point that I need to work harder to create a work of true insight rather than using cod psychology to produce a piece of manipulative sentimentality.

Regards,

Mandrake.

(ps I have been following your Forum debate about the nature of criticism on this site with interest and wish to confirm that I welcome all feedback as I am relatively new to writing poetry with any serious intent and know I still have a lot to learn.)


---
potleek on 22-01-2007
Pole Dancer
For a short poem I think this speaks volumes.
It took me right behind the scenes of a lonely persons thoughts.
You can' judge a book by its cover and people are the same.
Enjoyed the read...Tony

Author's Reply:

Thank you Tony.

I believe I took some short cuts in order to achieve an effect, but I'm glad I still managed to take you somewhere.

Yes, part of what I was saying is that everyone has a 'back story' that cannot be seen in what they say or do (or even romantically in their eyes) and that it is easy to make assumptions.

Regards,

Mandrake.


---
Zoya on 23-01-2007
Pole Dancer
Dear Mandrake,
There is an underlying suggestion of abuse by the father(correct me if I am wrong), which adds to the pathos of the poem... besides a very good study of the loneliness of the dancer, who though seems glamourous, but does it out of the dire necessity of the helplessness of the poor...and goes through the daily humiliation of the prying eyes of the men, a necessary package that goes with the profession...
I think this is a very strong, compassionate write!
Thanks for sharing!
(((Hugs)))
Love, Zoya

Author's Reply:

Hello Zoya,

I find it interesting that you picked up on a suggestion of child abuse. It is there, but written quite ambiguously as I didn't want to skew the focus of the poem. (Also, the original draft of this was posted on a site that is moderated, so 'adult' themes rarely slip by the censors.)

As I suggest above; I wonder how much of your interpretation comes from my skill as a writer and how much is just me 'pressing your buttons'? Is there a difference between the two?

Thank you for finding both strength and compassion in my writing.

Regards,

Mandrake.


---
e-griff on 23-01-2007
Pole Dancer
I didn't take this as a poem intended to be rhythmic. I personally found the idea (her background) is a little clicheed. But then when we write we dramatise things to make them more interesting, don't we?

Author's Reply:

Hello e-griff,

I think a lot of writing is about trying to invent new cliches. After all, there are only seven main themes in fiction (or so I was taught), so it's all just a question of finding variations, which must be finite.

I think my problem with this piece is that I am normally a fairly cynical writer and am not comfortable with softer and more sympathetic views of life. It is actually quite odd for me to attempt to be a poet as I see the world as being chaotic and ultimately meaningless and nonsensical, while poetry is about finding spurious connections and patterns.

It is odd that we tell a deeper truth about ourselves by deliberately telling lies.

This is also perhaps an odd reply to your comment, but it got me thinking about my approach to drama...

Regards,

Mandrake.


---
eddiesolo on 24-01-2007
Pole Dancer
Just wanted to let you know that I have read the other comments on the piece. I felt that the work, like e-griff pointed out was not intended to be rhythmic so it didn't seem clunky and yes it may be cliched...but isn't life?

There is always room to improve (although tinkering can always spoil a piece...I know lol.) but for me I still stand by my rating of ten. This is a good write and as a writer you worked a good image for the reader, cliched or not.

Si:-)



Author's Reply:

Well, thanks again. Should you find a better poem on this site, as you undoubtably will, then you must find a way of scoring it as an '11'.


---
discopants on 24-01-2007
Pole Dancer
I also wondered about the angle of the father and thought that maybe he would appear in the flesh as one of the 'punters' thus tying the literal and emotional scenes together. I didn't find it particularly clunky and liked some of the images but I agree that the alternate stanzas on the pole dancing itself could perhaps be made to be more personal to this character.

Author's Reply:

Hello discopants,

I agree that I laid some foundations for a possible resolution on the lines you suggest, but I feel it would be too contrived for such a short poem. Plus, I prefer to deny the character closure. After all, the central image is about spinning round in small circles. So long as she continues to do that, there is no escape.

If it was a story I was writing, rather than a poem, then I would consider pursuing a different dynamic. However, I reiterate the point that pole dancing is a metaphor and not the main subject.

Thanks for your thoughts, which have again helped me to examine my own.

Regards,

Mandrake.


---
Macjoyce on 06-02-2007
Pole Dancer
Another great poem. Another hot story for me. You're becoming predictable...

I disagree with Kenochi. I don't think there's anything particularly clichéd about a pole dancer from a broken home. And if it has been done before, that's no reason not to do it again. Clichés are there for a reason, there's truth in a lot of them, and we shouldn't just write about quirky unpredictable eccentrics, we should write about majorities and commonplaces too.

It's like the stereotype of the humourless German. A lot of Germans ARE humourless, because the way they form sentences, with the verb at the end and so on, makes their language a very difficult one in which to be funny.

"Why crossed the chicken the road?"
"To the other side to get."

And doubtless a lot of Page 3 girls, pole dancers etc, are from broken homes, and didn't have a strong matriarch or patriarch around to tell them what a demeaning job they were planning to do.

This poem would be bad if it was full of clichés, and it is not. A pole dancer in a sleazy club being like a ballerina in a music box is a good image. A scanty costume being a washing line for money is a good image. The pole being like a roundabout, and being like a repetitive cycle of existence, are good ideas. Of course, the latter is the whole point, the poem's about going round and round, and the idea of the pole dancer is a means to an end.

I fully expected, by the end of the poem, the woman to look up and see her father in the audience. I think you deliberately make us expect that. For me it was surprising that he wasn't there at the end. So this poem isn't predictable at all, it's a great piece.

All the best,

Macjoyce



Author's Reply:

---
---
Ode Without Joy (posted on: 22-01-07)
A prelude to Beethoven's Ninth Symphony?

ODE WITHOUT JOY As the crescent moon describes an arc across the sky, a silent symphony in the unseen shape of air; at the zenith of the baton's rise, its point ruptures the meniscus between music and not music, where the workings of the world wear thin and our neighbours drum upon dividing walls to complain about potential noise; while beneath the skin there is an equipoise, a diaphragm to keep it all together and apart. As the baton falls, we take a forgotten breath; there is a moment when it could be chaos still and opinions are divided, like the underpinning binary: the on/off switch inside our heads. For what is the difference between zero and one? Is it just one or infinity? The mathematics that can depict an arc with precision has a music of its own; we no longer play a tune upon a well chewed bone, but the marrow has a memory for rhythm: On the downstroke, something primal stirs and as the moon was once a horned god, so the crescent shapes a benediction for a visceral hymn set to a stolen melody; an ode without joy, once penned in silence.
Archived comments for Ode Without Joy
---
Zoya on 22-01-2007
Ode Without Joy
Absolutely beautifully done: Lovely imagery, consistent mood, sustained through out the the poem... Masterful stroke indeed!
(((hugs)))
Love, Zoya

Author's Reply:

Hello Zoya,

Thank you for your kind comments. They are very welcome, as this is a poem I keep fiddling with and have never yet achieved a version with which I am completely happy. Perhaps because I am trying to juggle too many balls at once with its intercut multiple themes. Perhaps because it is a too complicated way of describing a split second silence. Anyway, I am pleased it worked for you.

Regards,

Mandrake.


---
---
9th November Reclaimed (posted on: 19-01-07)
A little bit of politics. My name's not Ben Elton. Goodnight.

9th NOVEMBER RECLAIMED Civilisations fall Barbarians break down the city wall Meant to last a thousand years Built from bricks of fear And mortar of tears Empires come and go There is always someone to overthrow From Vandals and Visigoths To suicide bombers' wrath And children with Kalashnikovs Governments come to grief Liars impeached and replaced with a thief They say we get the leaders we deserve Mapped on a bell shaped curve Is the measure of their nerve Populations rise Slogans, creeds and battle cries Freedom as a tool of oppression In the face of self expression Few will learn the lesson
Archived comments for 9th November Reclaimed
---
-phoenix- on 02-03-2007
9th November Reclaimed
Dear Mandrake, This is so true. This is one of those poems that everybody can relate to.
Bravo!
Yet again I am eagerly awaiting more of your truly outstanding writing,

-Phoenix-

Author's Reply:

---
---
Snips and Snails (posted on: 19-01-07)
What are little boys made of?

SNIPS AND SNAILS: A LITTLE BOY'S TALE I find her in the attic room Draped in creaking shadow Bent over a spinning wheel That thrums the rafters as it turns Pulling threads Unravelling my heart I feel her breath upon my cheek The camphor smell of cobwebs With each dusty exhalation That touches nerves I thought asleep Waking fears Seen more clearly in the dark I see the scissors in her hand Hear rusty grind of knuckles As bladed mouth snips shut That cuts the spittle from her words Glistening yarn Leaves snail tracks on the air I hear her question, cold as drool 'What are you made of, boy?' Uncoiling silent snakes That squirm and twist my memories Breaking dreams Unboarding attic windows
Archived comments for Snips and Snails
---
orangedream on 19-01-2007
Snips and Snails
A very atmospheric, cleverly written poem. Lovely choice of vocabulary:-

"Uncoiling silent snakes
that squirm and twist my memories.

Enjoyed
orangedream

Author's Reply:

Thank you, orangedream.

This was very much intended to be an atmospheric poem rather than an intellectual one. Saying that it is 'cleverly written' gives an erroneous impression that the creative process was a cerebral one. Rather, it was a bit of a delve into my subconscious, which unearthed some archetypal images. A bit of a Freudian/Jungian mishmash.

Plus a little bit of alliteration goes a long way.

Regards,

Mandrake.


---
Sunken on 19-01-2007
Snips and Snails
Ya know young Mandrake, you deserve far more attention. I hope you stick with it. I'm sure people will pick up on you eventually. Another top, and as Ms. Orange say, atmospheric, piece.

s
u
n
k
s

might fall asleep after sex

Author's Reply:

Hi Sunken,

It's OK - I don't come here in order to gain 'attention' as such. I just want to learn to become a better writer. Thanks for your continued support.

Regards,

Mandrake.


---
Evitchka on 20-01-2007
Snips and Snails
vivid imagery- haunting

Author's Reply:

Thank you, Evitchka.

'Haunting' was another quality I was hoping to give this poem, by creating images that are easy to visualise and understand, but combine together in odd ways that are less easy to articulate when you think about them. Hopefully, it has layers of meaning that reward repeated readings.

Regards,

Mandrake.


---
royrodel on 20-01-2007
Snips and Snails
great imagery

RODEL

Author's Reply:

Thank you, rodel.

Nursery rhymes are a great source of primal imagery, because they are one of the first things we learn while developing language skills, so go very deep in our memories. There is also an allusion to the mythological Fates who spin our lives, which is again a strong archetype.

Personally, I keep seeing the Wicked Queen from Disney's Sleeping Beauty, who frightened me when I was very young. Attic spaces seem to be inhabited by these things, at the corner of the eye.

Regards,

Mandrake.


---
Gerry on 20-01-2007
Snips and Snails
This leaves us to our own interpretation, I liked the poem very much. Some good lines...

Gerry.

Author's Reply:

Hello Gerry,

Yes, I believe everyone who reads this will interpret it in a slightly different way. This sometimes bothers me about my poems, because it implies I haven't communicated my meaning clearly enough. In this case, I am not entirely sure what it means myself - which again bothers me, as it is a bit woolly minded.

By saying 'some good lines' you suggest some were not so good. It would be useful to know which.

Thanks,

Mandrake.


---
e-griff on 21-01-2007
Snips and Snails
Yes, a neat and well thought out poem, IMO 🙂

Author's Reply:

Thank you, e-griff.

I have a strong preference for poems to have structure. Even when I write relatively free verse, I look for patterns in the early drafts and seek to organise my words accordingly. As I suggest in one of my replies above, this approach is aesthetic more than intellectual (though the two are not mutually exclusive, of course).

Regards,

Mandrake.


---
---
Auntie Florrie (posted on: 15-01-07)
After Grandma, let me introduce you to someone else of her generation...

AUNTIE FLORRIE I remember Auntie Florrie, who was no kin of mine, but a friend of my Grandma, since before the dawn of time. She always wore a hat, skewered to her head with a pin, like a magic trick with swords. There were hairs on her chin that tickled with each grudging kiss I gave to thank her for a gift I didn't really want; like socks: Politeness in exchange for thrift. Even at the height of Summer, she wore a greatcoat, buttoned to the neck; an appirition, all in black. "Stand still, boy. You look like the Wreck of the Hesperus," she would declare, in a voice racked by Woodbine rasp, as she snagged my hair and smoothed the tangles in her bony grasp; fingers gnarled by years of knitting pink and blue layette for all those post-war babies. Did she ever once regret not having children of her own? Thoughtless child, what did I know? Watching John Mills or John Wayne, with stiff upper lip, or all gung-ho: I copied heroes of the silver screen; killing hordes of nip and hun with my toy rifle, not caring if they were fathers, or some mother's son. Looking back, I see her now: One widow from a generation of widows, dressed in mourning, without counselling or compensation, made welcome at our hearth for a natter and endless cups of tea, (the panacea of our times) now relegated to history. Yes, I remember Auntie Florrie, who was no kin to me, but a part of something I have lost: My extended family.
Archived comments for Auntie Florrie
---
Gerry on 15-01-2007
Auntie Florrie
I think many will relate to this poem.
Excellent writing...

Gerry.

Author's Reply:

Hello Gerry,

Thank you for reading my poem and considering the writing to be 'excellent'. That's very generous of you.

These 'aunties' feature very much in my childhood memories and no doubt in virtually everyone's from the post war baby boomer generation. Somewhat stern figures with hearts of gold, without surviving family members of their own, who were 'adopted' by the community. It is only looking back from an adult vantage that I realise their significance.

Regards,

Mandrake.


---
Evitchka on 15-01-2007
Auntie Florrie
Sad and evocative. Thank you for introducing me to Aunt Florrie and honouring her.

Author's Reply:

Hello Evitchka,

I am glad to have brought her memory alive for you. Though I have a feeling she would probably clip me round the ear and tell me off for writing something so personal about her. Don't make a fuss, don't draw attention to yourself: Those were the tenets of the time.

Reagrds,

Mandrake.


---
---
Getting The Picture (posted on: 15-01-07)

I was in a meeting with a senior manager at work, when I realised he was talking down to me, using buzz phrases he had learnt during some seminar. The way I felt took me back in time...

GETTING THE PICTURE Let me draw you a picture, he said; Meaning: You are stupid. This from someone who can barely scribble A stick figure and whose knowledge Of anatomy is crude, at best. Let me put you in the picture, he said; Meaning: Watch your back, I've been talking behind it. He proceeded to draw all these circles, Then shaded them in with cross-hatching. Where they intersected, I found an old memory: Let me describe this with a Venn diagram, he said; Meaning: (The details are long forgotten.) I just see the chalk dust in the yawn laden air; Hear the lower sixth form playing cricket; Glimpse the fine hairs on Sharon's chubby thighs, Glistening in the end of term sunshine. I learn maths through association With mini-skirts and a bourgeoning crush On a girl who could electrocute me With a touch. I get lines for not paying attention. Let me paint you a picture, he said; Meaning: Wake up and take the hint, you loser. He waved his hands as he spoke And I realised I was being erased As surely as that equation from a long ago blackboard.
Archived comments for Getting The Picture
---
Gerry on 15-01-2007
Getting The Picture
Superb writing and fully understood---I have been there lol.

Gerry.

Author's Reply:

Hi Gerry,

Thanks for your appreciation.

One secret I found out, when I became a manager myself, is that most managers have no idea what they're doing and are just blagging it - so don't let them get to you.

Regards,

Mandrake.


---
Bradene on 16-01-2007
Getting The Picture
Good poem, I agree too, being talked down to is nauseating

Author's Reply:

Hello Bradene,

Yes, being talked down to is bad enough - but when the person employs some terrible managerspeak they've learnt on a course and barely grasp, then it becomes quite farcical.

Regards,

Mandrake.


---
Sunken on 16-01-2007
Getting The Picture
Another excellent piece young Mandrake. Respect is due, and subsequently given in the style of a delirious raccoon. I very much doubt that this has helped and will therefore sod off and rate. Well done. Thanks.

s
u
n
k
e
n

if only he could get the brakes to work

Author's Reply:

Hi Sunken,

Racoons are much maligned as furry bandits - and a delirious one is unlikely to be respectful - but I shall accept your comments in the spirit they are offered, then sod off and try to write some more pieces that might aspire towards excellence.

Thanks,

Mandrake.


---
reckless on 17-01-2007
Getting The Picture
Those teachers, they have no soul! I enjoyed reading this piece, thought it had a lot to say and did it well.

Author's Reply:

Hello reckless,

Thank you for reading and enjoying my poem.

Yes, those moments from school do tend to stay with me and undermine my confidence at the most inopportune times. Luckily, it's all grist to the writer's mill.

Regards,

Mandrake.


---
pencilcase on 19-01-2007
Getting The Picture
Oh yes, you're certainly thinking outside of the box here, or should I say the venn diagram?! It's blue sky thinking that runs a few ideas up the flagpole: cuts to the chase where the rubber hits the road.

!

Okay, it's all that, and that's good, but I really like your 'flashback'. It's escapism in the context of your poem, and the whole thing has a great creativity. I love the lines...

I just see the chalk dust in the yawn laden air;
Hear the lower sixth form playing cricket;
Glimpse the fine hairs on Sharon's chubby thighs,
Glistening in the end of term sunshine.

Really like that. Good title too. Well done on the deserved nib and, yeah, I think I got the picture.

It was a pleasure to read. Would be a good one to perform live.

Steve

Author's Reply:

Steve,

Thank you for reading and commenting on my poem. I'm glad you enjoyed reading it.

I especially appreciate you taking the time to explain what it was you particularly liked. It is helpful to know which areas of my writing are more successful.

I like to make unusual connections. By banging different rocks together, it is sometimes possible to strike sparks.

Performing live is something I haven't done yet, but it is an ambition for this year.

Regards,

Mandrake.


---
---
In Stone, We Dance (posted on: 12-01-07)
New age English pastoral pagan revisionism.

IN STONE, WE DANCE In stone, we dance across the land; A pavane of five thousand years. Come sister, take the tanist's hand And drain this cup of maiden's tears. We pause beneath the dolmen arch To untangle feet from skeins of ley; Throw off the yoke of spears and march Across white stones that mark the day. In and out the sarsen circle, Where Redegonde spreads her apron, We decorate the stones with myrtle And fabled alectorian. The music of the Stwun will persist Across the hoarstone boundaries, While henge and cromlech still exist To pose us weighty quandaries.
Archived comments for In Stone, We Dance
---
Gerry on 13-01-2007
In Stone, We Dance
Mandrake, did you major in stones then? 😉
I like the way this slotted together, clever use of words...

Gerry.

Author's Reply:

Hello Gerry,

My aim was to write something in praise of a mythical England, without becoming jingoistic or too pastoral. My source was a Dictionary of Phrase and Fable, where I looked up all the references to 'stone' and tried to work them into the poem.

I am glad you appreciated it.

Regards,

Mandrake.


---
Bradene on 14-01-2007
In Stone, We Dance
Appreciated too here! I loved this, it made me think of summer and the pagan festivals of the west country. Val x

Author's Reply:

Hello Val,

Thank you for reading and complimenting my poem.

Like many people of my generation, I suppose I am spiritually confused and a bit of a neo-pagan-zen-humanist-agnostic. This poem comes out of a romantic view of a mythical past that never really happened.

Regards,

Mandrake.


---
---
No Ghosts In Grandma's House (posted on: 12-01-07)
This was written in an attempt to exorcise a recurring dream in which I suffer a guilty realisation that I haven't been to visit my grandma for ages. The fact that she has been dead for nigh on thirty years never occurs to me.

NO GHOSTS IN GRANDMA'S HOUSE The unfamiliar ticking of a clock, that half wakes me as it chimes the hour and stirs the stairs to creak and climb themselves. There are no ghosts in grandma's house, but still I hide beneath the comfort smell of freshly laundered terry cotton sheets and wish for morning. Sash windows rattle in their casements, as the breath of night revives the trees that wash and whisper tales of waves far from the sea. Thoughts of water fill my bladder, but it is a long way to the outside lav and I fear what may nest in dusty springs beneath the bed. My fingers trace the corrugations of candlewick, as I grope across the covers in search of Fifi, my faithful dog and favourite toy. His fur is all but worn away by too much love from one small boy, but the smoothness of his pelt is soothing and soon I am asleep. Even now, when I dream of returning, it is my grandma's house that is my home, though the clock has ceased its ticking and I am alone. When I attempt to visit grandma, strange things happen on the journey and cast a sinister pall around her door. Last time I crossed the threshold, there was stagnant water on the floor and I splashed through a miasma to reach her room. The door refused to open, though I could clearly hear her breathing above the sound of floorboards creaking on the stairs. The doorknob had the glassy finish of Fifi's sightless eyes, that came unstitched and sealed his doom at last, beyond all mending. When I wake, I am not crying, for the little boy has grown to realise; there are no ghosts in grandma's house, except for me.
Archived comments for No Ghosts In Grandma's House
---
scotch on 12-01-2007
No Ghosts In Grandmas House
i like the theme, so many grandma poems recently...scotch

Author's Reply:

Hi scotch,

I suppose it has recently been the time of year when we think most about our families - especially those we miss - so the theme has emerged naturally.

Regards,

Mandrake.


---
Sunken on 12-01-2007
No Ghosts In Grandmas House
Another top sub young Mandrake. I am starting to like your work more than... more than... chocolate pudding with hot custard. I think you'll agree, that's quite a compliment. Thanks.

s
u
n
k
e
n

last on board the 3am to nowhere

Author's Reply:

Hi Sunken,

As someone who is lactose intolerant, I will nevertheless accept your comparison as a compliment.

Thanks,

Mandrake.


---
---
DESIRE (posted on: 08-01-07)
Desire paints a portrait limned in red Each brush stroke makes the tendons ache Scarlet daubs cannot express Ideas that burn the heart like chilli Rendered in the hues of slaughter Exsanguination of desire

DESIRE The pale, lukewarm room My paintings on the walls Her beside me on the bed Liking but not 'loving' There is no such pretence Silent - and then too intense Surrounded by phantasms Sad pictures of enciphered emotion She liked them tremendously She showed them to her friends They perceived a different young man Strangers now - further apart than when we first began Prefigured in those abstracts Stone people: static dances All art is fleeting I demanded understanding Playing an obscure and cruel game Five years ago and yesterday: the same The sister and the friend Both miss my brand of strangeness She thinks herself the villain / saint My paintings all converged Blurred by a final desperate kiss Reduced, at last, to this: ''Oh, L------ You accuse me of having no feelings As you crush them underfoot'' Self pity fades into boredom I will never write that promised letter 'The Sacred Manacle' is not my fetter The dull oblivion of vodka The pointless, empty poems The dialogues with my divided self We did not actually say 'goodbye' A part of me has not left... we never met... She has my paintings yet
Archived comments for DESIRE
---
Dazza on 17-01-2007
DESIRE
Its not easy being a creative soul, you tend to feel stuff more acutely, it makes for lonely times when other folk can't know your pangs, understand your work. Dazza.

Author's Reply:

Hello Dazza,

This was originally written many years ago when I was less comfortable in my own skin and inclined to play the part of the tortured, enigmatic soul. The pain felt real at the time, but it seems more like posturing now. Even so, it seems to strike a chord with people. Is it the job of an artist to be misunderstood - or to strive to be better understood?

Regards,

Mandrake.


---
---
Life On Mars? (posted on: 08-01-07)
Inspired by the TV series last year: Travel back in time with me to 1973...

LIFE ON MARS? Imagine me in my Essex chic: Pterodactyl wing collar shirt; Apple core pendant nestling In my Brut scented chest hair. Trousers with flares Wider round the ankle than my waist. And I was four inches taller In my platform shoes. Tasty. See me lounging by the jukebox: Glass, bottle; bottle, glass. Bacardi and Cokes like An abandoned Tommy Cooper routine. Eyeing up the handbag dancers. Who knew about political correctness? As the secondary brain in my pants Did all my thinking for me. Watch her approaching through my eyes: Hair like an explosion in a liquorice factory With its gleaming carapace of lacquer. The hypnotic sway beneath her tank top. Small, winking star at the top of her legs; Between her denim thighs, the flex Of girly muscles above her kinky boots. Glance back up at the cherry lip gloss. Listen to the music playing: Her return from the Ladies coincides With an orchestral crescendo and a piano stab, So our opening words are lost And I do an Eric Morecambe mime With shaking hand, like I've got the DT's, As I try to read those fruity flavoured lips. Same again? I ask with my eyebrows. Register my pained reaction: As I take our glasses to the bar, Catching the smell of Charlie, but no Angels, The music fades into a piano coda And a mysterious ringing phone. "Smiff's Cheese'n'Onion," she calls: Exotic cry, like a parrot's screech From the hothouse jungle of Barking Creek. Eavesdrop on my thoughts: You got it right, Dave old son. You might as well ask If there's life on Mars, When there's bugger-all here on Earth. "D'you like Bowie, then?" she asks. "Does that mean you're gay?" Come here and I'll show you How gay I am, I think - unable to resist.
Archived comments for Life On Mars?
---
Sunken on 08-01-2007
Life On Mars?
Excellent young Mandrake. Your best so far. I'm sure the comments will come eventually, so stick with it. Easily a ten, and why? 'Cause I say so. Thanks.

s
u
n
k
e
n

he might wear pants today, he might not

Author's Reply:

Hi Sunken,

I didn't realise until after I had posted it, but I have unwittingly paid tribute to David Bowie on his birthday. Sixty years! I don't know about him, but the thought certainly makes me feel old. So thanks for the 'young'.

Regards,

Mandrake.


---
---
Water Of Life (posted on: 04-01-07)
A wee dram to welcome in the New Year...

WATER OF LIFE ''Will ye tak' soom watter wi'it, lad?'' he asks, tipping up the dusty and unlabelled bottle, pouring out the golden spirit like molten metal from a crucible. I shake my head, imagining that local water tastes of dead sheep on the dales. I lift the glass up to the lesser light of sunshine filtered through the distilled fire: A liquor long sought by alchemists; an elixir of eternal life, poised on the brink of drinking down a poison purer than spring rain on meadows bright with buttercups. A bouquet so strong, I can sense the flock wallpaper clinging grimly to the walls and the very mortar holding stone to ancient stone being prised apart. I raise it to my lips and tip the fluid, thick as varnish on oaken beams and smooth as glaciers on my tongue. So hot, my senses say it must be cold as fimbulwinter. The gallop of its progress down my throat portends the hooves of the Four Apocalyptic Horsemen who will thunder across my skull, come morning. As universes die and flare anew in the cauldron of my stomach, so my hand plonks down the drained glass upon the bar. I request another, with the rash unconcern of one who does not fear to die, having tasted the very flames of hell. My voice emerges, high pitched and rough hewn, in a language old as rocks worn down to dust. I cannot see nor even feel my face, surely red as any devil's beneath a mask of perspiration. I drink to the damnation of my soul, visible as a kirlian vibration; a pulse and swirl of revelation, clear as the abyss into which my thoughts spin: A coriolis effect, while the water of life goes down the plughole.
Archived comments for Water Of Life
---
e-griff on 05-01-2007
Water Of Life
Interesting detailed focus on a simple act, nicely described

Author's Reply:

Thank you, e-griff.

I like to find poetry in small, apparently insignificant events. I think we reveal more in ordinary, unguarded, unremarkable moments than when we are tested by moments of greater significance, in which we tend to step outside ourselves.

Regards,

Mandrake.


---
Sunken on 06-01-2007
Water Of Life
Top stuff young Mandrake. Deserves far more attention. I may take it to the park later and then perhaps on to a coffee bar (one that serves Guinness). A really strong sub. Well done, yet surprisingly juicy. I hope this helps. Take care and crystals.

s
u
n
k
e
n

he might shower, her might not

Author's Reply:

Hi Sunken,

Thanks for taking my poem for a little pub crawl. I hope it behaved itself.

Regards,

Mandrake.


---
---
Contagion (posted on: 04-01-07)
I'm not in love...

CONTAGION Don't talk to me of hearts and blood; Of pulmonary metaphors for lust. The muscle in my chest is not so strong That I would grant its pumping any trust. If only I could separate my thoughts From the buzz of electrical and chemical Interference at the mind / body interface, Where the boiling hormones are inimical To the cooler processes of my intellect. Undistracted by secreting glands, I would prefer a calm, objective voice; Not drowned out by the marching bands - The din of muzak in each living cell - Where DNA plays a four note scale: A pulsing riff in biorhythmic time, Against which reason, somehow, must prevail. Because passion is unreasonable in tone, I won't take part in this emotional debate. The loudest voice doesn't state the clearest view And impulsiveness is not a reliable trait. So, don't talk to me of fevers bright and red; Of viralogical similes for love. Fight the contagion in clinical isolation, With an iron hand inside a latex glove.
Archived comments for Contagion
---
Sunken on 06-01-2007
Contagion
Hello young Mandrake. This is another strong sub from you in my tiny ickul opinion. The loudest voice seldom states the clearest view, so I shall simply whisper a heartfelt 'well done'.

s
u
n
k
e
n

he might shave, he might not

Author's Reply:

Hello Sunken,

Thanks for championing my still, small voice. I shall have to muster the nerve to comment on other people's work, in order to earn some reciprocity.

Regards,

Mandrake.


---
Corin on 07-01-2007
Contagion
Did you really mean 'cardiac metaphors' rather than 'pulmonary metaphors' ?

You are quite right - love is a dis ease and it makes you blind!

DNA may indeed be a four note scale but there are 65536 possible harmonies and so billions of possible chord progressions! Even intellect is the consequence of neurons forming networks and subject to the influnce of adrenalin and serotonin.

David

Author's Reply:

Hello David,

Thank you for reading and commenting on my poem.

You are correct to point out that 'pulmonary' is an inaccurate choice of word since it relates to the lungs rather than the heart. I must confess that I chose it more for the sound and rhythm than for its exact meaning. It is somewhat ironic that I made an emotional / aesthetic choice rather than an intellectual one.

I was hoping that the readers would make the connection of cardiopulmonary and fill in the gap for themselves. A bit of lazy writing on my part that I will seek to correct in future revisions.

The voice in the poem is meant to be of someone who has been led astray more than once by their emotions. What they advocate is born of pain and denial. It is not a serious recommendation: Intellect unmodified by emotion tends to become sociopathic.

Of course, raw emotion unmodified by intellect is equally to be deplored. The challenge is to find a healthy balance.

Regards,

Mandrake.


---
---
The Man In Green (posted on: 01-01-07)
Belated equinox greetings to you all. My previous submissions were wiped out by this site's recent problems.

THE MAN IN GREEN When all the world was forest and the sky a spangled chaos in which no- thing had a name, we could walk the to- tal length of land and never leave the canopy of trees. Where the deepest green grew dark, a half glimpsed shadow stole the pattern of our dreams and became a thing of twigs and dirt, which hunted us with neither spite nor hunger. Then, we mastered fire and separated selves from night, but only served to draw the eyes of darkness closer to our lives; gathered in diminished pools of light. At last, we found our tongues and could fashion words to describe the face and form of fear itself; a creature with skin of bark and beard of moss, teeth of thorns and eyes black as beetles. We gave it names to bind its shape and desti- ny to ours: The Man In Green strode o- penly on woodland tracks, remorseless as the winter wind that swirled his robe of leaves. He crossed the threshold of our halls and stood before the hearth; a crown of holly on his brow, with berries bright as blood and the all pervading scent of mistletoe. He towered so- lid as a pine with roots that pierced the rush strewn floor and ivy curling round his spine; his presence revealed that na- ture knew no boundaries and broke through every wall. We hacked him down with axes that grew sticky with an i- chor sweet as sap, while the sun dimin- ished and forests died, until he laughed and placed his head back on his shoulders.
Archived comments for The Man In Green
---
scotch on 02-01-2007
The Man In Green
liked...scotch

Author's Reply:

---
Dazza on 14-01-2007
The Man In Green
Enough to make a druid weep! Black as beetles. And than k you so much for your comment on mine, Dazza.

Author's Reply:

Hello Dazza,

Thank you for reading and commenting on my piece of New Age whimsy, which I had hoped would have made any druids smile, since it is about the implacable power of nature, which cannot be kept within human bounds - not even those of our imagination.

Regards,

Mandrake.


---
---
Nothing New (posted on: 01-01-07)

A silver fountain pen and leather bound note book were thoughtful gifts, but somewhat daunting when it came to thinking about using them...

NOTHING NEW The newness of the book and pen counts for absolutely nothing when the wordless vistas of each page are frozen and fail to engage or ignite imagination. Nothing new about my fascination with the cold and trackless waste across which thoughts have often paced, then stumbled round in circles; lost and rimed with permafrost. The icy shock of what was new becomes a windblown point of view, as random as a drift of snow, with only a poor chilblain glow to light my pathway to the pole. No new stars from this white hole, nor any other brightness born from blankness; all ideas forlorn as ice floes from Antarctic melt and distant as Orion's Belt.
Archived comments for Nothing New
---
Sunken on 01-01-2007
Nothing New
Hello young Mandrake. Welcome to uka. I like your poem more than... discovering a cloud that looks like Kylie's bum... ahhh, alas such pleasures are all too fleeting. Really enjoyed your poem young man/lady. Look forward to reading more of your subs. And while I'm here, happy '07.

s
u
n
k
e
n

prefers to shower

Author's Reply:

Hello Sunken and thank you for your welcome.

I used to work on a reception desk where I met all sorts of minor celebrities who didn't have a PA to do their running around for them. One day, this tiny little girl appeared at my window. Her hair was in long ringlets dyed a very artificial looking coppery red. She was wearing a rather shapeless tracksuit that emphasised her petiteness. When I asked her name, she seemed a bit put out that I didn't recognise her. "Kylie", she said, assuming I would know her surname. I barely stopped myself from asking 'Kylie who?' It was only after she had gone that my colleagues told me who I had served. I didn't recognise her at all. (In my defence, this was in the 90's when her career was in the doldrums.) But I can tell you; her bum is not all that...

Anyway, I am glad you enjoyed my poem. I always get a bit worried when I find myself writing in rhyming couplets, because they are frowned upon in some circles and seen as trite and old fashioned.

Regards,

Mandrake.


---
scotch on 02-01-2007
Nothing New
liked...scotch

Author's Reply:

Hello scotch.

Thank you for your succinct comment. I am glad you liked it.

Regards,

Mandrake.


---
orangedream on 03-01-2007
Nothing New
A well-written poem which I enjoyed, oh and welcome to UKA!

Long live rhyming couplets is what I say!

Regards
orangedream

Author's Reply:

Hello orangedream,

(Didn't I just see you in my tin of Quality Street?)

Thank you for the welcome and I'm glad you enjoyed the poem.

I write in all sorts of styles, but am not confident about regular rhyming because it's so difficult to make it sound fresh. Sometimes, I'm lucky and get away with it.

Regards,

Mandrake.


---
---