UKArchive
UKArchive ID: 25043
Fitbin
Originally published on June 28, 2010 in Poetry
---
This is a short description of my submission. I leave it to you to interpret any meaning. Please have a read and leave a comment.
---
I have nothing at all to say,
it makes for awkward social situations.
I smile and nod and laugh,
I agree and acquiesce and hum and whistle.
But in my mind it's very different,
inside I am King and all-powerful.
They would tremble and quake if my thoughts were visible,
for nothing is taboo and no boundary is unbroken.
If you are not the aggressor you become the victim,
everyone choosing their roles so conveniently.
A burlesque circus of the ephemeral truth,
taking pictures of nothing to show to nobody.
The tears comfort me, as sorrow is like an afternoon meeting with an old friend,
her cruel orange spittle drying on the window in the setting sunlight.
Deciding upon revenge, next time we meet, is a weight off my broad shoulders,
until I realise that's what she wanted all along, so I renege on my promises again.
There is nothing more than this, but it's not enough.
There is only you and me.
The future is dead and the past never happened.
This moment is eternity and is a gloriously sad futility.
UKArchive ID: 25043
Archived comments for
Insomnia
---
pdemitchell
on 28-06-2010
Insomnia
Quite a smorgasbord here but stanza four did not connect to the others at all. 1-3 and maybe 5 could stand alone fine as an intovert-agony piece in me 'umble opine onion. Cheers mitch 😛
Author's Reply:
hi Mitch,
yes stanza 4 did stick out, I had more to say in that one.
Which did affect the piece as a whole.
Thanks for the ideas
---
e-griff
on 28-06-2010
Insomnia
Tell you what, Mr Fit. To be brutally honest, I don't always read your stuff, because it seemed mired in negativity, the samples I sampled.
But this. This is good. It works, perhaps just for me, tonight, but it does. On some levels it is simple, but it appeals to all of us - we have all felt like this if we are honest - and it captures the mood. The 'bump-out' verse I saw as an aside, telling us something we wouldn't know from the main dialogue, a description of the scene that was playing.
I liked it very much (and much skill involved).
good stuff. (I shall be back)
Author's Reply:

---
e-griff
on 28-06-2010
Insomnia
If you are willing to accept a rare Griffpick, then you have one...

Author's Reply:
I graciously accept, many thanks.
Glad you enjoyed this one.
I agree that lots of my work veers towards the violent end of the spectrum.
I really wanted to generate a reaction and that is easier by using shock tactics.
But I am trying to develop a wider range of subject matter.
Cheers
Michael
---
sunken
on 30-06-2010
Insomnia
Hello Mr. Fitbin. It's good to see you finally getting some recognition. It's been too long in coming if you ask me. I don't see anything wrong with mirroring the more negative side of life. It exists and therefore ought to be mirrored. Life isn't a fairytale. Good work fella. Well done on the nib. Commiserations on the Beagle named Bernard (-;
s
u
n
k
e
n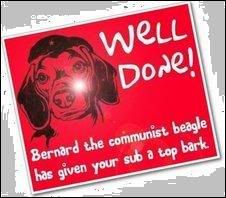 Author's Reply:
Yo Sunkster,
I can always count on your support.
I feel like I have explored and mapped the darkest territories
and now it's time to venture through fresh meadows.
I have a new inspiration and a new feeling, I believe is called happiness.
Thanks also go to Bernard, my favourite marxist mutt
---
stormwolf
on 01-07-2010
Insomnia
Hello Michael
This was original and insighful. A lot of deep thought and revelation of the inner you. You took a chance on the 4th verse and it worked by adding a sense of sharpness to the whole.
The tears comfort me, as sorrow is like an afternoon meeting with an old friend,
Boy, can I not only identify with this but congratulate you on such awareness. Well done on both nibs. A fine piece of work.
Alison x
Author's Reply:
Hi Alison,
thanks for the comments.
I like to make an attempt at honesty and to express what I feel some people try to keep well hidden.

---
---