UKArchive
UKArchive ID: 25738
Fitbin
Originally published on December 13, 2010 in Poetry
---
Here is a structured poem to read. All suggested improvements and ideas are much appreciated.
---
Not knowing if it's a shorn been or a seen born,
an etymologist's nightmare, the lexicon of linguistics.
Tasting the cold iron as it drips down your lonely tongue,
refuting belief in everything, until only golden madness is left.
'This isn't about me' he cries, as the emotional dissection begins,
like an actor on stage, suffering can be expressed through performance.
He feels nothing though, just managing to mimic what passes for emotions,
but still deemed superior to those ensnared by their empty virtues and beliefs.
Walking on old, cold and aching feet, he breaks in another new pair of boots,
leather and lace going hand in hand with torture and the mastered races.
How it now hurts to move just as much as it does to try and stay still,
the boredom of solitude versus the constriction of all freedoms.
Non-existent truths battle it out with imaginary demons,
silently wishing for the absence of blinding darkness.
An arrowhead of straight purity, blurred by time,
daring to stay in the dream, but afraid to see.    
UKArchive ID: 25738
Archived comments for
The Archer's Song
---
sunken
on 18-12-2010
The Archers Song
Wow. How can this have no comments!? It's a disgrace! I'd consult my local MP but he's busy having a roof fitted to his moat. Very neat, very clever. The poem I mean, not the roof.
s
u
n
k
e
n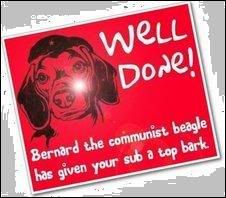 Author's Reply:
a Bernard is for life not just for Christmas,
Merry Chrimbo to you Master Sunk.

---
---